Tiffany has been a "sugar baby" on the SeekingArrangement site for a year and a half.
"Please don't use my last name," she said, "because I don't want my parents to find out." (Tiffany isn't her real first name.)
She lives just outside Dallas, has a full-time job as a pharmacy technician, and is the sole support of her elementary school-age son.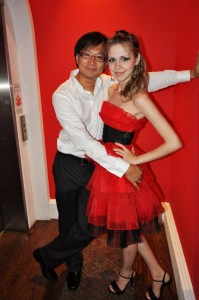 "I wish I had known about the site when I was an undergrad at UTA," she said. She received a BS in biology from UTA in 2010, paying for it as most college kids do, with money from her parents and a few student loans. Now she's applying to graduate schools, including UT-Southwestern in Dallas and the University of North Texas Health Science Center.
"I'd like to be an MD or a DO someday, but what's realistic for me now is a three-year master's [degree] as a nurse practitioner or a physician's assistant," she said. Her voice is bubbly, but not silly. She speaks well and doesn't show the slightest embarrassment in talking about her "arrangements" on the site.
"Some guys I just go out with for dates, as you do on a regular dating site," she said.  But others, like the billionaire in Florida she dates now, are true "arrangements." She said she receives $5,000 a month from this successful businessman who is a widower. "He's all business, and when I hear him on the phone, he's mean to the people he works with," she said. "But he's very kind to me."
Tiffany remembers the night when she looked up SeekingArrangement and filled out a profile without thinking too much about it. "I honestly thought I wouldn't be pretty enough to be accepted," she said. She posted her picture and her information — she's a brunette with brown eyes, in great physical shape. "I wear a size 4 dress, and my bra size is 34-C." She's not shy.
Within a few days, she was "approved" by a site administrator to be a "sugar baby" and soon after was contacted by the "sugar daddy" in Florida. He told her he was 60, his wife had just died, and he was looking for an arrangement –– his third.
"He said he had arrangements with one blonde girl on the site and one redhead," Tiffany said. "He wanted a brunette as well." The man proposed paying her $5,000 a month and flying her to Florida now and then for weekend visits.
"I didn't join the site with any specific arrangement in mind, but there are girls on there who say they want a certain amount of money each month," Tiffany said, insisting that she only wanted to meet somebody new, have fun, and perhaps improve her life in some way.
"I think the first thing I said to this guy was, 'Are you kidding me?' I was really taken aback. I thought it couldn't be for real — I'm not that lucky." She laughs about it now. "I found a nice friendship and had some fun. We could hang out, and I got quite a bit of money. I was able to pay off some of my college debt, and now I'm saving for graduate school."
She talked to the Florida man several times over several weeks before she accepted a plane ticket, she said.
"It was unbelievable. I felt like the girl in Pretty Woman," Tiffany said.  "In fact, I was singing that song in my head as I went up to my room in this swanky hotel. I'd never stayed anywhere like that before."
The meeting went well, she said, and her benefactor was honest about what he expected in return. "He wanted to act out some of the scenes in that book, Fifty Shades of Grey," particularly the dominant/submissive role-playing. "He wanted a submissive, that's what he was into," she said. "So I didn't mind that and never felt in any danger at all."
Tiffany said she's had 20 dating encounters or arrangements in less than two years, and she doesn't enter into more than one arrangement at a time. "That's just me, how I feel about it. For me, it's like having a boyfriend, so one is all I want."
She's had at least one site hook-up that didn't involve sex. "I have a Dallas lawyer that I see for watching movies in our pajamas and eating pizza. There's no sex," she said. One experience involved a married couple looking for something new. "It was all right. I'm open-minded," she said.
The prostitution question doesn't seem to bother her, although she clearly doesn't see herself that way.
"The site definitely could be used for prostitution, if that's the person's goal," Tiffany said. "I think it's dependent more on the user than the site. I wouldn't break the law and sell myself."
Another North Texas woman who said she'd dated through SeekingArrangement talked to the Weekly and then decided she didn't want her names or specifics about her situation released. She confirmed that during her senior year at a small private Texas college, she and several friends all joined the site on a lark, looking for "hot guys."
Eventually, through the site, she met a man in another part of the country who agreed to pay $2,000 a month in return for her agreement to fly to his home state. He was 54 when they met, she was in her 20s, and sex was part of the deal on some visits but not all. She said she felt safe, was treated well, and that her "sugar daddy," a divorced corporate executive, liked having her on his arm as a status symbol.
"He just wanted to make an impression on the people he worked for," she said. "That was fine. I got something out of it too."
 ********
Wade likes to talk about the site rules.
"We have very strict policies in place," he said. "We tell people that they can't ask for money for sex. Anything that is illegal is not allowed." He and his staff use proprietary software to help keep tabs on the site.
"We check people's profiles as thoroughly as we can," Wade said. "We try to make sure these are real people. If we find users from escort websites, we kick them out."
Several of the men's posts are flagged "crime free." That's from a voluntary background check Wade offers to subscribers. "About a year ago we launched a background verification service, and thousands of our members have subjected themselves to it. When they pass, we put the verified stamp on their post," he said.  "Sugar daddies" join the site from all over the world.
Wade seems unfazed by the criticism that has been part of his extensive media coverage. "At the end of the day, adults are going to do what they're going to do. There's a risk."
Back on University Drive, Henry logs on and pulls up his own profile. He's officially a "sugar daddy," along with a million or so other men who pay $60 a month or more to list on the site. It contains typical information — mug shot, age, business, hometown, interests — and a line item called "budget," where the amount of $1,000 to $3,000 per month is listed with his profile.
He listed that amount, he said, because men have to give some idea of the money they're willing to pay, and "that's the lowest amount you can put down."
Alongside the men, the site lists the million or so young women, primarily, who are looking for some sort of an arrangement: financial support, dating, companionship, finding a soul mate with whom to live comfortably ever after. The women post the money they want each month under an "expect" heading.
"Read this," Henry says, pushing his laptop across the table. He points to a young woman's smiling face beside a quotation: "Men my age are too immature. My current arrangement is wonderful. Unlike other cash-strapped students, I am pampered with expensive gifts. My sugar daddy is the sweetest man I know. He is my mentor, my benefactor, and my lover." The quote is signed simply, "College Sophomore."
Henry is realizing he may be in over his head.
Wade said he didn't think about the untapped potential of the young woman college student hooking up with the generous tuition contributor until his information technology staff began to see more and more user e-mail addresses ending in .edu. "After all, Facebook started in colleges," he said. "You literally needed an .edu to join at the beginning." That sparked an idea that he began developing in 2011, about five years after the site launched.
"We said, let's promote this to young women in college and offer site access free to anyone who used an .edu e-mail address," he recounted. Surveys revealed that some young women in college were looking for arrangements that involved friendship and companionship (and something else) in exchange for help with college tuition and/or student loans, Wade said.
At first, about one in four site subscribers said they were college students. "Now, it's one in two," he said.
SeekingArrangement used to pop up in a Google search for "student loans," but not this year. In 2011, according to Wade, 40 percent of all site users were college students. "After a 58 percent increase in co-ed signups in 2012, the total population of college students among the 2 million subscribers increased to 44 percent," he said.
 ********