The Last Exorcism Part II (PG-13) Interesting thing about this sequel: The filmmakers here completely abandon the found-footage look of the 2010 original, filming this like a much more conventional horror movie. It doesn't work. Ashley Bell reprises her role as the demonically possessed girl as she flees her backwoods community and lands in a halfway house for at-risk girls in New Orleans. The angular, soft-voiced Bell remains the best thing, convincing as both the sheltered naïf and the evil demon. Yet the movie squanders both her and its potentially fruitful premise in favor of boring scares and some casually racist stuff about black people possessing otherworldly juju. The lead actress deserved better. Also with Julia Garner, Spencer Treat Clark, David Jensen, Tarra Riggs, Louis Herthum, and Muse Watson.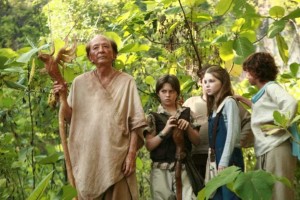 Life of Pi (PG) Yann Martel's supposedly unfilmable novel has been most decisively filmed by Ang Lee, and like all of Lee's masterpieces, it's completely different from the others. Suraj Sharma plays a shipwrecked 16-year-old Indian boy who is marooned on the open sea for several months with an adult Bengal tiger. Purely as a piece of spectacle, this movie is just glorious, whether Lee is taking in the visual splendors of India or the unlikely events on the water. (Pay the 3D upcharge for this movie.) Yet he doesn't shortchange his actors, whether that's the newcomer Sharma or the great Irrfan Khan as the grown-up Pi who narrates his story. This emotionally draining adventure is wondrous, terrifying, and a classic of its kind. Also with Adil Hussain, Tabu, Ayush Tandon, Rafe Spall, and Gérard Depardieu.
Lincoln (PG-13) Steven Spielberg's take on our nation's 16th president is an incredibly timely defense of moderation, pragmatism, and realpolitik. Too bad it's so dry. Daniel Day-Lewis portrays Lincoln as he tries to pass the slavery-abolishing 13th Amendment to the Constitution in 1865. Day-Lewis easily strikes the right balance between Lincoln's fierce determination and political judgment. Spielberg wrings a fair amount of drama out of the legislative details and does full justice to the messiness of the lawmaking process. However, without more of Lincoln's soaring rhetoric, the movie may very well leave you unmoved. Also with Sally Field, Tommy Lee Jones, David Strathairn, Joseph Gordon-Levitt, James Spader, John Hawkes, Tim Blake Nelson, Jackie Earle Haley, Bruce McGill, Jared Harris, Lee Pace, Gloria Reuben, Michael Stuhlbarg, David Oyelowo, Lukas Haas, Dane DeHaan, and Hal Holbrook.
Les Misérables (PG-13) The best big-screen version of the bombastic Broadway musical that we were ever likely to get. Tom Hooper records the actors singing live on the set, and his approach yields mostly good results from Hugh Jackman as an anguished Jean Valjean, Samantha Barks outsinging her more famous castmates as Éponine, and Anne Hathaway going hellbent for leather as Fantine. Hooper can't do much with Russell Crowe's wobbly baritone (which seems to be emanating from inside a half-crushed beer can), nor can he do anything with the music bogging the show down in the second half as the boring characters of Marius and Cosette (Eddie Redmayne and Amanda Seyfried) take center stage. Still, the cast's singing and some un-stagey direction save the movie. Also with Sacha Baron Cohen, Helena Bonham Carter, Aaron Tveit, Daniel Huttlestone, Isabelle Allen, and Colm Wilkinson.
Phantom (PG-13) Based on a far-fetched theory about the real-life sinking of a Soviet sub in 1968, this thriller claims to dramatize an incident that almost started World War III, yet it still offers little suspense. Ed Harris portrays an aging sub captain who takes his crew out to sea with a KGB officer (David Duchovny) operating on his own secret agenda. Smartly, the American actors here don't attempt Russian accents, but Harris' toughness turns monotonous in a lead role, and Duchovny is too lightweight opposite him as an ideological zealot. Writer-director Todd Robinson makes hash out of the naval warfare sequences, too. This should have gone straight to DVD. Also with William Fichtner, Lance Henriksen, Johnathon Schaech, Jason Beghe, Sean Patrick Flanery, Kip Pardue, Julian Adams, and Dagmara Dominczyk.
Quartet (PG-13) Featured at the Lone Star Film Festival, Dustin Hoffman's directorial debut isn't a deathless piece of art, but it's a pleasant diversion. Maggie Smith stars as an aging opera star who goes to live at a retirement home for musicians. Hoffman clearly loves the vibe of this setting, a place filled with performing artists who play for one another to keep their skills sharp and for the sheer love of it, and the camaraderie among these aged performers is where the movie gets its charm. The thin wisp of a plot doesn't offer much in the way of dramatic payoff, but Hoffman directs in an appropriately smooth and unhurried manner. Also with Tom Courtenay, Billy Connolly, Pauline Collins, Michael Gambon, Sheridan Smith, Trevor Peacock, Andrew Ryall, and Dame Gwyneth Jones.
Safe Haven (PG-13) The latest Nicholas Sparks adaptation is more of the same. This narcotizing weeper stars Julianne Hough as a woman who flees a violent incident in Boston for an idyllic Carolina coastal town (there is no other kind of coastal town in Sparks' novels) and tries to put her past behind her. Sparks' decorous brand of melodrama brings out the worst in director Lasse Hallström, and while Hough can be an asset in a musical, she's overtaxed trying to play a paranoid battered wife. Movies of Sparks novels tend to be watery, but this one evaporates right off the screen. Also with Josh Duhamel, David Lyons, Noah Lomax, Mimi Kirkland, Red West, and Cobie Smulders.
Side Effects (R) Steven Soderbergh's clever thriller stars Rooney Mara as a suicidal woman whose struggles with depression overwhelm her when her husband (Channing Tatum) returns home from prison. Mara does her best work to date as someone riding her condition's peaks and valleys, but then halfway through the film, the main character becomes her psychiatrist (Jude Law) as he tries to save himself after his patient's treatment goes very wrong. The film is a throwback to psychological thrillers of the early 1990s that deal in murder, kinky sex, and actresses acting crazy, but Soderbergh and writer Scott Z. Burns can't help throwing in some informative asides on the marketing of new drugs and our pharmaceutical-crazed culture. This is trash, but it's so much fun. Also with Catherine Zeta-Jones, Vinessa Shaw, Michael Nathanson, Mamie Gummer, David Costabile, and Polly Draper.
Silver Linings Playbook (R) Bradley Cooper stars in this volatile, terribly funny comedy as a bipolar former schoolteacher and die-hard Philadelphia Eagles fan who leaves a mental institution to move back in with his parents. Adapting a novel by Matthew Quick, writer-director David O. Russell (The Fighter, Three Kings) captures the rage and instability inside his characters by filming ordinary domestic scenes with a whirling fury. His approach spreads to his actors, including Robert De Niro, bringing more energy than he's brought in 20 years to the role of the hero's combative dad, and Jennifer Lawrence, deploying her fierceness for comic effect as a cop's widow with her own mentally troubled history. This is Russell's warmest and most likable film, a tribute to the unconditional love that binds you to your family and your football team. Also with Jacki Weaver, Julia Stiles, Anupam Kher, John Ortiz, Shea Whigham, Paul Herman, Dash Mihok, and Chris Tucker.
Snitch (PG-13) Dwayne Johnson plays a construction firm owner who infiltrates a drug cartel in order to reduce the 10-year prison sentence on his teenage son (Rafi Gavron) for dealing drugs. Johnson is ill-suited to this sort of heavy drama, though his underacting is still preferable to the overacting by various actresses in this movie's one-dimensional suffering wife parts. Look past that, though, and you'll find a plausible and surprisingly gripping thriller about how an ordinary guy might get into a drug kingpin's inner circle. Also with Jon Bernthal, Barry Pepper, Melina Kanakaredes, Nadine Velazquez, Michael K. Williams, Harold Perrineau, Lela Loren, David Harbour, Benjamin Bratt, and Susan Sarandon.
21 and Over (R) The obvious comparison: The Hangover. The more useful comparison: Weekend at Bernie's. Neither comparison flatters this lame comedy starring Skylar Astin and Miles Teller as two friends who visit their buddy (Justin Chon) in college on his 21st birthday, get him drunk and passed out, and then spend a frantic night trying to take him home in time for his medical-school interview the next morning. Jon Lucas and Scott Moore (the writers of The Hangover, here making their directing debut) don't do too badly with pacing and mechanics, but the hijinks are second-rate and the movie seems to be madly trying to convince us that we're having a good time. You're much better off going to a real party. Also with Sarah Wright, Jonathan Keltz, François Chau, and Russell Hodgkinson.
Warm Bodies (PG-13) This movie wants to be scary, funny, and romantic all at once, and while it succeeds fitfully at those things, it mostly proves that the combination is tough to pull off. Set in a world largely overrun by zombies, the movie stars Nicholas Hoult as a zombie who falls in love with a human girl (Teresa Palmer) and finds that the experience cures him of his zombiehood. Writer-director Jonathan Levine (50/50) scores with the zombie's neurotic interior monologue and some warm romantic flashbacks, but the material needed a wackier, more satirical comic sensibility. Even though Hoult does some remarkable work in a difficult role, the actors here largely seem lost, even as experienced a comic actor like Rob Corddry. Charming though this movie is, it's a well-intentioned misfire. Also with Analeigh Tipton, Dave Franco, Cory Hardrict, and John Malkovich.
Zero Dark Thirty (PG-13) Pro-torture without meaning to be, which is actually worse than being purposefully pro-torture. Jessica Chastain portrays a brilliant but obsessive CIA analyst who spends 10 years tracking down Osama bin Laden, and she doesn't quite manage to integrate this difficult and fundamentally unknowable character. Director Kathryn Bigelow (The Hurt Locker) lays out the detective work well enough and expectedly delivers some great action set pieces, including a slow-burning meeting with an informant midway through and the operation at the end. Still, she's fatally fuzzy about the role of torture in obtaining the information that takes down the terrorist mastermind, and pays scant attention to its repercussions. It's one thing to take in a morally complex situation and let the audience draw its own conclusions. This movie is just unclear. Also with Jason Clarke, Jennifer Ehle, Chris Pratt, Joel Edgerton, Édgar Ramírez, Kyle Chandler, Mark Strong, Reda Kateb, Fares Fares, Homayoun Ershadi, Harold Perrineau, Stephen Dillane, Mark Duplass, and James Gandolfini.
DALLAS EXCLUSIVES:
Doctor Bello (PG-13) A Nigerian movie! Tony Abulu's drama stars Isaiah Washington as a troubled doctor who turns to a Nigerian healer (Jimmy Jean-Louis) to help him save a young boy. Also with Vivica A. Fox, Evan Brinkman, Genevieve Nnaji, Victor Browne, Stephanie Okereke, and Bern Cohen.
Lore (NR) Cate Shortland (Somersault) adapts Rachel Seiffert's novel about a 14-year-old girl (Saskia Rosendahl) who must lead her three younger siblings on a 500-mile trek to safety across war-torn Germany in the last days of World War II. Also with Nele Trebs, André Frid, Mika Seidel, Kai Malina, and Nick Holaschke.
The Lost Medallion: The Adventures of Billy Stone (PG) Billy Unger stars in this adventure flick as a boy whose search for a medallion transports him back in time 200 years. Also with Sammi Hanratty, James Hong, Jansen Panettiere, and Mark Dacascos.
A Place at the Table (PG) Kristi Jacobson and Lori Silverbush's documentary examines the problem of American schoolchildren who don't have enough food.