Food expert Chow, Baby reviews local restaurants of the non-chain variety, and knows every aspect of the food industry. Chow, Baby has a keen eye and superior nose and has worked at fine dining establishments as a server, cook, bartender, and manager.
The Weekly's newest food critic, Grub Buddy, boasts no food industry experience other than working the drive-thru at Wendy's and a short stint as a waiter during college. Also, Grub Buddy has no sense of smell – none – and has won many bets over the years by allowing friends to stick disgustingly smelly objects under his nose.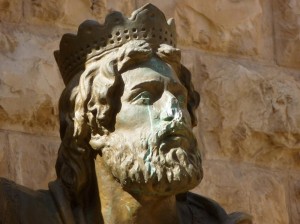 Grub, Buddy also has a bad cigarette habit – and, therefore, a palate that's about as sensitive as a sidewalk.
Dulled taste buds and defective nasal cavities mean Grub Buddy subsists on spicy foods. And the best place to find spice is the "Brown Mile" — that approximately mile-long section of North Main Street that stretches between Northside Drive and the Stockyards.
Naturally, Grub Buddy's criteria for a great restaurant differs from other food critics.
Sure, Chow, Baby's fancy olfactory capabilities and culinary background allow for dandy reviews of lovely places with silk napkins and golden forks.
Grub Buddy speaks for the common man on a limited budget who wants his food (1) plentiful, (2) cheap, (3) zesty and flavorful, and (4) delivered with a smile in a comfortable, laid back atmosphere.
No more, no less.
Deliver those simple things and Grub Buddy will be your loyal customer for life.
Diners who get excited as a puppy about a cheap plate of enchiladas, an exceptional microwave burrito, or even a Whataburger with cheese and jalapenos are Grub Buddy's target audience.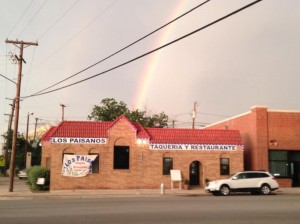 GRUB BUDDY'S FAVE. (Paisanos facebook photo)
So, here are the most beloved Brown Mile restaurants listed in order of preference.
Los Paisanos, 1446 N Main St
This newish restaurant took over the old Los Alamos Café building, and the new owners have made great changes to the dining room and menu. Grub Buddy is smitten. Paisanos serves its red salsa warm and spicy, but also provides excellent salsa verde upon request. Lunches range from $4.99 to $6.99, the food is tasty and filling, and the service is usually fast and friendly. The menudo is among the best in town, and Paisanos is one of the last taquerias to still sell tacos for $1.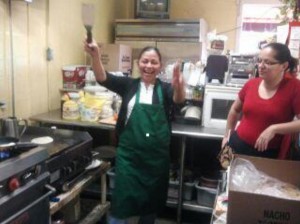 Amy's Restaurant, 1537 N Main St
The building is dinky and hardly noticeable to passing motorists, but inside you'll find the best lunch special around – chips and salsa, an entrée, and iced tea for a mere $5. And if you order water instead of tea, Amy will add a little extra food to your plate to cover the difference. The dining room is unimposing and comfortable. And Amy is a real sweetheart. This was Grub Buddy's favorite spot until Los Paisanos came along. Talk about being torn between two lovers.
Aguilera's Café, 2005 N Grove St
Ah, the hidden jewel of the Northside. Aguilera's isn't officially on North Main, but it's just a couple blocks off the drag and is too good to ignore. This place definitely has the It Factor. It's tiny with only a handful of tables, and the café has no menus. Owner Santos Aguilera cooks whatever he feels like cooking, and that's what you get for $5. Fridays, though, are dedicated to enchiladas, and few restaurants can top Aguilera's for a killer enchilada plate.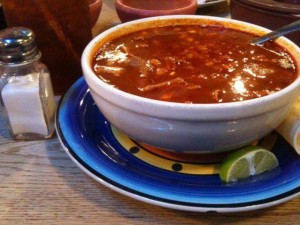 Los Asaderos, 1535 N Main St
Located next door to Amy's, Los Asaderos gets most of the attention. The Asaderos dining room is usually crowded at lunchtime, and the lunch menu is a good one with a dozen different entrees listed at $5.99. The salsa is a green and red mixture that might be the best in town. What hurts this place is poor service. The employees are friendly enough but inevitably distracted. Grub Buddy used to be a regular but looked for other places after sitting through too many lunches with empty water glasses, salsa cups, and chip baskets.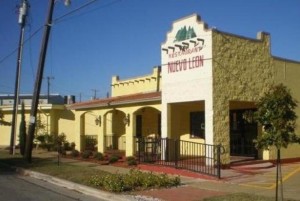 Nuevo Leon, 1544 Ellis Ave
Here's another one that's not officially on North Main, it's just a block west, but still a vital part of the Brown Mile. The lunch specials aren't as cheap as some others, but very reasonable and come in large portions. The fajitas are a favorite.
Esperanza's Mexican Bakery & Café, 2122 N Main St
The entrees are tasty and reasonably priced, but the portions are a bit small, the salsa is ho-hum, and the service can be hit or miss. Nothing really stands out here.
El Barrio Tacos & Platos Mexicanos, 1329 N Main St
El Barrio serves a rather ordinary red salsa, but has some killer salsa verde stashed in the back if you know to ask. The food is excellent and creative. Grub Buddy has enjoyed each visit here, but several nearby restaurants offer cheaper lunch specials, and so El Barrio usually gets overlooked.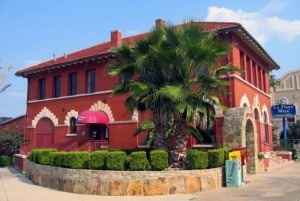 La Playa Maya, 1540 N Main St
The building is beautiful…too beautiful. Grub Buddy is intimidated. The interior is too clean, too perfect. The lunch specials go for about $7, which ain't bad but still $2 more than Amy's. The enchilada lunch special is excellent. Unfortunately, the salsa is red and watery and tastes eerily reminiscent of Pace Picante Sauce.
El Rancho Grande Restaurante, 1400 N Main St
The lunch menu is fine but Grub Buddy feels like a number here. This bustling restaurant gets you in fast, takes your order fast, brings your food fast, and hopes you get the hell out fast and make way for the next group. Some people prefer a more leisurely lunch. And the salsa is of the same ol' lame-o tame-o red variety. Not to mention on Grub Buddy's last visit, a lunch companion complained that his taco shell was soggy and gross. The waiter said he'd get another, and then came back with a cold, stale taco shell and handed it to said companion, who then had to transfer the contents of the old taco shell to the new one.
Chalios Mexican Restaurant, 2020 N Main St
The breakfast tacos are fantastic, but this is a lunch list and Chalios doesn't do lunch nearly as well. The portions are great — the $4 burrito is humongous. But the food is so-so, even to the calloused palate and scarred stomach lining of Grub Buddy. And could there be an uglier menu? A Waffle House menu looks like a Rembrandt painting in comparison. The dining room is rather ugly and depressing as well. But it makes Grub Buddy's list because the food is cheap and plentiful and the service is friendly, so three out of four ain't bad.