Jacobs wasn't the only person whose professional life was affected by Moncrief. News reporters began having more difficulty getting information from the city.
In previous years, reporters called department heads directly for interviews or called the communications office and asked to have interviews arranged. Moncrief's dislike of the news media and his desire to control information changed things. Suddenly reporters were more likely to be told they could interview city employees only by proxy, such as by submitting questions via e-mail to information officers, who passed them on to employees, who responded in writing. That kind of process can lead to communication gaffes and mistakes and almost always shields city workers and officials from tough follow-up questions. They answer — or are allowed to answer — only the questions that they or their bosses choose.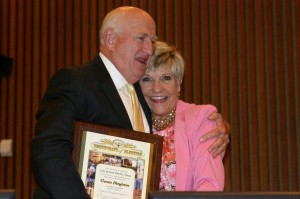 Reporters were also being told more often to submit official public information requests, even for relatively innocuous materials that previously had been simply provided.
Lieber called Jacobs and unleashed his frustrations over the convoluted new process. Reporters felt some kinship with Jacobs because of her journalistic background. Not a lifelong public relations professional, Jacobs had worked as a reporter, photographer, editor, and journalism teacher. She relayed her conversation to Fisseler, who called Lieber and offered an olive branch. Lieber was allowed leniency in talking directly to city employees.
"I did get information that you guys couldn't get," he said. "I think it's because you guys were the most critical in the city when it came to city hall."
Communications officers still talked to Weekly reporters but it became more difficult to get interviews and public records. Lamers handled media questions for Moncrief. At times, he was more inclined to shield the mayor from public scrutiny and to spin the message than to provide actual information, particularly in matters related to gas drilling.
 ********
City insiders and former employees speaking on the condition of anonymity said Moncrief was never comfortable talking to the media.
"He was a different animal," one said. "Every speech he gave, he had somebody write it for him. Other mayors would go off the cuff."
Some said he was following Laura Miller's model. The former newspaper reporter turned Dallas mayor hired a former TV news reporter to serve as her personal public information officer. Dallas also operates under the council-manager form of government. State law prohibits city employees from being involved in political campaigns or agendas. It can be a fine line.
Others say Jacobs wasn't perfect either. Some staffers considered her a micro-manager. Reporters, however, felt that Jacobs was fighting for them in hostile waters.
"She came out of a journalism background, which meant she understood both sides: what the press needs and the public officials need," Lieber said. "They are supposed to mediate between the two. They are supposed to be the conscience in government and make sure government officials do the right thing. She wanted to uphold open records and open meetings."
The Weekly wasn't the only one feeling pinched. Star-Telegram reporters wrote articles criticizing the city for its policies. Former Star-Telegram reporter Mike Lee wrote a 2008 article about Texas Motor Speedway's gas royalties and included a sidebar that outlined his difficulties in getting open records from the city.
At first the city denied having the records he sought. But the newspaper had already received some of the documents from an outside source. City attorneys, caught in a lie, said computer technicians had not searched the right places for the information.
Another story focused on the number of times the city sent public information requests to Austin for an attorney general's ruling. The Weekly, meanwhile, was writing its own stories about open records ("Self-Fulfilling Bureaucracy," Sept. 16, 2009).
Some cities, particularly San Antonio, have been accused of seeking such rulings simply to skirt the 10-working-day time limit for responding to open-records requests. A 2012 report by the Center for Public Integrity, a nonprofit investigative news organization, showed that North Texas cities were among the state's worst for trying to hide government information by requesting attorney general rulings. The study examined the state's 20 biggest cities based on their 2011 open-records requests.
Fort Worth ranked eighth most secretive, and Dallas was ninth. McKinney was the worst. The Metroplex included seven of the top 10 offenders.
Fort Worth officials bumped requests up to the attorney general's office 860 times that year, and got the AG's approval to withhold all or part of requested records 92 percent of the time. The AG's office approved only 49 percent of San Antonio's requests.
Just because a city is allowed to withhold records doesn't mean it has to withhold them or should do so, said Kelley Shannon, executive director of the Freedom of Information of Texas. "We take the approach that government information is public information with only a few exceptions. Government officials who are elected by us need to be responsive to … the citizens and not put up hurdles for us to get our own information."
Other measures also showed that Fort Worth was not a beacon of open government. An assistant city attorney who handled open-records requests was falling behind. He would resign in 2011 after failing to deliver on more than 300 such requests.
The Center for Public Integrity  gave Texas a D-plus in its most recent corruption-risk report card — and an F in the categories for public access to information and executive accountability. The investigative team used "data driven analysis of each state's laws and practices that deter corruption and promote accountability and openness," according to its website.
While Moncrief doesn't carry all the blame for Fort Worth's spotty reputation, his desire to control the message clearly trickled down to staff.
"Moncrief wanted to make sure that we were all on the same page and on message," said a local elected official who asked for anonymity. "He obviously honed his skills in Austin. He didn't like to leave anything to chance."
 ********
Moncrief's retirement in 2011 led to the personable presence of Mayor Betsy Price, who has encouraged more transparency at city hall and a friendlier approach to the news media. Price is all about town hall meetings, riding bicycles with residents, meeting people, running marathons –– whatever gets her out in the public.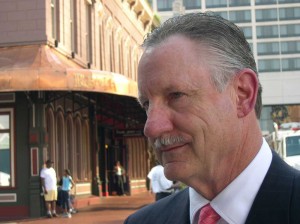 Moncrief wouldn't even attend debates during his bids for re-election.
Newquist's first meeting with the newly elected Price in 2011 was far different from his tense meeting with Moncrief. Newquist told Price that his reporters had had difficulty getting information during the Moncrief era and said he hoped that things would change under her leadership.
"She was completely different from Moncrief," he said, describing how Price vowed to be more transparent and open with reporters.
Lieber had a similar experience with Price when he spoke with her shortly after her election.
"I expressed to her that I hoped she would continue to be as open as she was when she was the tax assessor collector," he said.
Two years later, he's pleased. "It seems like the city is more open now than they were under the Moncrief era," he said.
Price has made it clear that a transparent city hall is vital. To that end, the city recently created a new position and hired Michelle Gutt as director of communications and public engagement. Engagement, in fact, has become the mayor's favorite buzzword of late.
During her re-election swearing-in ceremony on Tuesday, Price mentioned Gutt's hiring and said, "We've raised the bar on public engagement." An elementary school choir sang at council, and Price commended them for being engaged (surely confusing a few youngsters).
Near the close of her speech, she said that government needed to get out of citizens' way. "It's your Fort Worth; get engaged and help us shape it."
The city manager recently reported to the council about open government initiatives. The city has seen a growing number of public information requests over the years. The large majority of requests are for police and code compliance records.
Only 4 percent of the requests come from the news media.
In fiscal 2012, the city processed 7,873 requests, a 1,300 percent increase from a dozen years ago. The report attributed the change to a growing population, increased awareness of the Public Information Act, and the ease of filing a request online via the city's website.
The city is striving to put more information on its website, where it's available to anyone without paperwork or official requests. City officials are already noting a difference. The number of requests last year reflected a 4 percent increase, a smaller increase than in previous years.
"City staff continues to actively seek ways to make information more accessible to the public and to provide a uniform, transparent, and expedient process for responding to requests for information," City Manager Tom Higgins said in the report's summary.
Council member Sal Espino appreciates the improvements.
"We want to move toward e-government," he said. "You shouldn't have to put in a public information request for information that is readily available. Everyone on the council is committed to being more transparent and having more information readily available. We work for the taxpayers."
Cities that share information online to reduce the need for public information requests are doing "a great public service," Shannon said.
Planning and Development Director Randle Harwood said he is pleased with the council's increased support for public information. Moncrief would meet and talk with residents on issues, but Price is in a class by herself when it comes to availability and openness, he said.
That approach, combined with technological advances that have led to more information being posted on the city's website, have made city hall more open than ever, he said.
"There's a community demand for that," he said. "There has been a change in the country, not just Fort Worth. People have a greater expectation that their government communicates more effectively with them. The current mayor is a big supporter of open government and using the tools and technology that we have and some that we will acquire in the future to inform the citizens and have them engaged in a dialogue at city hall."
He's glad for the evolution.
"I need that engagement to be able to plan for the future of the city," he said.
Editor's note: Cecilia Jacobs worked a few days for Fort Worth Weekly in previous years as a freelance proofreader.