The Chuck Silcox Animal Care and Control Center was re-dedicated in 2009 in memory of the late city council member, who had died the previous October. His widow, Brenda Silcox, currently serves on the shelter's advisory board. Talking about the center and the animals, she was feisty, angry, and sentimental.
"With the shelter taking in every single animal that comes our way, we can't control everything. I adopted a poodle from the Humane Society four years ago. It turned out she had heartworm. Now why didn't the people who brought her to the Humane Society tell them that? They either didn't know, or they wanted to hide it."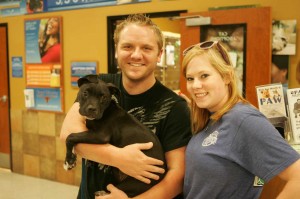 The rescue groups, she said, want every animal at the shelter to be made healthy and adopted out, "but then that animal might cost $1,000 to nurse back to health, and we just don't have that.
"We'll never have a no-kill [shelter] because there are animals that have to be put down for health reasons or injury or fighting or attacks," she said. "You can't avoid that unless you have selective acceptance, which the shelter doesn't have."
Silcox said she's rescued about 30 animals through the years and that when age or illness causes them pain or suffering beyond help, putting them down is the right thing to do. "But these no-kill people don't care about that," she said.
When rescue groups accept dogs from the center, she said, they're usually on the euthanasia list because of illness, and the rescuers have to sign a waiver indicating that they know the animal is sick. "Then the animal dies, and they complain. But they knew the animal was ill when they rescued it — that's why it wasn't up for adoption!"
Watkins said that's not the practice. "I've rescued maybe six or seven dogs from the Fort Worth Shelter — rescued, not adopted — and I have never signed a waiver saying that I knew I was getting a dog that was sick or had temperament issues."
Silcox thinks the shelter is doing a very good job with the limited funds it has, but acknowledges more needs to be done. "We are sterilizing or neutering nearly every animal that comes through our doors — other than those in obvious need of euthanasia — and we are vaccinating them. But every enhancement we make has to be done with money that comes from outside the city because of budget constraints."
She noted that the shelter has raised nearly $750,000 of the $1 million needed to build a new medical center, which will be a major improvement over having medical facilities within the shelter itself.
Watkins said the new medical center will help. "But without a new and separate intake segregation area, you'll still have animals spreading their diseases."
 ********
Just as the shelter officials grudgingly admit that the shelter falls short in some areas, its critics grudgingly admit that the animals at the shelter are better off now than they were five years ago.
"They're doing a better job than they used to in terms of giving shots when they come in and adoptions, yes," said Watkins, "but it's not nearly enough."
One of the changes that shelter staff are most proud of is their partnership with two PetSmart stores in Fort Worth, one on South Hulen Street and the other in the Alliance Corridor. Through that partnership, Silcox ACC sends its most adoptable animals to the stores, where customers can see them and maybe decide to take them home. ACC staff administer those adoptions and maintain the animals.
At the PetSmart at Hulen and Loop 820 recently, several bright off-white kennels on wheels sat in a large back room. Each kennel held a plastic doggie bed, chew toys, and a water supply. Most had blankets as well. A sign on the door of each kennel gave pertinent information: when and for how long the dog had been outside that day, when it had eaten. Several people wandered past looking at the animals, and a vet technician moved from kennel to kennel to look in on the dogs. There was no feces in the kennels, no smell of urine in the room. It was the antithesis of the dark, damp, and smelly kennel rooms at the city shelter.
Since the Hulen Street PetSmart signed on to the arrangement in late February 2010, the number of adoptions out of the Fort Worth shelter has increased dramatically — an increase further supported by the more recent addition of the Alliance store to the program.
According to city records, in the year before the collaboration began, the Silcox shelter was averaging 112 adoptions per month. After the PetSmart program started, adoptions jumped to 241 per month, and when the Alliance PetSmart was added to the mix, total monthly adoptions out of the Silcox shelter climbed to 457.
"When people say we're not trying, they just are not looking," Brenda Silcox said. "Things like this partnership with PetSmart are wonderful."
Covey, the code compliance public information officer, said it was a natural partnership, giving extra visibility to the adoptable animals. "The people who go to PetSmart already love animals," she said.
The partnership pays for itself, Hanlan said. "The people running the adoption centers are our employees. And when people pay the $49 adoption fee for a large dog, that money comes directly to us. On top of that, PetSmart gives our shelter a reward of $15 to $35 for every animal adopted out of their stores."
 ********
Silcox, Hanlan, and Covey all realize the shortcomings of the city shelter. They understand that damp concrete and the lack of space for dogs to run outside are invitations to the spread of disease. They know that not having a completely separate intake area for new dogs could allow airborne viruses to infect healthy dogs. But they all say that huge strides have been made on all levels in the past several years.
From Oct. 9, 2009, through Sept. 30, 2010, 64 percent of the dogs that came through the shelter were euthanized. For the same time period in 2011 and 2012, the euthanasia figure dropped to 33 percent. "That's a very important thing to take notice of," said Silcox. "And we're getting better."
Hanlan pointed to the vaccinations, worm medicines, and the spay and neutering program as major efforts, especially since the shelter has only three full-time veterinarians and six full-time veterinarian technicians. As for the distemper, Hanlan said the vaccinations have minimized that disease in dogs that have not already contracted it before reaching the shelter. City records indicate that of 3,511 dogs adopted or rescued between September 2012 and May 2013, the total number of confirmed and presumed distemper cases still came to less than one-half of 1 percent.
"We're not satisfied yet," Hanlan said. "The new medical facility will be a great addition in the treatment of these animals, but we would love to have a separate intake building and the money to test each dog for distemper as they come in. And then, we'd love to have that army of volunteers walking the animals twice a day."
Watkins and a lot of animal rescue groups would love to see that as well. "If they would take care of these problems, I wouldn't have to shout about them, and that would be fine by me," she said.
Still, she's irate that even the little things that would improve the lives of the animals in the shelter are not being done. She thinks the shelter might get its "army of volunteers" to walk the dogs and provide other help if officials admitted the shelter needs help.
"They ought to be out there telling people what they need, letting people know the conditions need to improve," she said. "People would respond to that appeal. But nobody is going to help when you tell them everything is fine."