Candy Clark provided so many interesting quotes for this week's cover story ("Graffiti Artist," July 3, 2013) that some were left out for space reasons.
For instance, did you know producer Francis Ford Coppola almost gave American Graffiti a different title?
"The president of Universal never really got the movie and thought it was going to be a drive-in movie," Clark said. "Francis came to the set and said we needed to come up with a new title because Universal doesn't think anybody will know what American Graffiti means."
Somebody suggested Rock Around The Block, which Clark called "disastrous."
"I said, 'American Graffiti is a great title, it has a great rhythm to it!" Clark recalled.
The title stayed.
Later, Clark was shocked to see the epilogue at the end credits that tells viewers how one of the characters, John, was killed by a drunken driver, and another, Toad, was missing in action in Vietnam.
"When I first saw that ending it made me very mad because here we'd been laughing and very charmed by the characters and the last couple of minutes of the film we see that this character got killed," she said. "I hated that tacked-on ending. It had been really fun and light and it seemed like an unnecessary tag-on, a down note on a very up film."
Curiously, only the male characters were included in the epilogue. I asked Clark what Debbie's epilogue might have been.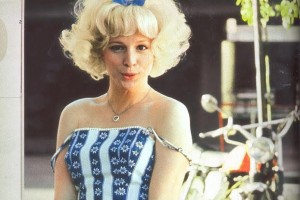 "Debbie might have taken a course at Trimble Tech in cosmetology and learned to be a beautician and maybe eventually get her own shop," she said. "She had a little bit of glamour with the big hair and the accessories."
The movie begins with Charles Martin Smith, as Toad, riding a scooter, losing control, and running into an ice machine. It instantly defines Toad as an inadvertently funny doofus. I asked Clark how Smith made that scene so realistic, and she laughed. Smith had no idea how to ride a scooter.
"It just took off," she said. "He's lucky. The accidents in that movie are what really make it realistic. Like when the guy who robs the liquor store throws that bottle of liquor to Toad – Toad almost dropped it. And that scene where Mackenzie [Phillips] gets hit square in the face wit the water balloon. That was an accident. That's why she looked so shocked. A lot of people feel like American Graffiti is almost like a documentary of that time because it's so realistic."
In 1978 she worked alongside screen legend Robert Mitchum in The Big Sleep.
"He was really, really nice to all the actors and even the young beginners like me," she said. "He treated everyone like they were part of the crew. An older established actor doesn't have to hang out or even talk or give them the time of day, but after work on some days he'd have us sitting on the floor, listening to old stories and actors and when he got arrested on his marijuana charge. He was so handsome – even as an older man he still had his good looks."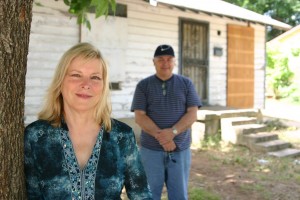 She learned early on to keep her feelings in check when meeting legends.
"When you meet these people, you can't be a gushing fan," she said. "You have to be cool, or else it's annoying. It's exciting but you can't be trembling."
She worked with O.J. Simpson in Cocaine and Blue Eyes in 1983, and even filmed a shower scene with him. Simpson, a producer for the movie, threw a cast party at his home.
"O.J. and Nicole were there," she said. "He was the friendliest, nicest boss you could ever have. You would never think he would go off the deep end."
In 1985, Clark worked alongside Sean Penn on At Close Range, which was filmed shortly after Penn and Madonna became engaged. When Madonna visited Penn on set, the couple spent plenty of time in his trailer.
"The trailer would be moving and he'd come out all red in the face – we were cheering," Clark said. "I got invited to the wedding. You couldn't hear the ceremony because there was a helicopter flying overhead the whole time."
Clark doesn't hit the Hollywood parties like she did in the 1970s, but she still gets out sometimes. She attended a Hollywood party earlier this year and ran into George Clooney, who complimented her still youthful appearance.
"He kept saying, 'You look 14, you look 14.' I guess he knew who I was," she said.
Clark was nominated for an Academy Award in 1973, and it was the first award she was being considered for since she won the "Quietest Kid In Class" in second grade in Fort Worth. Her prize back then was a chocolate bunny, which melted on the way home from school.
In the comedy slasher movie Cherry Falls (2000), Clark portrays the chain-smoking mother of Brittany Murphey. I noticed that Clark inhaled during her scenes, but she didn't seem to handle her cigarettes like a real smoker.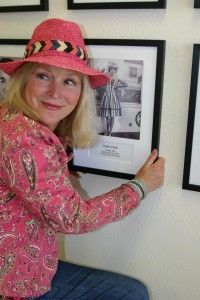 "I had quit smoking years prior to that," she said. "They gave me herbal cigarettes [for the movie scenes]. I was so afraid I was going to get re-addicted to cigarettes."
She had quit smoking in 1988 – "it was a nine-month white knuckler" – and hadn't had a drag in more than 10 years.
"I just went cold turkey," she said. "I was starting to get numb in the fingers and toes and I thought, 'Oh this is how it begins, with circulation problems.' I was at a stop sign in Century City and it had a big digital sign that listed the number of people killed by cigarettes [that year]. While I was waiting for the light to change, the number flipped over. And I thought, while I was sitting here at the light somebody just died from cigarettes."