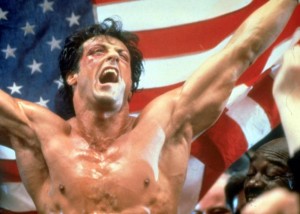 The best boxing match I ever saw was in 1973 when my cousin Little Johnny fought in the Golden Gloves. He was matched up against a bigger and more experienced fighter, but Little Johnny had a game look on his face as he climbed under the ropes and stood in his corner.
I was 12 and sitting about 10 rows back from ringside. Little Johnny was about 17 at the time. I looked up to him.
The bell rang and Round 1 began evenly at first, but by mid-round the other boxer began delivering brutal blows that bloodied Little Johnny's nose and made one of his eyes swell shut.
In Round 2, Little Johnny's tank top was covered in blood, and he was wobbly, but he kept his head down and kept swinging. He landed a hard right to his opponent's jaw and staggered him, and the entire crowd at Will Rogers Coliseum rose to its feet and cheered. Both fighters traded blow after blow after blow.
"This is like a scene out of Rocky!" I exclaimed to my father.
"What's Rocky?" he yelled over the crowd noise.
Then I remembered it was only 1973 and Rocky wouldn't be filmed for three more years.
The battled raged until the final bell, when both fighters collapsed in sweaty, bloody exhaustion.
Little Johnny lost the match by decision, but I wouldn't have been prouder of him even if he had won.
The next day, the Fort Worth Star-Telegram published an article about the fight and how it had electrified the crowd the night before. The writer described my cousin as "fighting back like a wounded tiger."
I'd never heard that phrase before and it was a colorful and fitting description. I clipped out the article and pinned it to my bulletin board where it remained long after the clipping had become brown and brittle.
Quarterback Tony Romo and the Dallas Cowboys reminded me of Little Johnny yesterday. Romo's late-game interception with the game tied led to a 51-48 defeat, but it didn't make his effort any less heroic.
The "Romo is a choker" crowd doesn't have a case this time. If anybody choked it was the defense that gave up 51 points. Romo and the offense, and even the defense to a large extent, fought like brave and glorious wounded tigers and there's no shame in that.