The culinary gulf between pubs and restaurants in Fort Worth is narrowing fast, thanks to several new watering holes that also serve great grub. On the Near Southside, Zio Carlo Magnolia Brew Pub takes it a step further by offering seasonally inspired beers brewed onsite along with delectable wood-fired-oven pizzas.
Zio Carlo has that classic, lovely distressed and industrial Magnolia Avenue look (open rafters and lots of exposed brick). Long operating hours and voluminous seating have made the pub something of a community center. On a recent visit, one entire side of the restaurant was occupied by a neighborhood group.
Zio Carlo offers a wide selection of popular craft brews in addition to four housemade beers. The brewers take advantage of local ingredients when possible — Zio Carlo's Wheat Beer was made using Parker County peaches. One of the pub's most popular beers, according to our server on a recent visit, is also one of the newest. The Single Phase Pale Ale, named after the antiquated motor used to power the brewing process, delivers a strong but not overpowering hops flavor balanced by a complex bouquet of citrus and floral notes. The beer is also sold by the growler (like a sealed jug to take home).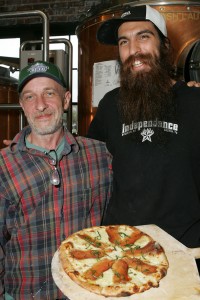 Our meal started with tomini al verde (goat cheese with green sauce), which came with some zesty bruschetta. The scoop of soft cheese was covered with a parsley-infused olive oil that was thick and nutty.
We also tried the turkey-bacon sandwich accompanied by a side of al dente bowtie pasta. Stuffed between two buttered pieces of rosemary bread were moist slices of bird, smoky bacon, creamy avocado, fresh baby greens, and juicy cherry tomatoes with a basil-kissed mayo dressing. The sammy's savory heft and freshness made every bite a symphony; red pepper flakes delivered a surprising but welcome level of heat.
From the pizza menu, we tried the brie and speck (smoked prosciutto) variation. The dense brie was tempered by an equal portion of mild mozzarella, and the hearty, lengthy slices of ham were deliciously pungent and salty. Chunks of basil added some peppery zest.
The real winner, though, was the dough: crispy on the first bite and chewy throughout.
Zio Carlo is definitely a pub first, but with such excellent gastronomical offerings, there's no reason this Near Southside spot shouldn't register on your food radar as well. The atmosphere is friendly, and the service during our visit was attentive without being intrusive.
[box_info]
Zio Carlo Magnolia Brew Pub
1001 W Magnolia Av, FW. 817-923-8000. 10:30am-12pm Sun, 11:30am-1am Sat, 10:30am-12am Mon-Fri. All major credit cards accepted.
Tomini al verde ……………………….. $6.75
Turkey bacon sandwich ………….. $7.50
Zio Carlo Single Phase Pale Ale … $4.50
[/box_info]