Talk about timing — another earthquake hit near Azle on Monday, just hours before the start of a meeting about earthquakes. The 3.1-magnitude quake is the latest in a flurry of seismic activity in that area.
About 300 people from North Tarrant County and South Wise Counties showed up AT the Azle Community Center and were greeted at the door with a volunteer handing out copies of a Fort Worth Weekly story written by Peter Gorman ("Range Wars," Dec. 23, 2013). The Weekly was not involved in planning or sponsoring the meeting, but if organizers want to pass out our article, that's okay with us.
Residents were still craving information after last week's poorly executed town hall meeting with oil and gas regulators. More than 30 earthquakes have hit the Azle area in the last couple of months, creating cracked walls and busted pipes. The Texas Railroad Commission officials provided little information, and bolted for the door as soon as the meeting ended.
That angered the crowd and served as an open invitation to activists who have fought for years to increase the industry's regulation and accountability.
The Earthworks Oil & Gas Accountability Project, the North Central Texas Communities Alliance, former DISH mayor turned activist Calvin Tillman, blogger "Texas Sharon" Wilson, and others hastily organized last night's meeting to tap into that passion.
The goal was to give residents up-to-date information on natural gas drilling injection wells, earthquakes, and studies that have connected the two, and to urge them to organize and rattle the cages of lawmakers.
The crowd liked what they heard, breaking into impromptu applause several times. By evening's end, many had vowed to join the fight and push for more drilling safeguards.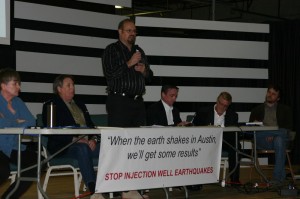 Gary Hogan thanked the crowd for showing up in such large numbers at the previous town hall meeting with Railroad Commission officials. "You folks scared the hell out of them," he said. "You've got the people power. You've just got to be determined that that's what you want to do."
The crowd snatched up a wide array of literature, including reports on various studies linking earthquakes to injection wells. A map pinpointed five active injection wells clustered in the area where the earthquakes have been occurring.
Regulators say no clear scientific evidence links seismic activity to drilling. The activists, however, say the studies offer ample evidence to at least shut down the wells until further studies can be done.
"A lot of people go to death row on less [evidence] than that," Hogan said.
One Azle resident wore a gas mask and held a sign with the hand-scrawled message: "Ban Fracking Now!!!' He didn't reveal his name, saying he just wanted to share his thought. "I wanted to get the point across that we only have one planet, and this is a bad situation," he said.
A Briar resident expressed gratitude for the meeting.
"It's better than the last one," Jerry Miller said. "These folks seem to be giving us some facts. It might be a little biased, but not too much."