Smith grew up in the mountains of Colorado. There, "living a very sustainable life was just normal," she said.
She moved to Texas in 1996, relocating for her husband's job. She took care of the kids while her pilot husband worked. She tried to pass the lessons of a simpler existence to her children. She "unschooled" them, meaning that at home she encouraged them to learn about things that interested them rather than following a regimented school curriculum.
Smith kept a small garden, which she let wither during the summer, and she regularly mowed the grass on her property, a three-hour task. She drove the highways often, running typical errands and driving her kids to assorted activities. "I did a lot of expending energy," she said.
Eaker agrees with that description. "Supporting the petroleum mega-machine," he added. A neo-hippie, he philosophizes at length about how the average Western lifestyle is bad for the planet.
The marriage was happy for a long time, but eventually Smith and her husband grew apart and divorced. "Times change, you know," she said of the experience. Her adult kids moved out a few years later. Now 53, she has plenty of remaining youthfulness to enjoy.
Around the time of Smith's divorce, Eaker left Colleyville, where he had been unschooled before a stint at Colleyville Heritage High. He moved to Los Angeles to work as a fashion model; between shoots, he read, absorbing books about redefining spirituality and embracing new modes of existence.
One day, as he describes it, his perception of everything changed. "All of a sudden, I became aware of how aware I was," he said. "My whole world just imploded on itself."
So he left everything behind. He told his agents he was done with the cameras and embarked on a rambling journey around the country.
"I had to go somewhere beyond the mediocrity of human existence," he said. "I was reprogramming myself."
One lesson involved surviving on very little money. Another exposed him to how much trash our culture generates.
Around 2007, ready for another phase, he returned to his parents' home. Soon after, he connected with Smith at a conference about unschooling. That summer, he moved into her house.
 ********
Having been outside of the mainstream culture for so long, Eaker was especially horrified by Smith's $800 electricity bill, which he used to persuade her to change her consumption habits. Smith says the bill was an anomaly, but she did soon cancel the cable, then the alarm system.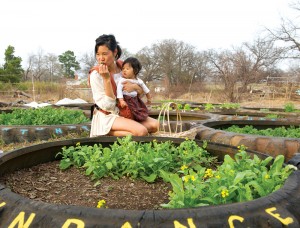 The hot tub was abandoned next. She left the car parked in the driveway for weeks at a time. She and Eaker hung around the house, cooking and crafting pottery. Eaker occasionally earned money by speaking at conferences about new life alternatives, and the two were able to live on that money plus her divorce settlement.
They eventually discussed reviving Smith's garden, but Eaker had a bigger idea: to build a large organic farm based on "wildcrafting" principles, like shading crops with tall grass and creating soil by composting whatever sources of carbon and nitrogen they could find. During his extensive reading and wandering, Eaker had learned about this natural method of growing food.
The next year, they expended energy not on mowing or watching television, but on creating composted soil by hand. They would drive around Arlington with a trailer and collect bags of fallen leaves. They left plastic drums behind grocery stores and asked employees to throw fruits and vegetables that were past their sell-by date in the drums instead of in the dumpster, where the organic potential would eventually be locked for centuries inside of a landfill.
"We transformed every inch of that soil by hand," Smith said. They piled newspapers, junk mail, and grass clippings, then watered and turned the pile with shovels while regularly adding nitrogen in the form of decaying produce.
They transformed the "junk" into fertile soil for growing everything from tomatillos to pomegranates. Friends gave them seeds for things like kale and arugula. They visited seed exchanges, plenty of which exist in the area, for sweet potatoes and organic heirloom tomatoes.
The initial harvest was a success. The next year, they collected and dried the seeds from the best plants and repeated the process.
"What we're doing here is supporting a holistic, symbiotic relationship," Eaker said. "A circle of life with nature itself in a way that is beneficial for our human experience."
A few years later, he met Inok Alrutz while on vacation in Sedona, Ariz. She left her gig managing an art gallery and, pregnant with Eaker's daughter, moved into the Kennedale house.
The three adults began operating what they called the Uber Dank café out of the house. Rather than a traditional for-profit dining establishment, it was a place for friends to congregate and eat homegrown food. The Gardeners advertised the events to their online circles and offered to feed people for free or accept donations.
"We just wanted people to experience how amazing food can be," Eaker said. They say they were perfectly happy with what some would deem an extremely alternative lifestyle.
 ********
What to the Garden of Eden residents was paradise seemed like a hazardous eyesore to someone at Arlington city hall.
In 2011 Smith received her first notice of a code violation due to tall grass, bags of leaves, and other composting materials. She invited Neal Lucas, the city's field operations manager, and Curtis Jones, the department's regional block patroller, to visit. She showed them the garden and explained how they had cultivated the soil from decomposing materials.
Smith said Lucas looked around and told her he wanted to start a garden of his own.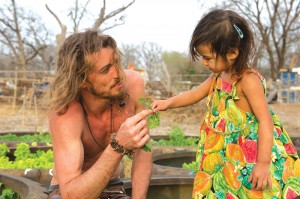 Lucas and Jones eventually warned Smith that she needed to correct a handful of violations, and she told them she would. In the end, however, although she cut the tree branches hanging over the road, she ignored the orders to mow her grass.
She locked her gate and posted a "no trespassing" sign, so code compliance would not be able to return. She had decided she did not want the city to dictate how she could grow food on her own property. The city kept sending letters demanding the grass be cut and "extraneous" materials removed.
The Garden residents kept shading their crops with tall grass. They eventually quit buying food from the grocery store altogether. Some visitors would barter grains and chips in exchange for the crops. Mostly, the guests ate fresh fruits and vegetables prepared in innovative ways.
Eaker would explain to guests the process of growing the food, which he says some guests commented was unusually rich in flavor.
He says education is part of the Garden's mission, and he takes every opportunity to criticize monoculture, in which large fields containing a single crop supposedly increase yields.
"In order to keep the food alive, they're using mass amounts of pesticides, herbicides, and fertilizers to kill bugs, to kill weeds, and to provide nutrients to the soil that exists there," he said.
At the Garden, they didn't do any of that. Their plants got water, sunshine, shade, and a little TLC. By all accounts, the plants were better off in the permaculture environment. Smith marvels at how the okra grew an inch overnight, how they would discover gargantuan squash under the plants' leaves.
We wanted to "blow people's minds, blow people's mouths, their taste buds," Eaker said. He explains that they didn't really make any profit at the café. They were excited about what they were doing and wanted to share.
"We had people come from all over the world to see what it is that we're doing and to understand how we utilize these materials that we don't go out and purchase," he said.
While friends stopped by the garden often, the trash truck rarely did. Jones kept reappearing, however, in the form of an accumulating pile of code violations.
 ********