When Shellie Smith moved into the two-story house on three and a half acres of land in remote southwest Arlington in 1996, she was living a different life. She and her then-husband, a pilot, wanted to raise their two children in the country. In those days, their little piece of earth was fairly rural.
The house sits behind tall trees and hedges on Mansfield Cardinal Road, which was not paved back then. Confusingly, the house on the road named Mansfield has a postal address in Kennedale, but it's actually within the city limits of Arlington.
Fast-forward to 2013, and Smith and her house are still caught between worlds. The family home is now called the Garden of Eden. There, she, Quinn Eaker, and Inok Alrutz manage an organic farm with bountiful year-round yields of vegetables.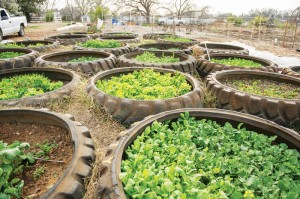 A roving cast of farmers and those curious about permaculture gardening regularly visit, some staying longer than others. The garden produces more than residents can consume, and they prefer to share, rather than selling the excess. Over the last several years, they have fed hundreds of people for free.
The Garden's inhabitants say they are transforming more than the usual way of producing food. They live together in the house with Alrutz and Eaker's two young daughters, and Eaker balances relationships with both women. The adults contribute to a magazine called Rethinking Everything. There, they explore new forms of interpersonal relationships, how to cleave one's life from reliance on fossil fuels, and communicating with the inner entrepreneur.
Part of their worldview requires producing more than they consume. The Gardeners don't generate much waste. They don't use paper plates or aluminum foil or almost anything that can't be composted and cycled back into food production.
In one light, they live in a peaceful world of their own creation, where life is simple, even on the border of a metropolis of seven million people, most of whom throw away far more than they create.
In another light, that under which the City of Arlington enforces its rules, they are hoarders, the garden a blight and a potentially shady operation in an increasingly upscale corner of town.
The expanding city is creeping closer. Mansfield Cardinal Road is now uniformly concrete. A new development with muted brick houses sits behind a concrete wall a few blocks away. Two new developments, advertising homes in the $300,000 range, will be built in the neighborhood starting this summer. A few hundred yards away, the city operates the Tierra Verde golf course. Were it not for some trees, golfers would be able to see the bamboo-fenced garden plots and large black statue of a meditating Buddha.
Despite the semi-urban environment, the feeling is pastoral. The northwestern sky offers an unhindered view of the sunset. The area's skyscrapers and raised highways are invisible. Distant traffic is audible, but barely.
Some city officials do not find the garden to be a tranquil place. Their Code Compliance Department has been sending Smith notices for three years for a variety of violations, from overgrown grass to lack of hot water. The total amount of fines currently exceeds $20,000. She has a court date set on March 13 and plans to argue that the offending tall grass is necessary to shade her fruit and vegetable plants. As for the rest, she believes she should be able to do with her property what she wants.
Last Aug. 2 at around 7 a.m., Arlington police unexpectedly stormed the garden, but, as it turned out, code violations were apparently the least of the officers' concerns. More than 50 officers, armed with military-style weapons, cut through the chain-link gate and flooded into the house, where everyone but Eaker was still asleep.
The officers rounded up and handcuffed all the adults, including five visitors. The police left a guard over a sleeping toddler and newborn while they took Alrutz downstairs.
No one knew why the officers were there — surely not to argue about code violations? A misdemeanor court case for those had already been set. The residents repeatedly asked the officers what justified the invasion but got no answers.
Several hours later, when police finally produced a warrant, Smith learned that her home had, seemingly overnight, turned into the front line of the war on drugs.
She and the other Gardeners had been accused by a confidential informant of operating a large-scale marijuana growth and distribution operation. At the end of their 10-hour raid, though, police had found no evidence of any marijuana or other drugs. After the narcotics investigators left empty-handed, the city's property abatement team proceeded to mow part of the garden.
While police officers detained her for several hours, Smith repeatedly asked them, "Why are you doing this?"
"I can't believe that they would actually think that this was the thing to do, that this was an honorable thing to do," she told Fort Worth Weekly.
When the officers replied that they were just doing their jobs, that they had to put food on the table to feed their families, Smith said she explained to them, "I'm feeding my family and a lot of other families, and I'm not holding a gun to anybody's head."
********