Adam Adolfo
Five years ago, when Adam Adolfo was hired to be artistic director of Fort Worth's Latino arts group Artes de la Rosa (headquartered in the city's historic Rose Marine Theater), he did the math: At 28, the Corpus Christi native was the youngest head of a major cultural organization not only in Tarrant County but all of North Texas. It was a daunting responsibility, but as anyone who's ever met Adolfo can tell you, he lacks neither confidence nor clarity of vision.
Adolfo, said Kristin Spires, a veteran actor and singer who's performed in a couple of Adolfo-directed shows, is "charismatic, forward-thinking, and you can feel he has a personal investment in making Artes a successful arts company. His drive and vision are contagious."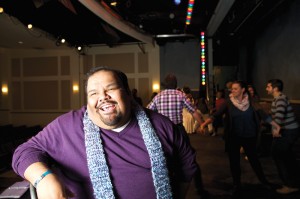 Adolfo, now 33, said his biggest goal has been to raise the profile of the theater. "The art gallery [at Rose Marine] had already shown nationally recognized artists," he said. "Our after-school arts program had been recognized by the White House."
With his extensive education and experience in the performing arts, Adolfo remembers thinking, " 'I should really put my stamp on the theater.' I didn't want Artes to be limited to doing just community [non-professional] theater. And I didn't want there to be a difference between fine arts and Latino arts. So that's where we started."
Call him a tempest in a nonprofit arts teapot or a bull in a theatrical china shop, but Adolfo proceeded to make an unexpectedly big noise with thematically and stylistically ambitious stage productions. Critics started to rave, Fort Worth audiences (especially from the Latino community) lined up for tickets, and North Texas Latino performers began to get excited about the idea that they were getting opportunities they'd never had before.
In terms of genres and authors, there is very little in the world theater canon that Adolfo hasn't tried in North Texas, either at Artes or as a freelance director with Fort Worth performing arts groups like QLive! (Fort Worth's LGBT performing arts group) and Stolen Shakespeare Guild. You want larger-budget Broadway-style bonanzas? Last year Artes produced the multi-ethnic Tony winner In the Heights and, just recently, Sondheim's Into the Woods, both courtesy of director Adolfo. You want experimental theatrical mashups? Adolfo programmed Electricidad, a Chicano theater-style reinvention of the Greek Electra myth. Political theater? Adolfo directed The Fifth Sun, about the CIA-supported murder of Salvadoran priest Oscar Romero, as well as Standing on Ceremony: The Gay Marriage Plays and, for QLive!, Terrence McNally's always controversial Sweet Eros. His Henry V was a drastically slimmed-down, dramatically potent effort for Stolen Shakespeare.
The essence of Adolfo's theatrical vision, though, might be his American Classics Initiative for Artes, in which the organization stages canonical American plays –– including, so far, Into the Woods, Cat on a Hot Tin Roof, and Arthur Miller's A View from the Bridge –– with multi-ethnic casts and (sometimes) lightly Latinized scripts. These productions give Latino and African-American actors the chance to play famous roles in classic parts they're almost never offered.
Still, Adolfo isn't interested in injecting radical ethnic identity politics into beloved scripts. "The key is not to reinvent but to reinterpret," he said. "Don't change the play. Change how we look at it."
One example: Tennessee Williams' combative Southern farm family in Cat became an equally combative Cuban-American family on a South Florida plantation. Adolfo's small changes of detail and Latin casting offered wonderful extra layers of resonance without changing what made the original play so great. "It's one thing for, say, a black audience to watch A Raisin in the Sun," Adolfo said, "but it's something different for them to watch Sondheim or Shakespeare and see actors who look like they do. It's an opportunity for them to say, 'This is our story, too.' "
Adolfo said he always keeps in mind the sensibilities of the audience he's staging a show for, be it largely Latino or LGBT or, more typically, a mixture of many different types. In his mind, being labeled an "ethnic" or "minority" director who strives to cast ethnic performers is an opportunity, not a limitation, "because there's no one way to be gay or to be Latino. Walk into a posh bar in town, and you're bound to see a Latino person sitting there sipping a martini. But we're also taco-stand, mom-and-pop business people, too. No single type describes everyone. That's why I end up choosing shows with subjects that are important for the community rather than just doing a story with Latino characters."
Two cases in point: Adolfo wanted Artes' youth theater troupe to address gang violence and HIV/AIDS because both affect the Fort Worth Latino community to varying degrees. But instead of selecting work by acclaimed Latino playwrights who've tackled the subject, he opted for a new stage adaptation of S.E. Hinton's The Outsiders and, coming this fall, a production of David Saar's fantasy play The Yellow Boat, about parents dealing with their young child's AIDS diagnosis. The casts and settings for both have been Latinized, as per his American Classics Initiative.
Adolfo wears another hat besides artistic director: He also often serves as a voice and drama coach while he directs shows, cultivating and shaping a ready theatrical talent pool in Fort Worth's Latino community just as the late Rudy Eastman helped non-professional African-American performers hone their chops while casting them in major supporting roles at Jubilee Theatre. Like Eastman, Adolfo has a knack for polishing the rough edges off young performers while giving them much-needed theatrical experience. A couple of actors he has tutored have since moved to New York City to seek work in the thriving stage scene; many others are developing into versatile performers who work with professional equity companies in North Texas or are sticking around for the next Artes project.
"Everyone has their own story of being human," Adolfo said. "My job as a director is to help actors bring their stories to the role and to the stage. It happens [that] I work with a lot of actors who're young, who've just begun their studies, or are fresh out of the university. And at Artes, it's part of our mission statement to help raise the profile of Latino actors in particular. It's like, 'You want to work, to start getting real stage experience? Come be in an Artes show.' " –– J.F.