DeRusse and Cutler, his business partner, began leasing booth space at the mall about nine years ago,  eventually renting  eight booths between them. They'd been hit by shoplifters before but suffered no major losses. That streak of relative good luck ended on Aug. 2, 2012. Burglars broke into the building, shattered one of Cutler's glass display cases, and stole thousands of dollars' worth of jewelry and other items.
It wasn't the first time something had been stolen that year. Another vendor had reported in January that someone took $10,000 worth of silver jewelry from a booth. She said store managers were uncooperative. Some dealers agreed, but others said the Sheidlers are responsive and good stewards.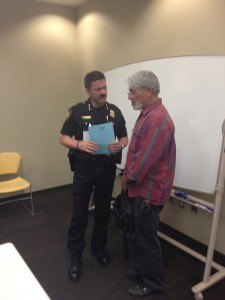 Sheidler said he and his staff encourage vendors to reports thefts to police, but sometimes people get upset at them out of frustration.
"There is always some blame toward us," he said. "It's natural. You're angry, and the thief isn't in front of you to beat the living crap out of, so you're upset, and I'm there."
On Aug. 3, 2012, Fort Worth police met with Sheidler to discuss the burglary. DeRusse and Cutler met with Detective R.S. Finch a few days later and submitted an inventory of stolen items. DeRusse asked to see the original police report, crime scene photographs, and evidence. Finch refused. Sheidler told police there was no video evidence available from security cameras, DeRusse recalled.
Afterward, DeRusse heard a store manager say the security cameras had been malfunctioning on a regular basis. DeRusse asked to see repair invoices or work receipts to show that the cameras had been serviced. The manager got angry and said she was "tired of you guys insinuating my employees had something to do with these cameras," DeRusse said.
DeRusse recalled Sheidler joining the discussion and speculating that burglars and police did not come close enough to activate any of the motion-detection cameras. DeRusse questioned how burglars and, later, police could traverse the mall without setting off cameras.
He spoke with the mall employee who handled the security cameras, which had been installed a couple of years earlier. He said the employee gave him a copy of the tape and said the cameras had been working fine earlier that day but had all stopped working that evening sometime after closing.
DeRusse's copy of the videotape covered the time span of 5 p.m. on Aug. 2 to about 3 a.m. the next morning, including the period when the burglary occurred. The video came from the camera that covered Aisle 5, including Cutler's booth. DeRusse took it to Barry Dickey, a forensic audio/video analyst at Audio Evidence Lab in Mansfield. Dickey analyzed the video footage and submitted a report on Oct. 19, 2012.
The report said the surveillance system, including its motion-detecting cameras, appeared to be working correctly until 6:19 p.m. on Aug. 2, after which no video footage was recorded for almost eight hours. Video footage resumed again at 2:05 p.m. on Aug. 3.
"If recording was interrupted or ceased prior to all individuals exiting the building, the time line supports that the system was disabled purposely," Dickey wrote.
DeRusse notified store management.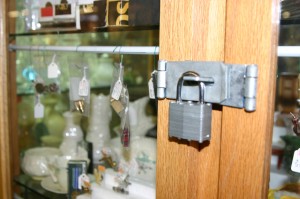 "After we told them what the video analyst was saying, they quit cooperating," DeRusse said. "The video analyst said he would be willing to look at more videotape, but they refused to turn over anything else."
Sheidler said he didn't know why the cameras weren't working the night of the break-in. He looked at the video footage with police that night and said they saw nothing, and then he turned the footage over to police. If the camera stopped recording at 6:19 p.m., it's possible that an employee accidentally turned off the wrong breaker while shutting down the lights after closing time at 6 p.m., Sheidler said.
Dickey's report is filed in the court case. This week, he clarified the sentence in the report that said the camera system had been disabled "purposely." That meant someone turned off the video camera, but he couldn't determine whether it was done purposefully or accidentally, he said.
The video footage contained "no evidentiary value," police spokesperson Cpl. Tracey Knight said.
"The antique mall consented to allow the FWPD Electronic Forensics Unit to review the DVR that the video was stored," she said. "However, Forensics was unable to recover any additional evidence. Detectives also viewed surveillance video from several neighboring businesses near the antique mall but were unable to find any video of evidentiary value to the investigation."
Knight said detectives have spent more than 100 hours investigating the case but have been unable to determine any particular suspect or evidence sufficient to justify an arrest warrant.
"This included dusting for finger-prints, reviewing video, and interviewing numerous employees, managers, and the owner of the antique mall," Knight said. "This case remains open, and if any new information is provided … it will be reviewed."
DeRusse said he was rebuffed when he tried to discuss his concerns with police. He recalled mentioning to detectives that he was going to approach the business next door, a Lockheed Martin office, to see if its outside surveillance cameras had picked up images of a suspect or a car. A couple of days later, DeRusse did just that.
"I went and asked them for the video, and the guy said Fort Worth police got here right before you, and looked at the video and took it and asked us not to release it to anybody else," DeRusse said. "We went to the police station and asked to look at it and they wouldn't show it to us."
Police told DeRusse there was no evidence found on the video. He found them uncooperative and contacted Mayor Betsy Price's office to complain. An e-mail from her office arrived on Dec. 6, 2012, saying a police captain would contact him. The call never came, DeRusse said.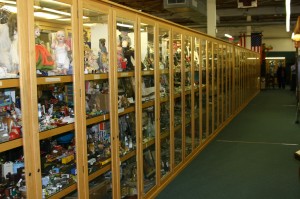 On Jan. 13, he sued the city and two officers assigned to the burglary investigation, alleging official misconduct. DeRusse believes police are dragging their feet in retaliation for a civil rights complaint he filed after being arrested in 2004.
Fort Worth police pulled over a car being driven by Cutler on Nov. 21, 2004, and cited him for drunken driving. DeRusse, a passenger, was cited for public intoxication. Both men denied being drunk. DeRusse said a police officer was covertly pushing Cutler during a field sobriety test, trying to make it look as if the suspect was stumbling. DeRusse said he tried to verbally intervene and was arrested, handcuffed, and pepper-sprayed at the jail in retaliation.
Cutler and DeRusse never got a trial. In 2005, their attorney told them that the police video showing the arrest that night had been erased. Police eventually reduced the charge against Cutler to blocking a roadway, but DeRusse's case languished.
"After about four or five years, I just gave up waiting for the city to announce they were ready for trial," DeRusse said.
On March 9, 2012, DeRusse went to the downtown courthouse to pay a citation for an expired inspection sticker. He discovered he had an outstanding arrest warrant issued in 2005 in connection with the 2004 public intoxication arrest.
On March 15, 2012, DeRusse and Cutler filed a civil rights complaint with the U.S. Attorney's Office, accusing the city and the arresting officers of fabricating evidence and wrongfully issuing an arrest warrant. That complaint is still pending.
Police dropped the public intoxication charge against DeRusse in 2013.
DeRusse grew suspicious that the police's lackluster investigation into the antique mall burglary was payback for his civil rights complaint. On Dec. 30, 2013, DeRusse and Cutler filed another complaint with the police department, alleging misconduct.
The department's Internal Affairs Section investigated and in January 2014 concluded that the allegations should not be sustained. DeRusse and Cutler then filed their lawsuit against the city, but that case too was dismissed.
 ********