The hum of conversation meshing with the clink of silverware created a pleasant serenade inside The Secret Garden restaurant, where a dozen antique hunters — mostly women — noshed on tuna salad, quiche, key lime pie, and iced tea on a recent afternoon. Elsewhere in the Montgomery Street Antique Mall, shoppers strolled quietly, picking through the treasures cluttering hundreds of booths.
"It's like a step back in time," said Paul Douglas of Irving, who sometimes visits the Fort Worth mall to find Dr. Douglas Wonder Bakers, a cornbread and biscuit pan produced and sold by his father.
Douglas considers Montgomery the best antique mall in Fort Worth. The store's 61,000 square feet of floor space, 160-plus vendors, and easy access to I-30 make it one of the Metroplex's most popular destinations. Readers of Fort Worth Weekly and Fort Worth Star-Telegram regularly vote it the area's best antique mall.
Douglas, like many collectors, finds serenity here.
"It's calming and quiet," he said. "It's like being in a library."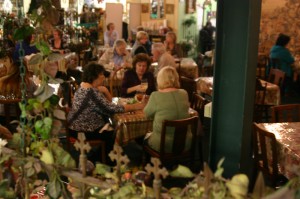 Beneath the calm lies another story. Thefts and burglaries have plagued the business. Some vendors complain that store managers downplay the problems and, on at least one occasion, could have turned off security cameras on the same day the business was burglarized. And two former co-owners accused the current owners of theft and embezzlement of an estimated $1 million in a lawsuit that was settled in 2012.
A couple of vendors recently packed up their goods and left. They reported losing $12,000 worth of jewelry and other items in a burglary and said it wasn't the first time they'd been targeted.
Most vendors interviewed for this article said light thievery is commonplace in businesses where customers poke around untended booths in huge stores while employees are often busy elsewhere. Fine jewelry is a favored target, due to its small size and high value. Most jewelry is locked in display cases, but dealers say thieves can pick locks and pop them open in the blink of an eye. For other items, thieves get even more creative.
"Couples can come in with a baby carriage and a baby wrapped in a blanket, and they'll put a piece of crystal or something in the blanket," said Erik Yang, a Dallas antiques dealer who has rented booths in a half-dozen antique malls over the years.
Yang has never rented space at Montgomery mall, but he's heard from other dealers that the theft rate is high. "There are only so many security cameras you can put up and only so many people you can have walking the floor," he said. "And thieves are clever."
Many vendors don't bother calling police when items get shoplifted. Some at the Montgomery mall say they've lost items worth hundreds of dollars. They didn't call police, and they don't think store managers care.
"The owners are apathetic about it," said a former vendor who didn't want to be named. "If you went to them about something being stolen, it was like, 'Well, too bad, what do you want us to do?' "
Two former vendors, Bill Cutler and Ray DeRusse, went a step further. They filed a lawsuit in 2013 alleging that mall owners and employees were involved in some of the thefts and burglaries. It's not the first time a vendor has made the claim. A man who reported $50,000 in losses in a burglary in 2001 told police the same thing.
Owner Chris Sheidler denied the claims, saying he's been in business for 19 years, works in an honest and ethical manner, and runs a huge store filled with happy vendors, employees, and customers who have been with him for years. The owner is tall and open-faced with thick sandy hair and a friendly manner. He characterized DeRusse as a conspiracy theorist.
"This is my business," Sheidler said. "Do you think I like having a reputation that people can break in this place and steal merchandise? It's awful."
Thieves often target retail estab-lishments, including Montgomery mall.  Most thefts occur during business hours. Montgomery has had about a half-dozen burglary attempts since 2001, Sheidler said.
"Do I think we have a lot [of thefts]?" he said. "I think it's too much. Any is too much."
********
Former owner Matt Robb and his wife, Beverly, alleged in a civil suit that the mall's current owners, Sheidler and his wife Elizabeth, used various schemes to steal money from them. These days, Robb refuses to discuss it.
"I cannot make any comment about that at all," he said. "I don't have any connection to that antique mall."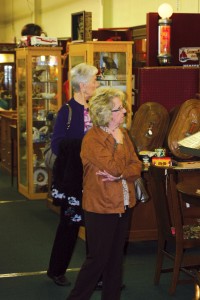 The Robbs had plenty to say 16 months ago. After the Sheidlers sued them in April 2012, claiming breach of fiduciary duty, the Robbs responded with a counterclaim in November of that year. They accused the Sheidlers of reneging on salary arrangements and defrauding and embezzling money from the company, in part by changing information on merchandise tags and reneging on floor space agreements. The Robbs blamed the Sheidlers for $1 million in losses the Robbs sustained from 2006 to 2012.
The two couples had formed Sheidler Robb Inc. (SRI) in 1994 to own and operate the huge antique mall they were creating at the northeast corner of I-30 and Montgomery Street. Each person would own 25 percent of the company stock. The couples served as co-directors and officers, with Beverly Robb listed as president, her husband as secretary, Elizabeth Sheidler as vice president, and her husband as treasurer. They paid themselves equal salaries, and each was allotted the same amount of floor space to display and sell their own antiques and collectibles.
In 2006 the Robbs left Texas and moved to Missouri but continued to co-own the Montgomery mall. Before departing, they agreed to reduce their combined salaries from about $100,000 a year to $80,000 and to increase the Sheidlers' combined salary to $120,000 since the Sheidlers would be "handling more of the day-to-day operations of the mall," the lawsuit said. Sheidler, as treasurer, made the adjustments in salaries. The Robbs said the directors made no other changes in the business arrangement.
The Sheidlers sent the Robbs their salaries for several years but reduced the amount to $45,000 in 2011 and sent nothing in 2012, the Robbs alleged in the lawsuit. The Robbs accused their co-owners of using the Robbs' share of floor space to sell their own merchandise, while moving the Robbs' inventory to a back room. They also accused the Sheidlers of erasing or altering tags on merchandise owned jointly by SRI.
The Sheidlers "engaged in a fraudulent scheme to forge and falsify dealer account codes over a number of years and consequently have embezzled substantial sums," the Robbs charged.
In another scheme alleged in the lawsuit, Chris Sheidler was accused of taking more than $61,000 from an escrow checking account without authorization in 2011 and 2012.
The Robbs demanded a directors meeting on April 25, 2012. The Sheidlers filed their lawsuit the same day, saying the Robbs failed in their fiduciary responsibilities by moving away, opening their own antique store in Missouri, neglecting their duties to the Montgomery mall, and demanding salaries they didn't earn.
Sheidler denied all the accusations that the Robbs made in the lawsuits. He repeated that to the Weekly and compared the Robbs' claims to a messy breakup.
"It was an ugly divorce," he said. "The child was this place. It was lawyers trying to outplay another lawyer. I wanted to buy the Robbs out, they wanted to sell out. How do they get more money, how do I pay less? It's a butt-kicking contest."
Meanwhile, vendors were having their own problems. DeRusse said he approached Matt Robb in 2012 with concerns about thefts and burglaries and suspicions that the crimes were part of an inside job. Robb assured him this wasn't the case, DeRusse said.
"He said Chris was doing everything he could to run a clean business," DeRusse recalled.
Robb had heard rumors about mall employees being involved in thefts and burglaries, but he disputed those claims in a short phone conversation with the Weekly.
"I heard about it a long time ago," he said. "There is no relevance to it. I'm quite confident they are not inside [jobs]."
DeRusse had sued the city and two police officers in 2013 in a case related to a 2012 burglary. DeRusse alleged in the suit that police wouldn't act on evidence that he believes connected store employees to some of the thefts. That case was dismissed.
 ********