DeRusse, with his wire-rimmed glasses and neatly trimmed hair and goatee, exudes a simultaneous sense of calm and storm. He speaks softly and precisely even as he laments the various forces working against him –– mall owners, police, the courts, the thieves and burglars, and the daily newspaper for ignoring the crimes at the Montgomery mall to protect the paper's dwindling ad revenues. Some of his fellow vendors note his eccentricities and "over- the-top" personality, as one described it.
DeRusse provided the names and numbers of fellow vendors who he said had knowledge regarding the thefts. Most of those vendors told the Weekly they disagree with the contentions DeRusse has made in his lawsuit.
Sue Brown has rented booth space at Montgomery since it opened in 1994, and she's suffered several thefts over the years. But she doesn't suspect employees or the Sheidlers.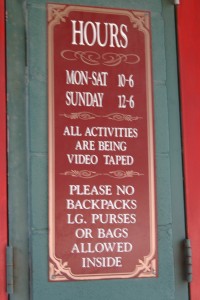 "I don't think they're stealing from me," she said. "I told Ray I didn't believe it and he'd have to prove it to me. He hasn't showed me anything to prove it."
Disputes between antique dealers and the storeowners who rent them spaces are about as common as 1990s baseball cards. Relationships between the two camps can be tricky. The storeowner is a landlord to the dealers who rent booth space. But many dealers also work at the store in exchange for cheaper rent, meaning the storeowner is to some degree their boss.
Antiques and collectibles dealers can be an independent-minded bunch, wanting to find and sell treasures on their own without anyone breathing down their necks. Dealers in antique malls can also spread more gossip in an hour than most quilting clubs do in a lifetime. Drama is assured.
"They have about 200 dealers at Montgomery mall, and all of them complain," a former vendor said.
Most of the antique store owners, dealers, and employees interviewed for this story requested anonymity. Dissing other dealers in print can come back to bite them. Junkers buy, sell, and trade with one another, and most interviewed for this story didn't want to alienate anyone.
A local woman who has been both vendor and storeowner said relationships easily become thorny.
"There is a whole society inside a big mall," she said. "Dealers are never happy. They're catty and cliquish."
Vendors said they chose the Montgomery mall to sell wares because the store is huge, easy to find, clean, and popular with customers. They give credit to owners for running regular ads in local newspapers.
Some dealers said Sheidler and his staffers discouraged them from talking publicly about the thefts, but only a few said they suspected that staff was involved. Instead, they described an industry where petty thefts and burglaries are common, particularly for dealers who specialize in silver, gold, or other precious metals that are easily melted down and sold for weight value.
"It depends on the mall, the security cameras, and whether they have workers walking around," a dealer said. "But a good thief can steal anything. And with gold, silver, diamonds, there's a much better chance of getting robbed."
A vendor at Montgomery described finding one of his display cases unlocked one day, with some of the contents missing. He complained to an acquaintance, who told him that the cheap locks used on some of the display cases could be easily picked. To prove his point, he picked one of the locks in a matter of seconds.
"If you have gold and silver in a mall, you're going to get scoped out," a dealer said. "You'll see how easy it is to get it."
Sheidler no longer allows vendors to specialize in gold jewelry and is discouraging the sale of silver.
A longtime vendor in the Metroplex said thievery is easier at Montgomery because the store has three separate exits.
"You know you're going to lose some stuff," she said. "If I were debating on putting Grandma's wedding band out there, I wouldn't do it. I don't put anything out there that I couldn't live without."
She thinks most antique storeowners are ethical and honest. Still, the nature of the business can create doubts. Store employees, including fellow dealers, have access to keys that open various display cases. Inside theft jobs can be easy to pull off. Unscrupulous dealers can case the booths, wait until the coast is clear, and nab something — or unlock a case for someone else to come along later and hit. She's heard of vendors signing short leases on booths at antique malls just to get access to the master keys to steal items from other dealers.
"It's a really hard thing to prove," the dealer said.
Sometimes the thieves and victims are the same. Dealers have been known to remove items from their own cases, report thefts, and collect on insurance.
"Most malls now have pretty good surveillance cameras, but for professional thieves it's still easy," a vendor said. "The locks on those showcases are sometimes like the locks you had when you were a kid that you could pick open with a bobby pin."
Michelle Dooley has worked as a door-watcher at Montgomery's south door for more than 10 years. She checks receipts as customers leave.
"I feel sorry for the dealers because they get a lot of things stolen," she said. "I know they [owners] put cameras in finally, and there are bars on the windows now. When [Sheidler] put the bars in, somebody still broke the window and tried to pry the bars apart."
One current vendor estimated she's lost about $20,000 worth of silver jewelry in three or four thefts from a locked cabinet. On each occasion, she said, she found jewelry missing from display cases that were unbroken and unlocked. She suspected an employee of purposely unlocking the case to allow a thief to make the grab. But she had no proof. She asked Sheidler to train employees on how to help prevent thefts, but he refused, she said.
The same vendor also recalled talking to Cutler after his display case was shattered. A manager walked by, overheard them, and asked them to stop talking about it.
"Maybe she was afraid people would overhear us, I don't know," the vendor said of the manager. "She is one of them that just really gives you the cold shoulder when you get ripped off."
Another vendor said she has a security camera near her booth. After she noticed one of her expensive quilts missing, she asked an employee to show her a copy of the video footage.
"He said Chris didn't want the dealers to see what's on the cameras," she said. "I haven't been as pushy as I probably should have been. That's why I like that Ray has taken this on. He is pushy."
The Sheidlers say he's pushing in the wrong places.
"We're the biggest dealer in here," he said. "My daughter sells stuff in here. We sell more stuff than anyone else. It's our livelihood. Anytime someone breaks into this place or shoplifts within the place, it's terrible. We hate it more than anybody else does. It's our reputation that hurts. And our dealers suffer."