Muppets Most Wanted (PG) The plucky troupe is flailing for direction after their triumphant return to the big screen three years ago. The plot revolves around Kermit the Frog's resemblance to a criminal mastermind who busts out of prison, has Kermit tossed in there in his place, and takes over the Muppets. Jason Segel is not involved here, and he's sorely missed as an actor and writer. The new material (by director James Bobin and Nicholas Stoller) isn't up to scratch, and the human talent falls down. This sequel features more songs than the original, and while some of them score (like the evil frog's disco number wooing Miss Piggy), others fall flat (like Miss Piggy's duet with Céline Dion). The troupe either needs new blood or Segel to return. Also with Tina Fey, Ricky Gervais, Ty Burrell, Christoph Waltz, Salma Hayek, Lady Gaga, Sean Combs, Tom Hiddlestone, Ray Liotta, Danny Trejo, Frank Langella, Toby Jones, Ross Lynch, Saoirse Ronan, Chloë Grace Moretz, James McAvoy, Usher, Miranda Richardson, Stanley Tucci, and Zach Galifianakis.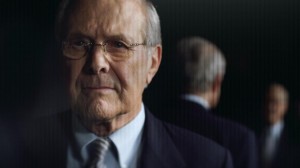 Need for Speed (PG-13) Based on the best-selling series of video games, this car chase movie just barely manages to be a viable piece of entertainment. Aaron Paul portrays a guy who's out to avenge his brother's death at the hands of a rival racer (Dominic Cooper) by beating him in an illegal road race in California. The script is terrible (Michael Keaton has a part that I still can't figure out), but then, who's going to this movie for the script? Paul has decent chemistry with Imogen Poots as a British car expert, and the racing sequences includes one with a silver Mustang tearing through gas stations and strip-mall parking lots at top speed. It'll tide you over adequately until the next Fast & Furious installment. Also with Scott Mescudi, Rami Malek, Ramon Rodriguez, Harrison Gilbertson, and Dakota Johnson.
Noah (PG-13) Darren Aronofsky's Lord of the Rings movie. The Black Swan director's reimagining of the biblical story stars Russell Crowe as an oddly unlikable Noah, who builds an ark to protect against a flood that will wash away the murderous descendants of Cain. This Noah becomes willing to kill members of his own family to carry out God's will, which is weirdly at odds with the character as presented at the movie's beginning. Even so, the movie has a lot to enjoy, such as the imaginative look (no robes!) that Aronofsky gives this story and the battle between the wicked king's army and fallen angels made of stone. Literalists may take issue with this, but hey, it's not as if they were there when the Flood happened. Also with Jennifer Connelly, Emma Watson, Logan Lerman, Ray Winstone, Douglas Booth, Mark Margolis, Kevin Durand, Nick Nolte, and Anthony Hopkins. — Steve Steward
Non-Stop (PG-13) Slightly less implausible than Snakes on a Plane, though better made. Liam Neeson plays an alcoholic air marshal who tries to thwart a plot to kill the passengers on his transatlantic flight one by one. This thriller is smoothly directed by Jaume Collet-Serra, and it plays like one of those 1970s Airport movies without the big stars, which is both a good and a bad thing. It might have gone over better if Neeson hadn't turned into Mr. Crappy Action Thriller during the last few years, but he's gone to this well once too often. It's good enough to kill 100 minutes on a long flight. Also with Julianne Moore, Michelle Dockery, Nate Parker, Corey Stoll, Scoot McNairy, Omar Metwally, Linus Roache, Shea Whigham, Anson Mount, and Lupita Nyong'o.
Sabotage (R) Arnold Schwarzenegger stars in this thriller directed by David Ayer (End of Watch) about an elite DEA squad whose members get killed one by one after they confiscate millions from a drug cartel. Also with Terrence Howard, Sam Worthington, Joe Manganiello, Josh Holloway, Max Martini, Mireille Enos, Olivia Williams, Harold Perrineau, and Martin Donovan.
The Single Moms Club (PG-13) Tyler Perry's latest film cuts out the cheap jokes and the judgmental attitude from many of his other movies. That's great! Sadly, what's left is a lot of boring speeches and weepy melodrama. That sucks! Nia Long, Amy Smart, Wendi McLendon-Covey, Zulay Henao, and Cocoa Brown play the women who form a support group/coffee klatsch for single mothers. The dilemmas they face play out exactly as you'd expect, and the men in their lives are either infinitely patient saints or evil abusers. Skip this meeting. Also with Tyler Perry, Eddie Cibrian, Terry Crews, Ryan Eggold, and William Levy.
Son of God (PG-13) This two-hour biography of Jesus was cut down from a 10-hour TV miniseries, which is probably why it plays like Jesus Christ's Greatest Hits. Diogo Morgado stars here, and he has the prophet's gentleness and magnanimity without his ferocity or his gravitas. Director Christopher Spencer looks hamstrung by his budget when it comes to evoking the wondrousness of Jesus' miracles. This is strictly for those who already believe. Also with Sebastian Knapp, David Rintoul, Gary Oliver, William Houston, Nonso Anozie, Langley Kirkwood, Darwin Shaw, and Amber Rose Revah.
300: Rise of an Empire (R) This sequel never escapes the haunting shadow of Zack Snyder's 2007 original. Taking in events both before and after the Battle of Thermopylae, this one stars Sullivan Stapleton as the Athenian general Themistocles, who tries to rally his fellow Greeks against an impending invasion by the Persians. Director Noam Murro follows too closely in Snyder's footsteps, imitating the original's look and feel without the flair for action, and the script is once again filled with bloviating about the warrior ideal. In a cast made up mostly of anonymous Australian guys, Eva Green easily steals this movie, bringing tons of badassery and her usual fierce sexuality to the role of the Persian naval commander Artemisia. The filmmakers should have had the sense to keep this character around for the sequel. Also with Rodrigo Santoro, Hans Matheson, Callan Mulvey, David Wenham, Jack O'Connell, Andrew Tiernan, Ashraf Barhom, and Lena Headey.
DALLAS EXCLUSIVES:
In the Blood (R) Gina Carano stars in this action film as a woman who goes after the responsible parties when her husband (Cam Gigandet) goes missing in the Caribbean. Also with Danny Trejo, Luis Guzmán, Stephen Lang, Amaury Nolasco, and Treat Williams.
Le Week-End (PG-13) Jim Broadbent and Lindsay Duncan star in this drama as a British couple who find their decades-long marriage coming to a head as they go to Paris to revisit the locale of their honeymoon. Also with Jeff Goldblum. (Opens Friday in Dallas)
The Lunchbox (PG) A runaway critical and commercial hit in India, Ritesh Batra's drama stars Irrfan Khan as a Mumbai widower who starts to correspond with a young housewife (Nimrat Kaur) after someone else's lunchbox is accidentally delivered to him. Also with Nawazuddin Siddiqui, Lillete Dubey, Nakul Vaid, Bharati Achrekar, Yashvi Puneet Nagar, and Denzil Smith.
Nymphomaniac Vol. 1 (NR) The first half of Lars von Trier's highly explicit drama stars Charlotte Gainsbourg as a woman telling the story of her sexual exploits. Also with Stacy Martin, Shia LaBeouf, Christian Slater, Uma Thurman, Sophie Kennedy Clark, Jesper Christensen, Udo Kier, Connie Nielsen, and uncredited cameos by Jamie Bell and Willem Dafoe.
The Unknown Known (PG-13) The latest documentary by Errol Morris (The Fog of War) is a profile of former Secretary of Defense Donald Rumsfeld and his role in the invasion of Iraq.