Art, music, booze, networking, bananas sculpted into dolphins — last night's 4th Annual Visionary Awards had it all.
Theater producer/director Adam Adolfo, multimedia artist Bradly Brown, and the art collective HOMECOMING! Committee were honored with Visionary Awards that included $500 cash prizes.
Son of Stan performed it's original brand of "divorce pop," with Jordan Richardson on vocals and guitar.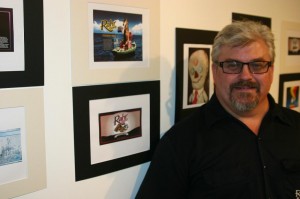 One of the most highly anticipated moments of the annual awards show is when Fritz Rahr peruses through a variety of beer labels designed by local artists, and then picks the one that will actually be used on the company's beer bottles.
The bottle and label will debut in the fall, and the beer will be made with a secret ingredient.
The secret ingredient is pumpkin.
There, the secret's out.
This year's winner is Fort Worth native Neal Langham, whose painting of a scarecrow doll with three buttons for eyes stood out the most.
"It's a visionary thing," Langham said when asked what prompted his design. "The third button is a third eye. The third eye transcends ordinary perception."
Oh those crazy artists.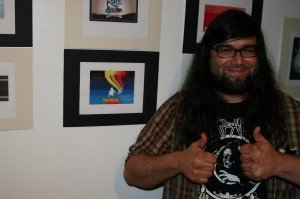 ARTIST JOE MELDOZA AND HIS BEER LABEL ENTRY.