Facebook and Twitter are blowing up over an incident that occurred over the weekend at newish West 7th bar, The Local. Cozzette La Belle, owner of a local hair salon, was not allowed into the bar because of her neck tattoo.
La Belle said she was going to the bar for a welcome back party for a friend who was recently discharged from the army.
"The place was really crowded," she said. "There was a line of about 10 people at the door, and when it came to our turn they said, 'I'm sorry, you can't come in.' I thought it was just because of the occupancy or something.
"Then he goes, 'oh, you can't come in at all,' " she said. When La Belle asked him why, he told her it was because of her neck tattoo.
She called her friend and the entire party relocated to another nearby bar.
"It just made me feel really bad," she said. "I've never had anyone tell me anything about my clothes; I've never been kicked out of a bar; I've never had any issues.
"Then I posted one thing on Facebook and it just blew up," she said.
Since that post, social media took off with the story, and outraged ink-enthusiasts brandished their cyber pitchforks and torches.
"Based on all the buzz there will be a bar space available off 7th Street pretty soon," one person wrote on Facebook.
"Hey guys, fuck this place," another Facebooker wrote earlier today. "Don't go there. In fact, if you have a tattoo above your collar, you CAN'T."
Graham Jackson, the general manager of the bar, said the whole thing was just a big misunderstanding.
"I'm the GM of the bar, and I have a neck tattoo," he said.
"There was a miscommunication between one of the owners and a door guy," he said.  "[The owner] doesn't want people with obviously offensive facial tattoos coming in. "
The person working the door misinterpreted the owner's wishes.
"I understand the outrage," he said. "A cute girl with a rose tattooed on her neck not being allowed in, that's ridiculous."
The bar issued an apology on its Facebook page:
"First, we would like to send out a personal apology to Cozzette and her friends for Saturday night. There is no way to go back and fix what has been done.
This all started with a miscommunication within our own staff, and will be dealt with accordingly. We always appreciate the very diverse community, tattoos, piercings, or other, in which we are a part of, and hope to continue to serve those who are willing to join us.
Again, there is no changing past events. The public is allowed their opinions, and we can respect that. We will do our due diligence to make sure patrons do not feel alienated or uncomfortable when visiting to our establishment. "
La Belle said the apology was disingenuous, and the bar is backtracking on its policy because the reaction has been so strong. She took a screen shot of the bar's Facebook administrator explaining the bar's policy to another customer.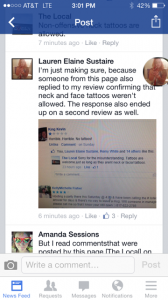 "If they made a real apology and said, 'yes, we did say that, but we realize it was a stupid rule and now we're going to change it,' " she said the whole thing would likely have blown over by now. "Instead," she said, " it just sounded like they were just covering their ass."
She said she won't be returning to the bar any time soon.
"I don't really care to go that bar anyway," she said. "It's not my style."
"I think it's rude, because everyone around here is so accepting," she said. "You can be a meat-head and go there, and you can have an offensive tattoo on your arm you can go there. But because you have a tattoo on your neck, you're not welcome."