Yesterday was April 20, a special date for pot enthusiasts (a common code among marijuana users is "420").
Menard County deputies weren't feeling festive.
They arrested Paula Nelson, daughter of Texas Music icon and former Fort Worth resident Willie Nelson.
Paula, a professional singer (Paula Nelson Band), posted the above photo on her Facebook page, along with this note: "Let's just say I'm writing a new song called 'Spread 'em, squat and cough.' "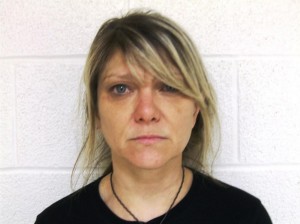 Menard is a small town in Central Texas and serves as the county seat of Menard County.
Menard County Sheriff Buck Miller didn't have much to say today.
"A traffic stop was executed and drugs were found," he said.
Paula was charged with possession of marijuana under two ounces, and is currently out on bond, the sheriff said.
Possession of less than two ounces of marijuana is a Class B misdemeanor punishable by up to 180 days in jail and a $2,000 fine.
Paula, 44, has been fronting her own band and touring regularly for years. She delivers her songs in a bluesy, torchy style that includes a bit of the whine reminiscent of her father's voice.
Willie Nelson has had his own share of marijuana arrests over the years, including one in Waco in 1994, another in St. Martin Parish, Louisiana in 2006, and in Sierra Blanca, Texas in 2010 (resulting in this Fort Worth Weekly cover story).