There is nothing quiet about the courtroom on the second floor of the Wise County courthouse. The cherrywood floors in the 118-year-old building creak with every step, and heavy, unforgiving wooden pews moan loudly at the slightest movement. Sound bounces around the Victorian-era room like pinballs in an arcade game, amplifying coughs and murmurs. And yet the room was completely silent when the jury emerged after two hours of deliberation.
The group of seven women and five men had listened to five days of testimony and seen stacks of evidence in the whistleblower trial of Joe Palazzolo. The former Arlington Heights High School assistant principal was fired after reporting various wrongdoings at the school, including attendance fraud, disparate treatment of minority students, misappropriation of funds, and the inappropriate behavior and grossly obscene language of some faculty members.
When administrators chose to cover up the wrongdoings instead of acting on them, Palazzolo took his grievances to the Texas Education Agency. That action plunged his life and career into chaos. In July 2012 he sued the Fort Worth school district for wrongful termination.
More than four years after his report, on a March afternoon in Decatur, the foreman handed the jury's verdict to District Judge John Fostel. The tension was thick as the judge paused for what seemed like hours before reading it aloud.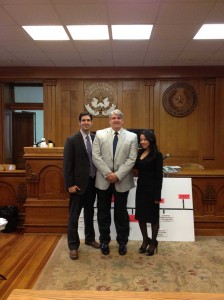 The jury found in favor of Palazzolo, awarding him total damages of more than $2.4 million.
It was a long road to that moment for Palazzolo, who felt both vindicated and reassured.
"I'm just glad I'm not crazy," he told Fort Worth Weekly that day.
Despite the victory in court, many teachers and district employees still fear retribution and declined to comment for this story, as did Palazzolo.
Palazzolo's saga is the stuff of soap operas. After filing the report with the TEA, he was demoted, transferred twice, put on administrative leave, then fired, reinstated, and fired again. He has sat through and testified at numerous hearings. His trial in March was the second time his whistleblower case had made it to that courtroom. The first trial was short-circuited after only one day, when the school district agreed to a settlement — which the school board then proceeded to blow up by insisting on changes, including a demeaning new job for Palazzolo, that he refused to agree to.
The failed settlement actually came as good news to many who have supported Palazzolo but who also believed his lawsuit was their best chance for a public airing of the district's dirty laundry — specifically, what they see as widespread intimidation, cronyism, and corruption.
On that point, the trial delivered. Testimony and documents painted vivid pictures of the intimidation and underhanded dealing that many district employees have long alleged. Teachers, administrators, and district employees testified about living in constant fear of retaliation.
Several of those employees testified that Michael Menchaca, the head of the district's Office of Professional Standards, was the district's main tool of intimidation. So perhaps it was no accident that the district selected him as its observer for the trial. Over and over, teachers and staffers who took the stand pointed at him when asked if they felt intimidated at that moment.
School board member Ann Sutherland said she too felt threatened by the district's lawyers — even as she testified. Her time on the stand made clear why district officials might not have wanted the public to hear her evidence, including testimony about a one-sided presentation of evidence regarding Palazzolo when the board was deciding whether to fire him.
Lawyers for the district also presented less than flattering evidence about Palazzolo, mostly from fellow teachers and administrators who called him versions of a bully — and yet none of those complaints appeared in Palazzolo's personnel file before he made his report to the TEA.
A Fort Worth police officer even testified about how district officials appeared to be trying to blame Palazzolo for a rash of burglaries (which had already been solved) because some stolen laptops that were recovered had been stored — by the officer — in Palazzolo's office. Palazzolo's accuser in that instance: the assistant principal he had accused of committing attendance fraud.
"This is a textbook case of retaliation," said Mark Scott, one of Palazzolo's attorneys.
After the trial, juror Terry Hines wouldn't go into detail about the discussion in the jury room but did offer sympathy for Palazzolo.
"It was a long, drawn-out case," he said, "but not near as long and drawn out as what Mr. Palazzolo went through."
********