The interior of Will Rogers Memorial Center went dark. A man in black walked hurriedly toward two empty stools that stood center stage. He placed a silver bucket filled with ice on one; on the other he carefully rested a bottle of tequila. Then he disappeared back into the shadows.
A beat later, comedian Ron White took the stage to thunderous applause from the sold-out crowd. Lit cigar in hand, in a dark suit with no tie, hair slicked back, and a watch you could see from space, he poured himself a glass of the tequila before he spoke.
"I started doing stand-up comedy at the Funny Bone in Arlington, Texas," he told the rowdy audience in his rumbling, cigar-soaked Texas Panhandle accent. "After 27 years [of doing comedy], I've made it all the way over here," a 20-minute drive from where he debuted.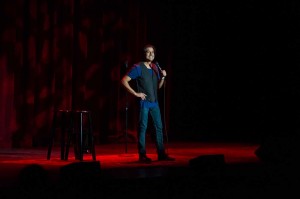 Before White's performance, his opening act, Acapulco-born comedian Alex Reymundo, whipped the crowd into a frenzy with jokes about family, being on the road, his Mexican heritage, and being "on the fence" about immigration.
"A woman came up to me after the show, and I went to shake her hand," he said to the audience. "She said, 'I'm Italian. I hug.' I said, 'Well, I'm Mexican. I make babies. I see your hug and raise you a family.' "
Reymundo, his thick black hair pulled back in a ponytail, sipped from a plastic cup of tequila before his set. That evening was far from the first time the two comedians shared a stage –– or a drink of tequila, for that matter.
Comedy and tequila have kept the two men connected for 27 years, White told Fort Worth Weekly in a phone interview from his tour bus in chilly Bemus Point, N.Y., where his wife, acclaimed singer Margo Rey, was to perform later that evening.
At that first live-comedy gig all those years ago, White said, he went to the bar and ordered a beer and a shot of tequila. Reymundo, who was raised in Hurst, was the bartender who poured both. The two have been friends and comedy tour buddies ever since, though they would say they're more like brothers –– and now brothers-in-law. Rey is Reymundo's sister. She and White married in October.
The two comedians are at the top of their profession. White's popularity skyrocketed after he introduced a national audience to his alter ego, "Tater Salad," while performing with the Blue Collar Comedy Tour. His Comedy Central special, "Behavioral Problems," is the most-watched show in the history of that network. Reymundo also took part in a prominent comedy tour. He was one of the featured acts in the Latin Kings of Comedy Tour, which aired on Showtime in 2002.
It's fitting that the men bonded over a shot of tequila that night in 1986. The brothers-in-comedy are now part-owners of a Fort Worth-based tequila company, Number Juan Tequila. Reymundo is the company's chief executive officer, and White, who lived in Mansfield for seven years, is the president. Fort Worth musician Eric Knudson is also an owner, along with two other men.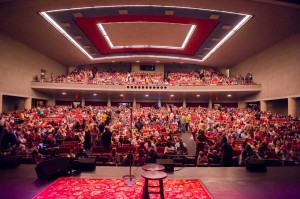 The tequila they import has been sold in limited quantities in Mexico for decades. Reymundo and company brought it to the U.S. market only a year ago, but the brand has already won some national awards and high praise from industry magazines. In several national competitions, the company's blanco, reposado, and extra añejo tequilas have won a total of five gold and two silver medals, competing with the most popular and widely respected brands in the market.
But just getting the tequila to the U.S. has been a challenge. The owners, none of whom have ever owned a spirits company before, navigated a long, often complicated path to get their tequila onto the shelves of bars and liquor stores. They've had to do it one bar, one handshake at a time. Number Juan is now sold in Texas, California, Kentucky, and Nevada and will soon be available in Georgia. In North Texas, fans can find the tequila at roughly 40 restaurants and bars and 23 liquor stores.
Reymundo, White, and their staff have done it with a dizzying schedule of appearances and tasting events and by just showing up at bars.
"There are no shortcuts to personal relationships," White said. "That's what matters. If you go somewhere to a bar and take the time to look a bartender in the eye and shake his hand, you've just done something. Now that guy knows you. He doesn't know Jose Cuervo or whatever conglomerate owns it now."
Before they could bring Number Juan to the States, the would-be tequila tycoons had to convince the family who owns the tiny distillery where it's made. The "juice," as White calls it, is made in Amatitan, Jalisco, with spring water from the base of a dormant volcano. The Rivera family has been making tequila for three generations, spanning almost 100 years. In Mexico, the brand is known as Regalo de Dios, or "gift from god," and is available only at high-end hotels, resorts, and a few restaurants.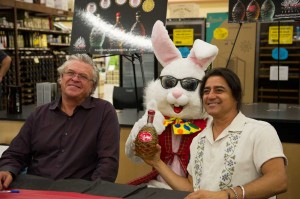 A friend of Reymundo's brought him a taste of the Riveras' tequila from Mexico while he was shooting his comedy special "Red-Nexican."
"I was like, 'This is the best I've ever had,' " he said. "I flew down to Mexico, and I asked the distiller, 'What bottle is this in the U.S.?' And he said, 'We don't have a U.S. presence.' "
It took Reymundo several years to convince the family to partner with him. The Riveras were reluctant to produce enough volume to satisfy Americans' appetite for upscale tequila.
"They love us now, because we've done everything we said we would do," Reymundo said.
Though many celebrities are endorsing and buying liquor brands these days, Reymundo said that Number Juan is more personal to him. Everyone involved in importing the tequila is either related to him or is someone he's known for many years.
White, who now lives in Atlanta, said he got into the liquor business because he was swept up in his brother-in-law's passion. Neither of the men are shy about using their celebrity to promote the tequila — it's for sale at all of their comedy shows.
"If we've been able to cut in line, it's because of the other work we've done," he said. "There are a lot of people endorsing different projects, but we keep telling people we're not just endorsing this, it's our baby.
"I keep telling people I've invested all of my daughter's quinceañera money," Reymundo said.
********