Customer Service
Readers' choice: Junker Val's, 3458 Bluebonnet Circle
Critic's choice: Glen Keely, Poag Mahone's Irish Pub, 700 Carroll St
Businesses make mistakes. But how a place recovers from a mistake speaks volumes about its commitment to service. For example, when a bar staffer at Poag's accidentally charged an enormous bar tab to a hapless Fort Worth Weekly writer's credit card, Keely swept in, calculator in hand, invisible cape on his shoulders, and refunded the money. When said writer discovered that the erroneous charge had caused an overdraft charge on his account, Keely took care of that too. The grace and civility with which he handled the ordeal earned him the loyalty of one oft-broke scribe. It's no wonder his bar is packed night in and night out with devoted customers.
Barber Shop
Readers' choice: West 7th Street Barber Shop, 701 Barden St, Ste 109
Critic's choice: Halo Salon and Color Lab, 6323 Camp Bowie Blvd
While we remain a fan of old-timey barber shops, we're not adverse to the coolest trendsetters either, and that would be the Halo Salon in the Village at Camp Bowie. It ain't cheap, but when you want those pink streaks to look just right or those extensions to look like your own hair and not extension cords, this is the joint. It's modern, stylish, plays a good selection of indie music, and the terrific staff can hold up their end of a conversation. Latté, anyone?
Hair Salon
Readers' choice: Goldwaves Salon, 5137 El Campo Av
Critic's choice: Shampoo Salon, 5316 Birchman Av
Since its opening in 2000, this family-owned salon has developed a reputation for personable and professional service, as well as its modern yet quaint atmosphere. Many of the stylists — and customers — have been there since the beginning, and their huge clientele keeps growing (meaning that appointments must be booked months in advance). And yet the atmo in the bungalow-style house is calm and intimate enough to make customers feel so at home, they might just forget how much money they're dropping on that fancy 'do.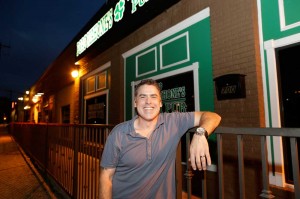 Tattoo Parlor
Readers' choice: InkTwister Tattoo, 5134 Jacksboro Hwy
Critic's choice: InkTwister Tattoo
Owner Trevor Curtin has been a tattoo artist since he got out of college 25 years ago. With four artists in residence, the shop generally welcomes walk-ins. Curtin, though, works by appointment only and gets booked up pretty quickly
Thrift Store
Critic's choice: Thrift Town, 6601 Blvd 26, NRH
Man, there was some serious back-to-school shopping going on at this biiig thrift store on Grapevine Highway a few weeks ago. Sure, the jeans and t-shirts go for almost nothing, and there are all kinds of fall coats for everyone in the family. Beyond that, a little serious hunting turned up all kinds of finds: a beautiful, like-new leather bomber jacket for $20, a Kenneth Cole sweater, an Evan Picone raincoat, and — right there on the rack by the check-out counter — a pair of Etienne Aigner pumps that looked like they'd just come out of the shoebox. Sans the usual three-figure price tag, of course.
Enviro-Friendly Business
Readers' choice: Pallet Smart, 5321 White Settlement Rd
Critic's choice: ReStore North, 4433 River Oaks Blvd
This place doesn't look "green." It looks like a cut-rate Home Depot, full of toilets and tile and windows and wall paneling and a jillion whosits that builders and homeowners need. But here's the deal: A lot of the fixtures and furnishing in this big, messy store are being recycled, which means (a) they won't end up in a landfill for a long time; (b) fewer trees are being cut down, less rock and sand quarried, less water and electricity used in manufacturing  to produce new materials; and (c) profits go to support Habitat for Humanity in its excellent work of providing homes for disadvantaged folks. Another of many steps on the path to a society that just might sustain itself someday without gobbling up what's left of natural resources (and without discarding precious human resources along the way).
Fashion Fad
Critic's choice: Flats on the runway
Amusing as it may be to watch supermodels tumble from their stilettos in the midst of a turn on the catwalk (can you spell schadenfreude?), it's refreshing to see top fashion houses like Dior and Chanel send their new collections out on women wearing flats, loafers, sandals, and even sneakers. Marc Jacobs recently showed flats with evening wear. We can dance to that!