Place To Buy:
Books
Readers' choice: Half Price Books, 5417 S Hulen St
Critic's choice: Half Price Books, 5417 S Hulen St
Whether you are looking to buy or sell, Half Price Books is where you want to go. The prices are fantastic, and they will buy those old paperbacks you've been moving from place to place all these years. They first opened in Dallas in 1972 in a converted laundromat, stocked with books from co-founders Ken Gjemre's and Pat Anderson's own collections. Now there are locations in 16 states, including three in Fort Worth and a few others nearby.
Comic Books
Readers' choice: Collected Your Pop Culture Headquarters, 3502 Bluebonnet Circle
Critic's choice: Generation X Comics, 3504 Harwood Rd, Bedford
Generation X is celebrating its 20th anniversary in a new store about four times the size of the closet it used to occupy. Even in the smaller location, the store kept everyone's inner nerd sated with a massive stock of comics, graphic novels, books, toys, and games. The new location boasts a game room that's about as big as the entire old store. It's where the staff hosts Magic: The Gathering tournaments, Dungeons and Dragons sessions, and many other game nights. If digging in crates for an old gem is your thing, Generation X has row after row of back-issue comics. If you want to tap into your inner child or introduce actual children to an Archie comic, then spend a Saturday here.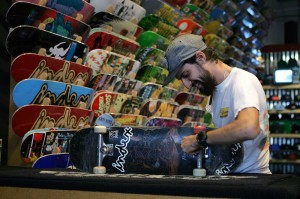 Used CDs/Records
Readers' choice: Doc's Records and Vintage
Critic's choice: Doc's Records and Vintage
Doc's is still the place to beat in terms of sheer volume and tasty aural selections, not to mention a whole room full of vintage clothes and odd knickknacks. With its semi-regular in-store shows and constantly updated inventory of new records, Doc's is a great spot to while away an afternoon, always accompanied by a good soundtrack.
Videos/DVDs
Readers' choice: Movie Trading Co., 4604 SW Loop 820
Critic's choice: Fry's Electronics, 102 E I-20, Arl
This is a retail outlet, so you won't find used discs like you will at Half Price Books and Movie Trading Co. Still, you can find everything from the latest season of Orange Is the New Black to vintage kung fu movies on sale, as well as comic books and t-shirts to go with your entertainment choices. The funkiness of this venue makes it a refreshing alternative to the big-box stores.
20th-Century Relics
Critic's choice: Montgomery Street Antique Mall, 2601 Montgomery St
Whether you're looking for those kitschy plates your grandma used to have, old slot machines, or a vintage Pong game, you're sure to find it at the Montgomery Street Antique Mall. With nearly four dozen dealers, this is a one-stop shop for all things retro.
Antiques
Critic's choice: K. Flories Antiques, 3915 Camp Bowie Blvd
Park behind the store and enter through the back. It's like stepping through a looking glass or a time portal. Oriental rugs cushion your steps. There's lots of furniture with carved frills and furbelows but also some primitives, like the 19th-century 20-foot-long monk's table. Looking for early Texas art? "We have some Josephine Mahaffey," a pleasant employee recently told us, "and sometimes we get a Bror Utter." Price tags are pleasantly surprising. About that: On most items there are two prices noted. The higher is for credit card purchases, while the lower reflects what you'd pay in cash or by check. A great place to get lost in the past.
Jewelry
Readers' choice: Junker Val's
Critic's choice: The Artful Bead, 5304 Trail Lake Dr
Yes, you can buy individual beads, clasps, connectors, and stuff to string them. And take classes in how to make jewelry. And get your own jewelry repaired. But you know, right, that you can also buy gorgeous finished pieces here? Or pendants that would look great hanging from that chain you already own. Religious, ethnic, chunky, sleek — there are all sorts of pieces, including ones with diamonds and pearls. Nobody's going to show up at the party with the same piece — these are one of a kind.
Adult Toys
Readers' choice: Velvet Box, 2917 Morton St
Critic's choice: Christal's, 3012 Alta Mere Dr
Adult toys could mean guns, cars, boats, or jewelry, but we're sticking with the old-fashioned meaning of the word: sex toys. For the stuff you'd die to have your mom find out about, go to Christal's. Vibrators, fetish materials, lubes, lotions, lingerie, dirty movies, and whatever else it takes to rev your engine are all available in the heart of Ridglea. The staff won't laugh, whatever your needs.
Video Games
Critic's choice: Gamestop, 1301 W Glade Rd, Ste 164, Euless
When it comes to gaming, there aren't many places as dedicated as this. The Glade Road staff clearly loves games as much as the customers, and they're knowledgeable about new releases and technical issues with gaming systems. For the budget-conscious, they offer top dollar for trade-ins, which means they have a huge selection of quality used games.
Cigars
Readers' choice: Pop's Safari Cigars & Fine Wines, 2929 Morton St
Critic's choice: Silverleaf Cigar Lounge, 428 Commerce St
Fort Worth's newest cigar lounge is quite possibly its swankiest, with sleek, minimalist furnishings and a marble-topped bar. Besides the broad selection of cigar brands, Silverleaf offers pairings of top-shelf whiskey and bourbon with their smokes.
Future Garage Sale Items
Critic's choice: Wendy Davis campaign signs
Wendy Davis is a fine politician, but she's a Democrat in a Republican stronghold. Her chances of becoming Texas' next governor are only slightly better than Kinky Friedman's odds of being elected to anything. Davis left her Fort Worth City Council job for a seat in the Texas Senate and left that job to make an even grander political march. Once the election is past (and only then), those yard signs might become quite the collectors' items. Of course, if she were to win, they might be even more valuable, like the relics of other miracles.
Cheap Threads
Readers' choice: Thrift Town, 6601 Blvd 26, NRH
Critic's choice: Uptown Cheapskate, 8436 Denton Hwy, Ste 206, Watauga
This store may be part of a chain, but it's still a great place to shop. It sells both new and "gently used" apparel, and the Watauga location is neat as a pin, with a great selection of clothes (including designer items) and accessories logically arranged — and the prices are right. The website says the store "buys what you loved yesterday and sells what you want today." We'll buy that.