The ol' notebook is about emptied out, the camera card is picked clean, and my buzz is finally subsiding after visiting the set of Windsor earlier this month ("A Script For Texas," Sept. 17, 2014). If you'd like to catch up, check out these blog posts on Sonny Carl Davis, Quinn Shephard, and Nick Krause.
One of my favorite moments occurred while hanging out with Barry Corbin and his girlfriend, Barbara, after filming ended one day.
The Oklahoma border is just a few miles north of Gainesville, and the three of us drove up to Winstar during a rainstorm. Afterward we stopped at an Applebee's. Corbin enjoys meeting friendly people, and he'd hit it off with some of the Applebee's employees and regulars during his stay in Gainesville. He made a habit of stopping by most evenings just to say hello.
After that we headed to the bed and breakfast where Corbin and Barbara were staying and the three of us had a nightcap – a shot of Duke, the new bourbon that features John Wayne's image on the label. (Duke University is fighting the whiskey maker over trademark infringement.)
Barbara went to bed, but Corbin and I stayed up a while longer talking. Corbin began telling me about a one-man stage show he was doing in which he portrayed an old Texas oilman talking about the early days.
"Well, hell, let me show you a little bit," he said in his familiar drawl.
He paused for a moment, looking at the ground. When he looked up, he wasn't Corbin anymore. He'd become an even older and more grizzled character, talking about buffaloes and Texas history and civilizations that stretched back thousands of years. Getting a private performance by a legendary Texas actor while sharing a bottle of John Wayne whiskey is something I won't soon forget.
Another veteran actor on the Windsor set was Joe Stevens. You'd probably recognize the face even if you don't know the name. Stevens has appeared in many Texas-made movies, including The Alamo, Lone Star, Selena, Texas Chainsaw Massacre: The Next Generation, and What 's Eating Gilbert Grape.
More recently he portrayed the cross-examining attorney who takes on Rooster Cogburn (Jeff Bridges) during a courtroom scene in the Coen brothers remake of True Grit.
He makes his living as a character actor, often in bit parts, but steps closer to the spotlight in Windsor. He portrays the imprisoned father of the movie's main character, portrayed by Madelyn Deutch.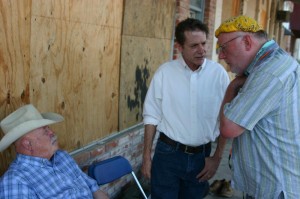 "I loved the script, the story, and all the subplots," he said. "They had the small farmer, the little man taking on the giant agribusiness — a fight that goes on to this day."
He also enjoyed hanging out with Corbin, one of his favorite actors.
"I enjoy him so much and have so much admiration for his work and for what he brings to a character," Stevens said. "This is the fourth movie I've worked with him on. Porter [Farrell] wrote this role for him. People I've talked to who have read the script can't see anybody else for that part but Barry Corbin."
The Fort Worth Weekly cover story examines the film incentives that Texas and other states use to attract filmmakers. Stevens would like to see Texas increase its incentives and become more competitive in attracting television and movie productions.
"It's always about the bottom line, and where can you save money," he said. "Texas is coming around to realizing that when a film crew comes in, they are going to be putting a lot of money in the economy."
Stevens graduated from the University of Texas in Austin in 1986 and gravitated toward the actor's life. He worked in theater, TV and movies, and then bolted for Hollywood in 1998. He moved back to Texas this year. He'd like to see more productions moving here as well.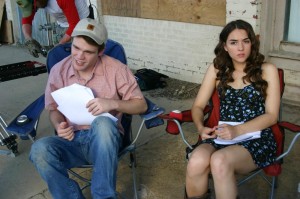 The recession in 2007 helped people realize the impact of incentives in attracting filmmakers and jobs, he said.
"For a long time we as Texans were like, 'You're going to shoot in Texas, you ought to be proud to be here,' but now we've caught up," he said.