On a crisp Saturday morning, Delga Park, just north of downtown Fort Worth, was beautiful. The deep blue sky was spattered with cumulus clouds, and birds flitted among shade trees at one end of the park, sandwiched between I-35W and the Trinity River. The grass was neatly trimmed and trash-free; the ball field sparkled. The only thing missing from the scene was anyone to enjoy it.
Over the course of nearly two hours not a single parent with a stroller walked the footpath. No kids played ball or swung on the swings or used the slide. No one except this reporter was enjoying a cup of coffee at the picnic tables.
Maybe the park's emptiness was a fluke. Or maybe not: Within a half-hour of arriving, I felt a light searing of something acrid at the back of my throat. Within an hour my eyes began to unexpectedly tear, and after two hours I had to leave because breathing was becoming difficult, even though I was sitting still.
If a recent snapshot of the park's air quality is accurate, the same might happen to anyone who spent time in the park — and to many who live in the neighborhood.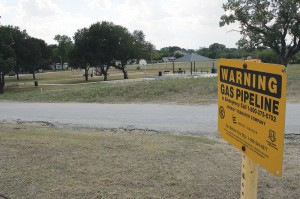 At the far end of the park is a huge natural gas compressor station built by Chesapeake Energy. Over the past several years, pictures and videos taken with forward-looking infrared (FLIR) cameras, which detect gases not visible to the human eye, have consistently shown the Chesapeake facility to be leaking huge plumes of poisonous gases into the atmosphere around Delga Park.
A June 1 air sampling by the nonprofit ShaleTest Environmental Testing, paid for by a $10,000 grant from the Patagonia Environmental Fund, showed the makeup of those emissions: benzene, a carcinogen, in quantities many times what is deemed safe by state guidelines; xylene, which can have developmental effects on fetuses, in concentrations much higher than allowed; and lower but still troublesome levels of toluene, also a carcinogen, plus a long list of volatile organic compounds that contaminate groundwater when they eventually sift out of the air and fall to earth.
The study, called Project Playground, involved collecting air samples in state-of-the-art canisters from five park areas in North Texas located near gas drilling or processing sites. One sample from each site was taken on single days between Oct. 28, 2012, and June 1, 2014. Besides Delga, the sites included Trinity Park in Fort Worth; McKenna Park in Denton; a playground in DISH, in Denton County; and a spot in Mansfield that's surrounded by four parks. At Delga Park, pollution dispersion air modeling was also done to project how far the airborne toxins would travel from their source.
The study's most damning finding is that benzene levels at three of the parks exceeded the Texas Commission on Environmental Quality's maximum recommended limits for long-term exposure. At Delga Park the levels were more than seven times that maximum level; in DISH they were nearly three times the limit and in Denton one and a half times the limit.
Other troubling findings: Toluene levels exceeded TCEQ's maximum for long-term exposure at two parks, and propene — also known as propylene, which can cause headaches, confusion, memory loss, and even seizures — was above the allowable levels at the Mansfield location.
Dozens of other dangerous chemicals were found that did not exceed TCEQ long-term exposure limits. However, many researchers believe those chemicals still represent a serious health threat. In combination, even at allowable levels, the chemicals could be much more dangerous than they are individually.
The report was released on Monday.Scientists who were told of its results said the findings should cause concern for kids living near and playing in those parks. Breathing those chemicals for long periods each day, over months or years, could cause a myriad of illnesses, many of them potentially life-threatening, they said.
"The mix of chemicals from the gas operations might be more toxic than they would be for any single chemical," said Dr. Anne Epstein, a specialist in internal medicine.
"The people living around Delga Park, in particular, are going to be sacrificed in the long term," said Calvin Tillman, former mayor of DISH, and co-founder of ShaleTest. "And the sickening thing is that they're being sacrificed so that the gas company can make a few bucks."
 ********