Unless you regularly travel through a few particular parts of town, you may think that prostitution isn't much of a problem in Fort Worth because you don't see those women on the street. But these days, most prostitutes and pimps don't work the streets. Like any other 21st-century business, they advertise online.
The local law enforcement officer said there are thousands of prostitutes in Fort Worth, almost all of them working in strip clubs, bars, and other businesses that double as brothels.
The largest single source of commercial sex workers is the "adult" section of backpage.com and, locally, the classified ads in the back pages of Fort Worth Weekly, the officer said. Customers contact the women through the ads and arrange a place to meet, usually at a local massage parlor.
Many so-called massage parlors are actually prostitution businesses, the officer said. The premises look like those of a legitimate business with a steady stream of customers. The owners hire and train workers, keep up with the schedule of clients, and take a cut of the proceeds.
According to the city, there are only 18 licensed sexually oriented businesses in Fort Worth, mostly strip clubs and adult bookstores. But if Houston's example proves true, there may be many more operating without a license.
In Houston, Laster said, she found 11 licensed sexually oriented businesses, but hundreds more operating outside the law.
The Fort Worth law enforcement officer said strip clubs, not surprisingly, are hot spots for prostitution. He believes the exotic dancers' lifestyles makes those women particularly susceptible to pimps, who know how to find out what is missing in a woman's life and fulfill that need.
Once the pimp has power over a woman, he doesn't let her go — she's worth too much money. The officer said that although the women could theoretically provide the evidence needed to convict the pimps of promoting prostitution, the women are seldom willing to testify.
"We have to stop looking at [the prostitute] as the suspect" when those women are in fact the providers of evidence, he said. "You never do that in any other criminal act.
"A lot of people see this [prostitution] as a victimless crime. Seeing a prostitute as a victim is the biggest challenge to society," the officer said.
 ********
Five years ago, Rebekah, 33, escaped the man who had been threatening to kill her since she was 17.
She asked to be identified only by her first name. She still fears for her life.
Rebekah was the teenage girl you see riding around with friends — windows down, music blaring, talking about the boys she would meet. She was a cheerleader in middle school, a soccer player, and a tomboy growing up with older brothers in the suburbs of Fort Worth.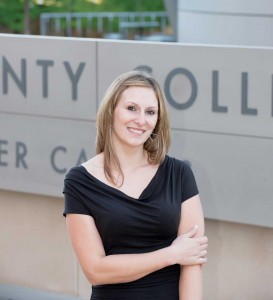 Her parents were doting, successful, and protective. As a teenager, she started rebelling. She snuck out of a church lock-in at a bowling alley and got raped for the first time. She told no one about it, but the trauma led her to start stealing and experimenting with drugs, which got her arrested. She ran away at 16 and was sent to a Christian reform school in East Texas called Holy Highway. First chance she got, she broke out. She lived with drug dealers on the streets in North Texas and became addicted to drugs.
The dealer she was living with told her that she had to start pulling her own weight. So she got a job as a stripper at Dreams Gentlemen's Club in Dallas, even though she was just 17.
After a few weeks, she met a cute guy at the club and moved in with him on one condition: that she could smoke pot every day. He said that was OK.
The second night she was with her "boyfriend," she found herself in the back of a car with three other girls on Harry Hines Boulevard being given a lesson on how to get paid for sex.
"That lasted two months before I wanted to kill myself," Rebekah said. But she didn't have anywhere else to go. "I felt like my family was dead to me."
One night, outside a bar on Harry Hines, Rebekah met a man who would change her life forever. She ran away to live with him in a luxurious 5,000-square-foot house in Denton. During the months leading up to her 18th birthday, the "family" of girls at the house encouraged her to stop doing drugs and start taking better care of her body.
"The brainwashing started immediately," Rebekah recalled about those first few months. She was already starting to believe that the man — her new pimp — really cared about her.
Over time, Rebekah was "groomed" to became a prostitute to some of the richest men in the Metroplex, making thousands of dollars each night and occasionally $50,000, when a high-roller came calling.
Her pimp had houses in Texas and Nevada, and they were always traveling to different cities to meet clients.
According to a report released earlier this year by the Texas Department of Public Safety, Rebekah was part of "the fastest growing business of organized crime." Sex trafficking, DPS researchers said, is "the third-largest criminal enterprise in the world."
In North Texas, a pimp can make $200,000 a year off one prostitute. "If that pimp has five girls in his 'stable,' he's knocking down one million bucks," said Grover.
In Texas, as in other places, sex traffickers target the most vulnerable populations, such as illegal aliens and juvenile runaways like Rebekah.
"To me, he was my everything," Rebekah said of the man who had taken her to the big house and the life of a prostitute. "I really believed that he loved me."
If that seems hard to believe, just think back to when you were 20, explained Laster. "You meet this seemingly wonderful new guy, and you want to share all your dreams, insecurities, goals, and fears with him."
Once you do that, the guy takes that information and uses it to manipulate you, she said. Then these "recruiters" put you into a trauma state by raping you, beating you, or depriving you of sleep.
After a beating the men tell the women, "I love you, I did this for your own good," Laster said. The true persona of the pimp, she said, "is the one who beat you. The actor is the one who cleaned the blood off your face. And 'love' is the superglue most pimps use. They are the villain and the savior at the same time."
Laster, 50, has been helping victims of human trafficking for the past 12 years. She started in Houston, working for the YMCA's trafficked persons assistance program.  She moved to California to lead the Orange County human trafficking task force before coming back to Texas as a consultant, trainer, and advocate for trafficking victims through her Austin-based nonprofit, The Bernardo Kohler Center.
"I've never met a willing prostitute, and I've asked," said Laster. "When you first meet them [prostitutes], they all say they're willing, but when you keep asking, you always find the coercion and the person who is benefiting.
"I think it's a fairy tale — the willing prostitute," she said. "Maybe I just know too much."
In 2006 federal agents busted down the door of the house Rebekah was sharing with her pimp in Las Vegas. Agents had to rely on the women living at the house, like Rebekah, to make a case against him. But despite law enforcement pressure, Rebekah never gave him up. She served 11 months in prison for conspiracy to commit tax evasion, the only charge federal prosecutors could make stick.
(Prostitution is legal in parts of Nevada, at brothels scattered throughout the desert. Advocates for legalized prostitution say this makes women feel safe and enables them to escape abusive pimps while still earning a living.
In Las Vegas itself, prostitution is still illegal. Last year the New York Daily News reported that about 30,000 prostitutes work in that city.)
Despite the beatings, prison time, and empty promises, it took Rebekah two more years to get out. She got up the courage to leave after the man was convicted, also of tax evasion, and went to prison for 18 months.
"He told me he would hunt me down and kill me if I ever left him," Rebekah said.
To this day, she believes that could happen. Her former pimp is out of prison again, and she thinks he's still trafficking women.
Rebekah is in college now, working on a bachelor's degree in criminal justice. She wants to become an attorney to help other victims escape sex trafficking and start new lives, as she has.
 ********