The Fort Worth law enforcement officer said his colleagues, like the public in general, see prostitutes as the criminals, not the victims. Usually, when a prostitute is arrested, the men — "the johns" — are just told to leave the scene.
That situation has been reversed in Sweden. Since 1999, buying sex there has been a felony, but selling sex is legal. The innovative law made the john the criminal instead of the prostitute.
According to a story last year in the British daily newspaper The Guardian, the number of women engaged in prostitution in Sweden has fallen by two-thirds since the law took effect. The idea is simple: Take away the demand, and the supply will drop as well.
In the United States, "john schools" are popping up across the country to focus on rehabilitating the men who are buying sex — and therefore, in theory, beginning to reduce the demand. These schools attempt to show the dangers associated with prostitution, from contracting sexually transmitted diseases to endangering the lives of women.
Waco's police department was the first in Texas to organize such a school, designed for first-time, nonviolent offenders. Since its initial class in 2002, more than 100 johns have attended, and only three have been arrested again.
"We ask guys if they want to go to this or if they want to go to jail," explained Anita Johnson, the Waco police detective who started the diversion program. "They choose the program. And it's good for everyone."
 ********
Bouché is one of many researchers who believe that the real demand for prostitution starts with pornography.
"Porn is so normalized," she said. "We talk about ending demand for prostitution, and it's a huge disconnect. There's a direct correlation between looking at porn and buying sex."
In a national study she conducted earlier this year, 74 percent of men reported having watched pornography — and she believes that figure is probably an understatement. Porn is getting more ubiquitous and violent, and children are viewing it at younger and younger ages, Bouché said.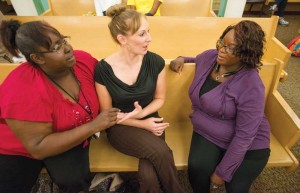 "If we don't start talking about porn, we can never stem the tide of sex trafficking in this country," she said.
"The target market for porn is 11-year-old boys," said Grover, the Dallas Baptist University instructor. "And pornography is fueling the  demand [for prostitution]."
The Fort Worth officer agreed. "In our culture, everyone watches porn. Nobody is surprised by it, and it's not considered to be bad,'" he said. That presents men and boys with a distorted view of relationships. It tells them that sexual gratification can be achieved without relationships and without permission.
"There's no 'no' involved in porn," he said. "In real life, there's 'no' all the time with real women."
He said that using pornography leads to strip clubs and then to using prostitutes.
"There are a lot of studies on that," he said. "But I've just seen it" on the street.
 ********
Many women follow that same route into prostitution, the officer said. A typical progression for teenagers and adult women, especially when drugs are involved, is to start as a stripper and later become a prostitute.
Crystal Jordan, 26, said the RISE program probably saved her from becoming a prostitute. At 18 she started working as a stripper in Fort Worth to pay for her pain pill addiction, and later, heroin.
The beautiful blonde with a big smile and contagious laugh had a painful childhood. The physical and sexual abuse started at age 8.
That kind of abuse changes the way kids view themselves and their bodies, explained Becka Meier, clinical coordinator and counselor at The Women's Center of Tarrant County. Around 7 or 8, children are developing a sense of self, safety, and the world around them, she said. "When sexuality is addressed at such a young age, kids don't have the framework to handle it.
"It's natural for abusers to say, 'You wanted it. It feels good. This is what love is. This is what people who love each other do,' "Meier said.
That experience in turn makes it incredibly hard for children to distinguish between abuse and real love, she said. Early abuse distorts their view of romantic relationships as adults.
Jordan ran away at 14 to escape it, but she had no money nor any way to support herself. She began depending on a string of boyfriends for everything.
A year later, she got pregnant. At 17, she was a mother of two.
"I was stripping and making $500 to $1,000 a day, and it was all for pills," she said. "I didn't have a thing to show for it."
Just before she was old enough to legally buy alcohol, she permanently lost custody of her two children.
After that, Jordan used the drugs to forget. And she stripped because that was all she knew how to do. Her body had been sexualized since she was a little kid.
After another six years filled with drugs, bad relationships, and self-loathing, Jordan was 24 and pregnant for the third time.
She was high when her baby was born.
Owen was born prematurely, with health problems that threatened his survival. Jordan believes it was her drug addiction during pregnancy that hurt him, and she carries that guilt like a rock strapped to her back.
But this time around, some things changed. A nurse suggested that she give the baby up for adoption, and she did.
"I could finally break the cycle," she said. She wouldn't lose another child to Child Protective Services. Owen lives with his parents in Garland.
Jordan's drug addiction hadn't gone away, but what happened to her next because of it made a huge change in her life.
In June 2013, Jordan was arrested for methamphetamine possession. And she was given a choice: Serve six months in state jail or be admitted to Tarrant County's RISE program.
"I knew this was my way out," she said.
But it was so hard, trying to change everything she'd ever done, that she almost gave up.
"I was numb for the first six months, and I thought about running," Jordan said. "It was just a lot of hard stuff to deal with, and you want to paint rainbows and butterflies over everything and feel like it's OK, but you can't do that."
Today Jordan has worked her way into the fourth phase of the program, where she is focused on creating a career to support herself. She's still living at a group facility that provides structure and a case manager.
She's due to finish the program next August. She started her first class at Tarrant County College last month. She wants to be a social worker.
"They don't give up on you," said Jordan. "They believe there is an alternative way, and they know something has happened in our lives that made us this way — that made us hate ourselves."
 ********