As Jordan has learned, women have to be highly motivated to make it through the RISE program. So Judge Carr focuses on women with a lot at stake.
Texas is one of the few states that makes a fourth prostitution charge a felony. When somebody is facing serious prison time, she's more ready to make "lasting and meaningful change," Carr said. And that's what the program aims to achieve.
So far, three women have successfully graduated from the program, with four more, including Jordan, expected to finish early next year. Cobi Tittle knows that doesn't sound like a lot, but when the program started in 2011, with only county funds, it could support only 10 women.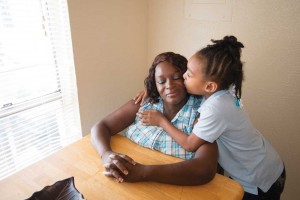 Tittle is the operations manager for the Tarrant County Community Supervision and Corrections Department, and she helped Carr create the RISE program.
Many women in the program slip up — going back to drugs or harmful relationships or skipping required counseling sessions. When that happens, they have to start over or risk getting kicked out of the program completely.
With his white beard, Carr is a stern father figure in the courtroom, lecturing and encouraging each woman as she cries or laughs depending on the week.
"There is frustration in this program. But you've got to have patience and stay committed," he tells the women. "Rome wasn't built in a day."
According to Carr, the base cost to keep someone in jail is about $18,000 a year or $50 a day. Add the costs for treating the mental illnesses that all of the women suffer from, and the bill is much higher. But through state grants and partnerships for things like temporary housing with local nonprofits, such as the Salvation Army and Union Gospel Mission, the county is able to reduce its cost significantly, while still providing treatment.
With 33 women currently in the program, that's saving the county (and taxpayers) about $600,000 a year, Tittle said.
The goal of the program is to enable the women to live healthy, independent lives, with jobs that allow them to pay their own bills and maybe even save some money along the way.
The Net is one of the program's nonprofit partners. It provides women with the social skills and positive group experiences they need to build a lasting support system. Having proper outlets for social engagement can make or break a woman's recovery from addiction, Carr explained.
"So many of these women want out," said Ice, director of The Net. But getting off the streets, away from prostitution, and free from addiction isn't easy.
"We have to stand in their reality," explained Deborah Caddy, a licensed clinical social worker and director of rape crisis and victim services at The Women's Center.
During sexual abuse and trauma, people learn coping mechanisms to survive, Caddy said. And those coping methods commonly include drugs, alcohol, and self-harm because they numb the pain.
"They [victims] do it to forget — not to feel," said Meier, also with the Women's Center. "If everything you have to feel is hurtful and harmful, you'll do anything to forget."
 ********
Arletta Grant is 44 now and scheduled to graduate from the RISE program next year. If she's still drug-free on Feb. 17, she will be able to mark her third "clean" anniversary on the same day her oldest son turns 23.
Sitting inside a McDonald's near her apartment in Meadowbrook, which she shares with her daughter and granddaughter, Grant worries that she's not ready to be on her own, that she's "not ready to tell that probation officer to move on.
"There are still a lot of things that I need to correct, and I'm just now getting the counseling I need," Grant said.
"An ounce of prevention is worth a pound of cure," said Grover. She believes preventing sexual abuse in children would significantly reduce the number of women who become sexually exploited. And training young boys to value other people would prevent the demand for prostitution before it starts.
"We have to teach our kids early on that it's not just 'stranger danger,' " she said. And adults need to be taught that 98 percent of kids who speak up about sexual abuse are telling the truth.
"I wish someone had been my voice when it was happening to me," said Grover, who was sexually abused by her father.
The tiny stud in Grant's bottom lip catches the light as she glances at her 11-year-old niece on the McDonald's playground.
"I want the other ladies who are out there to know there's a better life — we're worth a whole lot more than we're allowing men to give us. There's so much more to life than standing on a street corner," she said. "A lot of them [prostitutes] have beautiful dreams, just nobody to show them the right direction."
Grant is working on a memoir tentatively titled "Let the Truth Be Told." She wants to get her high school diploma and maybe go to college.
"There's a life beyond all … all the past," Grant said as her niece walked over and placed her small hand on her aunt's strong shoulder.

Fort Worth freelance writer Sarah Angle can be reached at sarahlesangle@gmail.com.