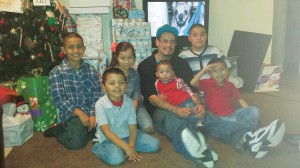 Mary Perez was tired after a long day's work, but she perked up when a TV news reporter began talking about a police officer being stabbed. Perez likes and appreciates cops. Her brother is an Army police officer. Fort Worth officers are regular customers at her restaurant, Enchiladas Ole, in the Riverside area. But as it turned out, she didn't know the officer. She knew the victim.
"It was on a Friday night," she said. "When they said the name of the young man, it just hurt me. I broke down. These are children I saw grow up, and something inside of me couldn't let it go. I felt like this was not a young man who would take a chance at ending his own life. He loved life."
Brumley was 9 when he'd started attending the Northside Boys & Girls Club in 1998. Perez had just been named director of the club, which offers fun, exercise, education, and a safe environment for kids after school. Brumley came to the club regularly for years, Perez said.
"He had a little sister, and she never left his side," Perez said. "He was very protective of her. He liked basketball. He liked to draw. He was never with the rowdy boys causing trouble — he was more by himself."
As Brumley got older, Perez heard he was getting into trouble in the neighborhood. Still, she never recalled him being troublesome or disrespectful in the 10 years she knew him.
"Daniel, from what I've heard, had a little bit of a troubled past but nothing that would lead to the tragedy that has happened," she said. "He was a pretty good kid, a young man trying to make it in the North Side, not going to college. That can always be an economic barrier for families."
Not long after Brumley's death, his friends and family held a fundraiser to help pay funeral expenses. Perez didn't know many of the relatives, but she wanted to contribute and let the family know how much she had enjoyed Brumley's company at the club all those years.
Perez noticed that none of the city's Hispanic leaders attended the fundraiser. After all, the money was being raised to bury someone who reportedly had stabbed a police officer.
Jessica Castillo latched onto Perez, showing her pictures of her son lying in his coffin. Perez could see how frail the mom was, how distraught.
Castillo was convinced that the shooting didn't happen the way police were saying. One of Castillo's children had gone to the crime scene and been approached by a neighbor who said she'd seen everything. Castillo wanted to talk to the witness, and Perez agreed to take her. What they heard convinced them both that the police officer's account of what happened was misleading.
"This isn't as the media portrayed it to be," Perez said. "There are a lot of holes and unanswered questions. The more that's coming out, the worse it feels. His mom wants to clear her son's name. She doesn't want him to be known as the guy who tried to stab an officer."
A high-ranking police official was eating at Enchiladas Ole not long afterward, and Perez approached him with her concerns about the case. He told her there was no video taken. The officer wore no body camera. His car wasn't outfitted with a camera either.
"I was told by [the police official] that one thing the officer was suspicious of was that the young man had bloody hands when he pulled him over," she said. "The officer was suspicious about what kind of crime he'd committed."
The official was not available for comment as this story went to press.
Brumley's relatives say his phone should show that he was texting prior to being stopped and whether he had blood on his hands. But police are still holding Brumley's phone, wallet, and clothes.
Perez said Castillo's mother wanted her son's phone and wallet. She knew he'd been texting Ayala shortly before his death, and she wanted to see what else was in the phone.
By then, the family had learned that the police officer shot Brumley four times, once in the head and three times in the torso. Perez asked her high-ranking customer why the officer would shoot so many times; he responded that officers have the right to empty their guns when their lives are threatened, she recalled.
She wondered aloud whether the policy needs to be reviewed in light of the rash of police shootings across the country.
He said, 'Mary, the Fort Worth Police Department supports your restaurant.' I said, 'Hey, I'm grateful for police.' We've been broken into four times, and I'm grateful when they're here. We know many wonderful officers. But I felt very uncomfortable with him telling me that, and I haven't heard from him since that day," she said.
She's concerned that speaking on the record for this article could cause her to lose some customers. Still, she feels compelled to talk about the case. She's hosting a meeting at her restaurant this week with neighborhood leaders to discuss approaching the city formally about potential changes in training for officers and community members and improved communication with families during such events.
"What can prevent this tragedy?" she said. "What do parents and the community need to know to do? Stay in your car? Should everybody walk around with recorders on? Do you get out with your hands up?
"It's scary times. Everybody's afraid. Cops are afraid. People are afraid. You know Daniel didn't get out of the car after that text thinking his life was going to end that night. What happened?"
Castillo said the police haven't been forthcoming. Her family is large and knows many people in town, including police officers. A couple of them have told her the case smells funny and that she should get a lawyer. When she called a detective who'd visited the crime scene and asked him about details, she said he treated her rudely.
"I said, 'Why was my son shot in the head?' He said, 'I don't know, I wasn't there,' with a real shitty attitude. That right there told me I didn't want to talk to that man. When I went to the pound to get the car, it states on the pound receipt that his wallet and telephone were on the front seat. They're missing, and nobody signed out for them. I can't get an autopsy report. The report from the cop that shot him is not ready.
"My son had no reason to resist arrest," she said. "He's never resisted arrest before. He loved life, he had his children, he had a job. He would never risk his life like that. He never has before."
******