Brumley had been arrested numerous times in the past decade, beginning with an unlawful carrying of a weapon charge in 2007. Veronica said her brother borrowed a relative's car to run an errand and got pulled over by police without knowing a pistol was under the seat. He served no jail time for the Class A misdemeanor.
He found more trouble that same year, however. He was sharing an apartment with several others, including one who was charged with counterfeiting. Brumley was caught on security video spending some of the money at a store. He was convicted on a state forgery charge connected to the case and spent two years, from 2008 to 2010, in the Texas prison system.
Not long after his release, he was convicted of driving while intoxicated. Then in 2011, he and the mother of one of his children got into an argument while he was staying at his mother's house. The woman called police, and Brumley was charged with family violence, even though he insisted he didn't physically harm her. Add to that an assortment of unpaid traffic tickets that had gone to warrant, and Brumley spent a month in the Tarrant County Jail last year, from July 8 to Aug. 12.
He was a player, a charming womanizer with seven children by four women and girlfriends on the side. His widow is Tiffany Meza. She and Brumley have three sons together, ages 1, 5, and 6. They met as teenagers and partied, fought, loved, and laughed together.
"We started off as friends," she said. "I used to call him whenever I was upset and crying, and he would always hear me out and make me feel better. He was somebody I could trust. He would stay at my house. We fell in love."
She finally decided to marry him in 2011 after he had started to clean up his act, she said.
"He turned his life around," she said. "He wasn't so wild as he used to be. He had to cut off [troubled] friends. He went to church. He got baptized. We got married. He tried to enroll in college. He was working."
They hit a rough patch in December, she said, and had separated. Still, they kept in close contact, and she knew of his plans to go out on the night of Jan. 16 to see an old musician buddy.
"That night was the first time in a long while he had gone out," Meza said.
Brumley picked up Ayala, a friend he'd known for three years, and took her to the house of Manuel Armendariz, a local musician and record producer. Brumley, a singer and rapper, used to be roommates with Armendariz, but they'd gotten in an argument over money and hadn't spoken in a year. This was their first time to hang out since then. Brumley had written to apologize for the falling-out and said he wanted to be friends again.
"We hadn't talked in a while, and as soon as he walked through the door, he acted all excited," Armendariz recalled fondly. "We were listening to music, played a [computer] game, and talked a bit. It was good. He was telling me about his new job and his car."
The two had once recorded rap music together, and they discussed a new project. Brumley had begun singing Christian rap, and he wanted to know if Armendariz was interested in producing some of it.
"I liked it. It was different," Armendariz said. "A lot of people made fun of him for doing that music."
Ayala said she recalled Brumley sipping on one mixed drink all evening. Armendariz didn't remember his friend drinking any alcohol at all.
"He didn't drink because he said he was getting up early the next morning to go eat breakfast with his dad and work on his car," he said.
Brumley and Ayala left shortly after midnight. Armendariz heard about his friend's death the next day.
"It doesn't make sense what happened," he said. "Daniel was no angel, but that doesn't fit, him stabbing somebody. I could never see that. And the way he was that night, it makes no sense. It didn't seem like he was in any kind of mood for that to happen. Why would he take a chance to mess everything up when he had everything going right?"
From there, Brumley and Ayala went back to his mom's house in West Fort Worth, fixed something to eat, then went to Brumley's room and stretched out on his bed to watch a DVD of the dance movie Step Up All In. They'd never been boyfriend and girlfriend, just friends, she said. Brumley contacted her on Facebook after he'd separated from his wife.
This was Ayala's first time to hang with him in many months. She could feel them growing closer and edging toward intimacy, but it didn't happen that night, she said. "We were just talking."
Neither drank alcohol or used any drugs while at his mother's house, she said. At about 3:30 a.m., Ayala asked him to take her back home to Diamond Hill. Her mother was watching her baby boy, and she wanted to be home when her son woke up. They climbed into Brumley's car and headed toward her house, which is near H.M. Moore Elementary School on Northeast 37th Street.
Along the way, they passed Brumley's sister, Veronica, driving on Long Avenue. It was 3:55 a.m., and she called Brumley on his cell phone to playfully give him a hard time, something they both enjoyed.
"I saw my brother coming toward Angle Avenue, and I called him, and I said, 'Boy, what are you doing out?' He said, 'I'm taking my friend home.' I tell him, 'Boy, you know these [women] ain't good for you and it's late, you need to get your ass home.' He laughed at me and said for me to be quiet and said he'd see me tomorrow."
Five minutes later, Brumley dropped off Ayala and headed back toward his mom's house. He'd only made it two blocks and was still next to the school when police pulled over his car.
Veronica has visited the crime scene often. Orange paint still marks the spot where Brumley's blood pooled in the street. The place where the officer's gun fell to the ground is marked with a "G;" a "K" marks the spot where a knife was found. Four other small orange circles show where the officer's spent shell casings landed.
She and other relatives wonder if the officer manhandled her brother and forced him to defend himself. Veronica stares at the markings and tries to envision what might have happened. She's never been able to envision her brother attacking a police officer.
"Daniel was not a bad guy," she said. "He didn't carry a knife. My brother is 6 feet tall. Why would he stab somebody like that?"
What she usually envisions is Brumley's big smiling face.
"Daniel was silly," she said. "He was very funny, loving. He had a big heart. My kids loved the hell out of him. You could be down and out, and he could always make you smile with something goofy. He became a Christian. He changed his whole life. He was into being with the Lord and making Christian music."
She can't comprehend why her brother would resist arrest.
"My brother has been in trouble with the cops before, but he's never resisted arrest, never retaliated or got physical with a cop, none of that," she said.
Ayala said Brumley was a positive person despite his criminal record.
"He never talked bad about cops or doing anything to cops," she said.
******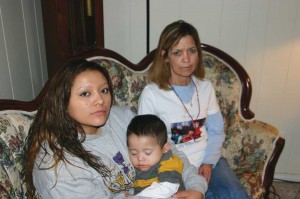 Police are limiting the information they release on Brumley's death at this stage to "preserve the integrity of the investigation," Police Det. William Hix said in a written response to Fort Worth Weekly's questions.
The case will be forwarded to the district attorney's office for presentation to the grand jury. The case is also under investigation by the department's Internal Affairs Unit and the officer's chain of command for further evaluation, he said.
Police are withholding the officer's name because he had received threats of harm from individuals who knew or were related to Brumley, he said. (Brumley's relatives dispute that claim.)
"On the morning this incident occurred, the officer, who is assigned to the K9 Unit, saw David [sic] Brumley run a stop sign, and a traffic stop was initiated for the observed violation," Hix wrote. "After making contact with David Brumley and collecting identifying information, it was determined that he was wanted for warrants related to unpaid traffic citations and a warrant from the state attorney general's office for unpaid child support."
This is confusing to Brumley's relatives. He'd just been in jail for warrants and was told they'd been cleared. Last week, they asked an attorney to check to see if Brumley had warrants. The attorney found none.
Hix said the arresting officer approached Brumley's window after finding information on the warrants on his computer.
"Brumley was removed from his vehicle to take him in to custody," Hix said. "Brumley was asked to step out and away from his vehicle, which is universally recognized as 'procedural' in virtually every context of police tactics training.
"Brumley was armed with a knife and attacked the officer with violent and distinct lethal intent, stabbing the officer several times," Hix said. "The officer determined in a matter of seconds that his life was in jeopardy and responded to that threat with the only reasonable force option that was available. This force option [to shoot] was predicated on Brumley's actions. The officer sustained stab wounds and was transported to a local hospital for treatment of those injuries."
At least two witnesses watched the traffic stop that night, both of them within easy viewing distance. When Brumley pulled to the side of the road, he parked under a streetlight that illuminated his car and the front of the police car. Shadows made it more difficult to see the back of the police car.
One witness, who asked that his name not be used, saw the police lights flashing through his front window and went to see what was happening. He saw a man sitting in his car wearing a red cap and a police officer approaching the vehicle.
"He stood by his window, and they were talking," the man said. "I noticed that the policeman had green fatigues on –– not camouflage but solid green Army fatigues. He didn't have a regular uniform. I found that odd because he was in a regular police car."
The motorist handed something to the officer, who returned to his vehicle and sat for at least 15 minutes. During that time, the witness left his window, opened his front door to a crack, and began watching from there.
"I didn't have it all the way open," he said. "To this day, I feel like if I had stepped out or showed that someone was watching, everything might not have happened."
Finally, the officer got out of his car and walked up to Brumley's window. Brumley opened his car door, stepped out, and began walking toward the back of the police car while the officer walked behind him.
"I thought, 'Well he's just going to handcuff him and take him in,' " the witness said. He shut his door and headed back toward his bedroom. Then he heard a shot. After a brief pause, he heard three more shots.
"I ran back to the door, and that time I opened it up completely," he said. "I saw the officer. He walked fairly normal up to the front of his vehicle, then walked back. I hadn't heard anything from him or anybody except the gunshots. Everything else was quiet."
The witness didn't see Brumley. As one of his children called 911, the man watched the officer nervously pace the length of his car a couple of times.
"I came out and I yelled, 'Do you need some help? My daughter is calling 911.' Then he started to limp and he started hollering, 'Officer down, need backup, officer down, need backup.' I was looking to see if there was another officer around."
The officer then dropped to the ground. The witness approached him, but before he got to the curb another police car came screeching up with emergency lights flashing.
An officer jumped out and squatted down beside the fallen officer, and they huddled together talking quietly for several minutes.
It was then that the resident noticed the dark figure lying motionless behind the police car.
After a few minutes, the second officer walked back behind the police car to where Brumley was lying.
"[Brumley] was laying on his side with his face up. I saw a wound to his head. The second officer that came flipped him over and handcuffed him and said, 'Don't move, motherfucker.' "
That seemed strange to the witness since Brumley appeared to be dead or at least unconscious. If Brumley was still alive, no one was trying to give him first aid. If he was dead, why threaten him?
Hix said handcuffing Brumley was standard procedure, even after he was wounded.
"Being shot doesn't instantaneously mean that a suspect is no longer a threat," Hix said. "In that dynamic and rapidly unfolding event, our officers are trained to handcuff a suspect, and this is another universally accepted tactic."
Meanwhile, several more officers huddled around the fallen officer and began yelling things like, "Stay with us! Keep talking! Don't go out on us!" the witness said, which seemed odd since the officer didn't appear to be seriously injured. An ambulance arrived quickly and took the officer to the hospital.
He overheard another police officer saying later that the fallen officer had been treated and released at the hospital. Brumley lay in the street unattended for about a half hour, he said.
The witness saw the officer's gun on the pavement next to the police car but didn't notice a knife. Only later, after the crime scene evidence had been outlined in orange paint, did he see the knife. The knife and gun, based on the crime scene paint, were lying a few feet apart.
Police blocked off the street and stretched crime tape to secure the scene. The resident, concerned about what he'd seen, approached an investigating officer.
"I told the policemen I saw a lot of things wrong," he said. "If the officer was going to take him in, he should have pulled him out of the car and right away frisked him and cuffed him right there. But he got him out and walked him to the back of his car."
The witness found it unsettling that the officer who shot Brumley wore Army clothes and combat boots.
"They're getting toward a soldier type of outlook," he said. "The city shouldn't be like that. We're getting to be like what they're doing in Mexico."
He has children who work late and come home at odd hours, and he worries that they might run into a similar situation.
Hix said the arresting officer was wearing an approved uniform.
"Our department does not issue, nor does any officer wear, 'combat uniforms,' " Hix said. "K9 officers have an approved uniform that is specific to their job assignment and responsibilities. The uniform worn by K9 officers has the customary patches and equipment that make them unquestionably recognizable as a police officer."
The witness still wishes he'd gone out into his yard and maybe prevented the shooting. He wishes he hadn't stepped away from his door just before the shots were fired. He can't be sure what happened.
However, another neighbor was watching from her doorway as well, during the whole incident. She too, asked that her identity not be revealed for fear of retribution. But she says the shooting has haunted her for weeks. She broke down crying several times during our interview.
The woman said she was watching from about 70 feet away, with an unobstructed view. She saw no sudden moves by Brumley, no struggle, no lunge, no attack.
"The officer got [Brumley] out of his vehicle," she said. "They started walking to the back of the vehicle. They didn't even make it to the back of the car. I don't understand why they're saying there was a struggle. He didn't hesitate to get out of the car. He wasn't arguing. I didn't see a fight. I just saw them walking and then, 'Bam!' I heard a shot, and it scared the hell out of me. Then I heard three consecutive shots after that. I ran really quick to go check on my grandkids, then I called 911. I didn't hear the officer calling for any help. A little bit after, I went outside. I was yelling at him did he need any help. Then I heard him yelling, 'Officer down' and 'Shots fired.' He was yelling into his radio."
She too had noticed the officer pacing after the shooting and then falling after her neighbor went outside.
"It seemed like an act," she said. "He was walking fine. I told the detective he was pacing back and forth until he realized we were out there. Then he grabbed his leg and fell on the panel of his police car."
She, like her neighbor, approached a detective on the scene to express her concerns about what she'd seen.
Weeks later, a police detective called with questions. He wanted to know if she was being forced by someone else to describe the shooting as she did, insinuating that some of Brumley's friends or family members might be threatening her. But she had never met Brumley or his relatives prior to the shooting and said nobody had threatened her.
The only people she felt intimidated by, she said in our interview, were the police. But she didn't tell that to the detective.
"I said, 'My story has been the same the whole time, and I'm not changing my story,' " she said. "I saw a man shot in the head. Seeing him on the ground got to me. I want to know what Daniel did that was so bad that he had to die at a traffic stop. Why didn't he get a ticket and put him on his way?"
******