Shultes strolled among the purple paintbrushes and milkweed on a recent afternoon and marveled at the prairie's vivid colors that explode every spring.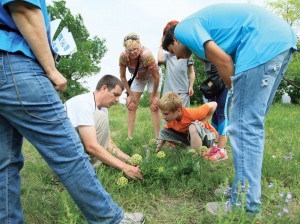 "Not many cities have a prairie on the edge of downtown," she said. "We started out as the Queen City of the Prairie. This is what's left of that prairie, and it's pretty precious for us to remember our history and our heritage."
Tandy Hills carries many special memories for Shultes. She visited the park for the first time as a teenager to learn about the birds and the bees, so to speak. She would have enjoyed making out with her boyfriend more if the ants and bugs hadn't decided to join in the fun.
After graduating from Martin High School in 1989 and earning a bachelor's degree from the University of Texas, she earned her master's degree in fine arts at Rutgers University and worked as a graphic designer in New York City and Montreal. Up north she lived in neighborhoods that were diverse ethnically and economically. She looked for a similar environment in Fort Worth and bought a house on the East Side near Tandy Hills, which she called "a magical place."
After spending much of her adult life working out of the area, she'd begun missing her family. After her sister had a daughter, Shultes headed back home.
"I decided that I didn't want to regret not being around while my niece grew up," she said.
She'd read about Young's efforts to save the prairie from drillers, litterbugs, four-wheelers, and developers, but she'd never met the man. That changed while she was walking her dog one day.
"I saw this hippie-looking dude walking down the street, and I thought, 'I bet that's the Don Young.' I'd heard about this Don Young person," she said. "I introduced myself."
She mentioned she worked as a graphic designer, and Young's eyes lit up. The volunteer who had been designing the newsletter had recently quit. Young could barely contain his zeal as he talked her into taking over the design responsibilities. In addition to the newsletters, there are pamphlets, brochures, and Kids on the Prairie materials to create.
"I've been waiting for someone like you!" he recalled saying.
Later, he worried that he'd come on so strong he might have scared Shultes off before she even began. The hundreds of hours of volunteer time Young spent each year planning the festival had become overwhelming. What began as a small celebration of the great outdoors had become a huge event with more than 100 vendors, a dozen live bands, and thousands of visitors. Lining up vendors, security, volunteers, sponsors, music acts, and tour guides was never easy and was getting more difficult as the event grew.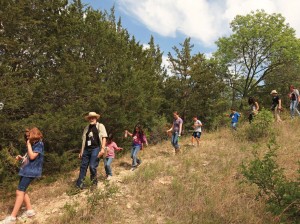 Young soon discovered Shultes was a kindred spirit. Both are willing to give up much of their time and energy to help preserve something dear to them and to spread the word to the next generation.
"There has been an increase in the number of kids coming out [to the park], and that's incredibly rewarding," Shultes said. "Kids are not going to care about what's around them if they don't experience it. It's so easy now to not spend any time outside. I like to make things better for people. This is a way to make things better for a lot of people."
Meadowbrook Middle School science teacher Renisha Williams takes 6th- and 7th-grade students on field trips to help them absorb information learned in class. She also tells them about related careers, such as botany or animal science. Master naturalists accompany the teachers during hikes to help explain to the students what they're seeing. The trip ends with a picnic on the prairie, where kids learn about recycling their trash afterward.
"It's easier for them to make connections in the classroom when we talk about the environment –– they can always think about Tandy Hills," Williams said. "A lot of them are really interested in science after we go out there."
******