The Tandy family's roots in Fort Worth stretch back to the mid-1800s, with Charles D. Tandy being best known for establishing a leather goods store that evolved into Tandy Corporation, which later acquired RadioShack. The international company based in Fort Worth employed about 20,000 people when Tandy died in 1978.
Lewis Tandy Sr., a second cousin to Charles, built a home on Meadowbrook Drive in 1912. Lewis' grandson, John Tandy, remembers hiking in the prairie hills that were once part of a Tandy ranch.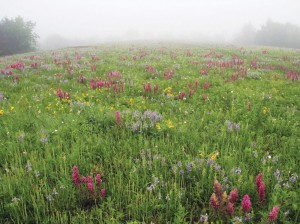 "I grew up hiking in that area with my grandfather," John said. "I was hiking down there before I could walk. My aunts would carry me. It's deep in my heart. The experiences I had hiking there formed my life, formed how I love nature and how I came to see the world."
After growing up in Fort Worth, Tandy moved away for 35 years, with most of that time spent on the West Coast working as an urban planner and real estate developer. He returned to Fort Worth a year ago and moved into the historic Tandy house. One of the first things he did upon returning was join the efforts of Young and others in protecting the prairie.
He's amazed at how Young has transformed an annual festival into a year-round educational opportunity for Fort Worth school children and their parents. Proceeds from Prairie Fest pay for the children's bus rides and field journals.
"Tandy Hills is not just a piece of land where there are wildflowers and interesting grass and plants," Tandy said. "It's the real heritage of Fort Worth. Before there were cows here, there were prairies. The real nickname of Fort Worth is Queen City of the Prairie. That's the real legacy of Fort Worth."
The wildflowers fascinated early settlers to this area. There were plenty of flowers to go around. They grew thick on vast grasslands that were millions of years old and stretched from here to Canada with few trees in sight. Natural fires tended to burn off shrubs and trees before they became established. Grasses dominated.
Ranching, farming, and urban development –– and an abundance of fencing –– saw the prairies plowed under, overgrazed, and built out. Urban development in the 1900s pretty much put an end to the prairies in these parts, although Fort Worth still has parcels of prairie scattered around. Tandy Hills is among the most significant, offering a glimpse of what Native Americans and early settlers enjoyed so long ago.
Tandy is a steering committee member at the Fort Worth Chapter of the Native Prairies Association of Texas, a nonprofit group founded in 1986 to protect the state's dwindling prairies. The group held its annual conference in Fort Worth last year due in large part to the large number of prairie enthusiasts here.
"The prairie association is looking to show that prairies are good business for Fort Worth," Tandy said. "It's the real identity of Fort Worth, and as much as the Stockyards is part of our identity and can be used as a cultural resource and heritage destination, the prairies can also add value to the community in terms of attracting high-level businesses who might be relocating to a place like Fort Worth."
[box_info]
10th Annual Prairie Fest
11am Sat at Tandy Hills Natural Area, 3400 View St, FW. Free.
817-731-2787.
[/box_info]