What's that thing about one flap of a butterfly's wings can alter history? By that theory, a butterfly must have flapped its wings sometime before the 1980s and sent some weird mojo hurtling toward Handley Church of Christ. The number of regular worshipers has dropped from more than 400 to less than 100 since then. Some Sundays, the parking lot is almost empty. The mammoth church anchoring the heart of the old Eastside neighborhood for nearly a century is struggling.
Church leaders decided to sell the two-story 40,000-square-foot building that sits on two acres of land fronting Handley Drive. They hired commercial realtor Jim Austin, who has handled numerous property deals in East Fort Worth over three decades. Austin is a man filled with ideas. If his mind were a butterfly's wings, the world would live in a perpetual state of tsunami.
Soon the realtor was representing the buyer as well –– Austin himself. Church leaders wanted $1.4 million. Austin offered $1.28 million. A deal was struck and is currently in a 90-day holding period that ends soon.
Houses surround the church, and the neighbors became alarmed after Austin sought a zoning change that would allow him to operate an event center with alcohol. The Fort Worth Zoning Commission recommended the change after a meeting on June 10.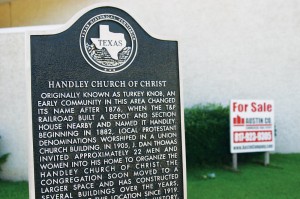 The next day, Fort Worth, Texas magazine published a story that described Austin's plans to draw 500 to 600 people to certain events and smaller crowds to others. Austin envisioned conventions, movie nights, car shows, weddings, banquets, educational events, talent shows, and other endeavors.
Neighbors imagined 500 people pouring into their midst, parking their cars curbside on narrow streets, drinking booze at the event center, and spilling back into the neighborhood.
The Fort Worth City Council was set to approve the zoning change on June 16, but Mary Moss and another neighbor showed up to seek a postponement. They wanted to hear Austin's development plans and discuss public safety issues. The vote was postponed, and city councilwoman Gyna Bivens agreed to meet with neighbors.
The city council is set to vote on the zoning change at its regular meeting at 7 p.m. on Tuesday, July 28.
Residents are divided. Those in favor see Austin's plan as a grand vision that will boost Handley's economy by drawing businesses and visitors. The community's central business district along East Lancaster Avenue is anchored by antique stores, service-industry businesses, and a couple of bars, including the Ozzie Rabbit Lodge. Most of them are located about a half-mile south near the intersection of Handley Drive. Many folks think an event center will be a welcome fit. Most of the dozen or so movers and shakers who lead the local neighborhood association and economic development group are cheerleading as well. Austin dangled a substantial carrot to those groups –– he's promised to revive the Handley Street Festival that was discontinued a couple of years ago after Historic Handley Development Corporation, a nonprofit group that encourages business growth, ran out of money.
Detractors worry that the church will turn into a modern-day Bacchanalia.
Although alcohol appears to be the main point of contention, an undercurrent of racism exists. Handley is a diverse community, but most residents living near the downtown area are Anglo. Austin is African-American. Neighbors speaking off the record worry whether Austin will cater his events to African-American crowds specifically. Some claimed he owns some scary-looking bars in dangerous neighborhoods, and they worry he'll bring the 'hood to Handley.
"It doesn't make me feel safe," a neighbor said.
The Austins say they are well aware that people are fretting over alcohol sales but haven't heard anyone express racial concerns. They don't own any bars and don't know why someone would think they do, although several James Austins are listed as property owners on Tarrant Appraisal District. Maybe some of the neighbors are confused.
Austin wants people to trust him, but he hasn't answered all of their questions as much as schmoozed them. He's tall, handsome, and much younger looking than his 64 years. He has a slow, soothing voice and can be a charmer. But some residents sense he's a smooth talker without the goods to back his claims.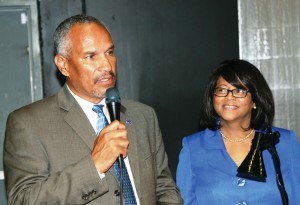 Austin owns numerous small businesses, including the JimAustinOnline PR company that tells the world about his wonderfulness: "It's hard to go anywhere in DFW without hearing the name Jim Austin," his website says. "A commercial real estate mogul whose Austin Company has been brokering multi-million dollar real estate deals throughout the Metroplex for 36 years, Austin is the definition of the modern day Renaissance Man."
Austin, who talks about himself in the third person and calls people "sweetie" and "babe," is seen around town promoting shows and events and dressing to the nines while attending various benefits and soirees with wife Gloria. They're often out promoting the Multicultural Western Heritage Museum that they co-founded almost 15 years ago. For the past few years Austin has owned an event center on East Berry Street that's smaller in size but similar in purpose to what he hopes to do in Handley.
Talking to people who know Austin reveals more split opinions. Depending on who's doing the talking, Austin is a wonderful guy or a vindictive bully, an inner-city savior or a self-promoting peacock, a professional entrepreneur running a conglomerate of successful projects or a scattered bungler who lacks follow-through. Maybe he's all of those things. Maybe none. What's certain is he wins over some people and rubs others the wrong way.
Bivens is a fan. Handley is in Bivens' district. If she votes in favor of the zoning change, other council members will probably follow suit.
Handley residents might want to visit Church of Christ for a quick prayer.
******