Handley, named after a Confederate officer, came to life around a small train depot in the late 19th century. Townsfolk started a church in someone's house in 1905 and built a church at 3029 Handley Dr. in 1919. A Texas Historical Commission plaque is displayed in front of the big white building with the arched roof. The building itself is only 35 years old, but the site is considered historically important. The town prides itself on its history, marketing itself as "Historic Handley."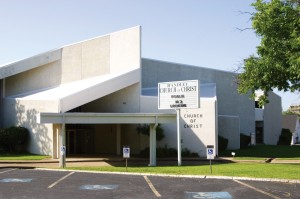 The little town has endured its share of setbacks over the years. The Turnpike, later to become I-30, was built parallel to Lancaster Avenue in the 1950s. For decades, motorists traveling between Fort Worth and Dallas took Lancaster, which led them through Handley's downtown business district. I-30 stole much of that traffic. Businesses suffered. Then in the 1960s, Loop 820 was built, cutting Handley in two and wiping out many homes and businesses. The town's been trying to get back on track ever since, and Austin's plans strike many as an ideal impetus for better days.
A July 2 meeting with Austin, church officials, and Bivens attracted a large crowd to the church. Numerous rumors had left neighbors scratching their heads about Austin's plans. Would it include a club and restaurant with booze? Would it stay open late, disrupting the quiet neighborhood?
Bivens ramrodded the meeting and asked residents to step forward and say why they supported or rejected the project. Some residents who'd spoken with Austin privately say he bends with the wind. If someone expresses reservations about the event center, he downplays its impact on the community. If someone expresses support, he plays up the possibilities. They wanted more details.
Austin assured the crowd that he's an Eastside guy with their best interests at heart.
"Bringing a conference center here is something positive for this neighborhood," he said. "Your home values will immediately increase. Our hope is we will build an awesome wedding chapel, we'll have educational conferences, we'll focus on having a wedding banquet hall here."
The center won't differ much from the church, he said.
"This will be something that's very, very positive," Austin said.
Jean McClung told the crowd she favors the project. McClung is the longtime Fort Worth school board trustee who was voted out of office in 2010. Now she's president of the Historic Handley Development Corporation and says Austin's plan makes good business sense.
"We are working really hard to make things happen here, and it is very difficult if you don't have any money," she said.
Austin has promised to pay for the Handley Street Festival, which for years had been the primary source of income for the development corporation. In the past, they've used money to market the community and to pay for streetscaping and lighting.
After Bivens opened the floor, residents quickly focused on alcohol sales.
"This is not East Lancaster Avenue," a neighbor said. "This is a residential neighborhood. A middle school is one block away. There are houses all the way around the [church] building."
Church of Christ minister Tom Wacaster said church elders weren't told about alcohol sales prior to signing the contract.
"It came to light when the zoning change was entered into the city," he said.
Wacaster and other church members say they'll object to the zoning change if alcohol is going to be included at most events. They want to make it clear that the church doesn't condone alcohol. However, the sale will go through regardless.
"Who we sell to does not, in any form or fashion, endorse what the purchaser shall do with that property," Wacaster wrote.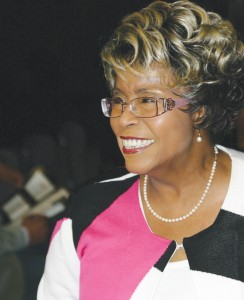 Neighbors worry that the church parking lot is too small to accommodate large crowds, forcing cars to park on the streets. Some streets around the church are narrow. Cars parking on both sides of the street leave not enough room for emergency vehicles.
"I see this as a traffic and parking nightmare," resident Moss said. "Most of the people advocating for this don't live right here on top of it. If we could get some very clear defined parameters on how things are going to go, we might be more open."
Everyone wanted to hear Austin describe his plans more thoroughly. But Bivens wanted to keep the meeting short.
"He won't tonight," Bivens said. "This is strictly for input."
Neighbors left with few answers, wondering why Austin and his operations manager, Robbie Fenyes, would attend the meeting without answering questions. The neighbors' suspicions grew deeper.
Fenyes e-mailed Moss to explain their plans for alcohol, saying the events will have "an element of alcoholic beverage service," although Austin doesn't condone behavior "consistent with alcohol consumption above the legal limits." Fenyes said Austin would produce events with a vendor partner that will provide insurance and security and is fully licensed and certified by the Texas Alcohol and Beverage Commission.
"There have been no events to date by the Austin Co. with alcohol being served that have resulted with disorderly, drunken, obnoxious, and dangerous or life-threatening matters," Fenyes wrote.