It's got the makings of a great story. Oklahoma girl, originally from Detroit, leaves the hinterlands of Northwest OK and heads to the big city in Texas to make her fortune.
We recently learned of such a story in the offing, although it involves not one girl, but rather several women (really tall ones at that). The ladies in question play basketball for the Tulsa Shock of the Women's National Basketball Association and the team's owner announced last week he wants to move the franchise to North Texas. They expect to play home games at UT-Arlington's College Park Center.
To that, I say super. It means more high-quality basketball in the area, with visits from the best women's players in the world. It also pleases me because I have two nieces who like hoops and could benefit from the chance to observe, and become invested in, a team of that caliber.
So I hope the team does well, but they should know success won't come easily. Local arenas are strewn with remnants of pro teams that have come and gone. I still own Fort Worth Fire jerseys and a Fort Worth Cavalry golf shirt. Maybe your attic houses a Fort Worth Cats cap (old or modern) or a Dallas Chaparrals program your dad bought. To help the A-Town Shock (or whatever decide to call themselves) avoid the fate of, say, the Dallas-Fort Worth Spurs, I put together a committee to make some recommendations.
It's a committee of two. I got a spot because I write this column and because I did broadcasting work for a lot of the defunct teams and marketing work for some of the ones still in existence. The better half of the committee (in so many ways) is Nancy Lieberman. She made the cut because she's in the dang Basketball Hall of Fame, she played pro ball here, and she knows a heck of a lot about the WNBA and hoops in general. I also picked her (blatant plug alert) because she runs a really great foundation that helps a lot of kids. I've done some videos for it and helped at some NLF events.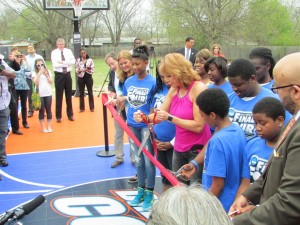 Lieberman pointed out "You get one chance to do it right," which means the team has to hit the ground running and have a good plan.
Let's start with the challenges. This seems like an attractive market because of its large population and affinity for sports. The NFL, NHL, NBA, MLB, and MLS certainly liked the looks of it and their teams have shown staying power here. The newest of the Big Five pro franchises, the one I wish they still called the Dallas Burn, has lasted in the area since 1996.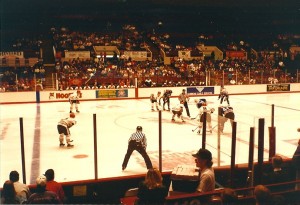 In 1992, the new Central Hockey League began with, among others, the Fort Worth Fire, Dallas Freeze, and Tulsa Oilers. The Oilers won the league's first championship and still reported drawing 5,479 fans a game last year despite never having won another title. The Fire and Freeze exist only in my closet, I think. I might still have a Fire puckhead somewhere.
The point is that the North Texas market is a lot different from Tulsa and so are the teams that stick here long term. The Shock moved to Tulsa from Detroit, so they could have some institutional memory about the challenges of sharing a large media market with teams from the country's dominant sports leagues. In fact, Lieberman coached them their first three seasons in Motown. She had a strong opinion about the most important thing they could do to start carving a local niche.
"Grassroots, grassroots, gassroots!," she said emphatically. Trust me, you could hear the exclamation point in her voice.
She suggested the team be everywhere from "camps to birthday parties." She cited a model used by the NBA D-League team with which she is affiliated.
"Every team in the WNBA should borrow from the Texas Legends," she said, noting also their kid-oriented approach to game presentation
My top point of emphasis relates closely to Lieberman's: "Group tickets, group tickets, group tickets!" I didn't actually say that out loud, but if I did, you would hear the exclamation point.
They can't monetize their grassroots strategy without building in reasons to come to a game. Not only does a solid groups strategy allow a team to sell a bunch of tickets at once, but it can do so before the season starts. Preseason sales offer some revenue certainty that isn't subject to the vicissitudes of a won/loss record.
Speaking of "Ws," that "W" in WNBA matters. It's a point of differentiation for the team brand. Lieberman pointed out one has to "get with the parents who are going to send their kids to you." Parents who see value in inspiring their girls to pursue sports and fitness would seem a vital community outreach target.
Geography matters when it comes to the grassroots outreach. A WNBA team will have the advantage of being the most high-profile women's pro team in the area, so they can draw some fans from throughout North Texas. Because the area is so enormous, however, driving distances will discourage fans in East Dallas and the northern suburbs from coming to games in Arlington. The Shock, then, need a solid strategy for establishing a base of fans near where they play. I'd start a lot of the grassroots activity by identifying pockets of likely ticket buyers in Arlington, Grand Prairie, and eastern Fort Worth.
They must keep regional tensions in mind as well. The Cowboys can play in Tarrant County and get away with having "Dallas" for a first name. Another team that tried that would risk alienating potential fans in Fort Worth and its environs.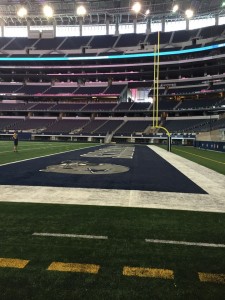 The size of this media market can seem daunting as well. Going beyond the grassroots in Tulsa by, say, buying TV ads or airtime to broadcast games, incurs costs appropriate to the 61st largest media market. In North Texas, top-five market costs mean major sticker, um, shock. One has to pay to reach millions of viewers/listeners who live too far away to drive to many games. Big-market media costs make a more targeted PR strategy really important (and grassroots outreach, too).
The franchise will still want earned media attention, certainly, and an NBA-affiliated entity offers advantages there that are unavailable to, say, the Grand Prairie Airhogs. But one has to keep in mind that the media will expect major-market service. The D-League's Fort Worth Flyers, for instance, didn't put an emphasis on PR support. They lasted two seasons (with lack of media savvy helping compound lots of other issues).
One tricky part, then, of operating in this market is that one has to act major league without having the budget of a team that generates substantial TV revenue and draws 18,000 fans a night. Lieberman believes that doesn't have to be an insurmountable problem.
"Even if you don't have the budget, what you have to do (to be major-league) is work hard," she said. The Shock do have to go the extra mile as a little fish in a big pond, and have to show creativity as well. For instance, they may not be able to afford to shell out the scads of money the Mavs spend to produce scoreboard features, but digital technology has made it possible to create really good ones much less expensively than ever before. Quality concepts can make up for lack of cash outlay.
Part of the hard work element comes in the form of digital strategy (creativity is pretty important here, too). A strong social media plan, one that goes hand-in-hand with the grassroots fan engagement plans, is a must, especially with a spread-out fan base and high traditional-media costs. Constant updates and new features require a significant time commitment.
So, to summarize, here's what our committee thinks the team needs to do to succeed:
1.      Get involved in the grassroots (with an exclamation point).
2.      Sell group tickets like crazy.
3.      Understand the market and overcome its challenges with creativity and hard work.
One thing I didn't add to the above list: Win.
Winning a lot of games never hurts, but finishing first is actually not as important at driving fans as it is for the Mavs or Rangers. The Shock won three titles in Detroit and moved. The Houston Comets won four and folded. Establishing a loyal fanbase matters more than even championships.
Lieberman won a title in this area in the WABA and also led a team to the WBL finals. Her Dallas Diamonds drew sustainable crowds but the rest of those leagues did not. Since the current well-established NBA-backed women's league seems unlikely to fold like those earlier circuits, the Shock would seem to have a chance at success.
For the record, Lieberman thinks they will. "(Owner) Bill Cameron is a wonderful person," she said. She believes he will put a plan in place to turn the move to Arlington into a success story. Heeding the recommendations she made in this piece would probably be a great place for Mr. Cameron to start.