Bigger isn't always better in the craft beer world. Independent brewers all share one thing in common: they're brewing at a fraction of the scale of MillerCoors and the like. And I mean a tiny fraction. But even among local, independently owned places like Rahr & Sons Brewing or Panther Island Brewing, there's only one brewery that fits in the nano category: Bearded Eel Craft Brewery.
Located off of a long, dusty stretch of Business 287 in far North Fort Worth, Bearded Eel sits among a row of large metal hangers. BJ and Becky Burnett were kind enough to take a short break from serving eager customers to chat about their brewing system. The married couple has their own unique backstory. The duo discovered their love for brewing in the serene hills of Switzerland while teaching at an international school. They loved the hobby so much that when they returned to Fort Worth a few years ago they ditched teaching and poured everything they had into opening a brewery. Without the support of financial backers (B.J. and Becky didn't seek investors) they started with what they could afford — a small scale brewing system.
First, some number-crunching: Brewers describe volume in barrels. One barrel is twice the volume of a full-size keg and holds 31 gallons. B.J. said Bearded Eel is able to put out 1.5 barrels of brew a day.
"And that's on a good day," he added " If we're making a low ABV (alcohol) beer that doesn't require a huge mash and we can get a lot of fermentables into the boil. Anything under five barrels is super small. By comparison, most of the breweries around here are starting with a 30 to 60 barrel system. That's big compared to us, but 30 barrels is still small for a packaging brewery in the grand scheme of things. Millercoors is making millions of barrels all the time. The Miller plant is so massive it's almost on an inconceivable scale."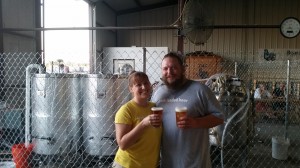 In a way, Bearded Eel is the cowboy with the smallest pistol in the gunfight, but what B.J. and Becky don't have in volume they make up for with adventurous recipes.
"The biggest advantage for us is we have the option of experimentation," B.J. said. "If we do a brew as a total experimental one-off and it doesn't work then it isn't a big deal. We've wasted 40 or 45 gallons. We're not putting 200 or 800 gallons into something and then the equivalent amount of hops and manpower. It's part of the reason people say we don't have any 'safe' beers."
This isn't to say there aren't limits to the small system of vats and fermenters. Becky said keeping the taproom flowing with ales and sours has meant limiting the number of kegs that can be sold to bars and brewpubs. At the moment B.J. and Becky are able to stock The Bearded Lady, The Brass Tap, and Dallas-based craft kitchen Luck.
In order to have adequate beer volume and time to begin bottling, the couple has limited its taproom hours to one day, Friday from 6pm to 9pm.  Fans of Bearded Eel will soon be able to purchase bombers of Texican (a Serrano Pepper-infused ale), The Stout (Russian Imperial Stout), and Wizard Status (double rye IPA) at Fossil Creek Liquor in Saginaw. Becky said she hopes to confirm several other local specialty stores soon.

"At some point we'll need up guy a larger system," B.J. said. "But in a way, I'm not looking forward to it. Right now Becky and I handle every step of the brewing process. Even with a seven or ten barrel system you can't do everything yourself."
On tap this week:
Now you've read about it, get out and drink it.
Bearded Eel Craft Brewery serves its funky beers Friday from 6 to 9pm. If you enjoy sours, grab Jules, a robust ale that blends soothing mint with a feisty peachy tartness.
C'mon it's Ch'America.
Ch'America IPA at Chimera Brewing Company (4.6 ABV) is definitely a sipping beer: bitter and dry with mild piney, grapefruit notes. I love IPAs, but this feisty ale is one of the more robust (bitter) I've had in a while. Not surprisingly, the bartender said Chimera employs a hopping technique called hop "bursting" with five varieties of hops. Need I say more. If IPAs aren't your thing, Chimera keeps three to four homebrews on tap in addition to a treasure trove of regional and national craft beer brands.
On tap for next week is a conversation with Brian Brown, co-author (along with Paul Hightower) of North Texas Beer: A Full-Bodied History of Brewing in Dallas. I'll ask him a simple question that has a not-so-simple, but very interesting, answer. Why do a majority of Americans (and much of the world) drink lagers (i.e Bud Light, Miller Light)?