You like beer. I feel confident making such an assertion because you're reading a sports column. Sponsorship Today reports global beer brands spend $1.4 billion annually sponsoring sports properties. They would spend those sponsorship dollars on musical theatre or societies for creative anachronism if it made sense, but sports fans are the ones consuming a lot of suds.
As a public service, then, I've decided to start an occasional series of blog posts in which I will offer you guidance about where to acquire beer while attending your favorite sporting events. My kitchen cabinet populated with plastic Rangers souvenir cups prompted me to start at Globe Life Park in Arlington.
When a beer company sponsors a sports team, it also typically negotiates an agreement for favorable placement of its product within the team's venue(s). You won't have a difficult time guessing who scored the deal at Globe Life Park. You can't flee an errant line drive without careening into Anheuser Busch products and signage.
Unless you're, say, PeeWee Herman, and have a real thing for bowties, you care more about the product than the signage, so we'll focus on the liquid refreshment. Entering through any gate but Center Field, you can walk straight ahead and encounter small stands stocked with Bud-branded goodies on ice, including ZiegenBock.
If you enter through Center Field Gate by the office building, you'll walk smack through the Budweiser Bowtie, a concession area in which they sell food and, well, yeah, beer.
So basically you can buy a beer within seconds after you enter the ballpark. And, as noted at the top of this column, you like beer.
So now you have an aluminum bottle to enjoy while walking the concourse scouting out where you might get your next one. Before we proceed further, we want to mention some important safety tips with which you should familiarize yourself. First of all, the Budweiser Good Sport program offers rewards to designated drivers. Inquire at the guest relations office near Mazda Home Plate Gate.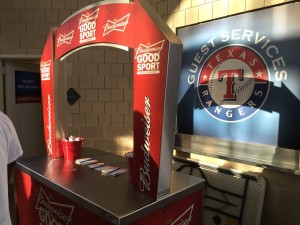 Secondly, the concessionaire sells enough food products at that stadium to feed Mr. Creosote for a year. They have more than 100 concession stands, some selling comestibles the size of your labradoodle. When you can access a Choomongous, the Rangers 2-foot Korean beef sandwich named after outfielder Shin Soo Choo, you have no excuse for drinking on an empty stomach. Thirdly, you'll find the cabstand outside Southwest Airlines Third Base Gate (or you can have an usher find it for you). Fourthly, there are, by my count, at least 189 restrooms in the stadium, if you include the suites, the clubhouses, and the office building. Your gender may disqualify you from using some of them, but you should still easily find a WC toward which to stumble if you've filled your bladder.
Since you probably finished that first brew while reading the last paragraph, you'll want to assess your options for a refill. Turn left or right after entering at any gate and you'll find a few of the aforementioned concession stands, each with taps primarily dispensing standard Bud products, like Bud Light. The Rangers must sell a lot of Bud Light. If you're in that "Up For Whatever" kind of mood, you can satisfy your BL jones a lot of places.
How about if you crave something different? Maybe you've progressed past the point of choosing the cheap Arlington Stadium bleacher tickets so you could afford more paper cups of suds? Luckily, the craft beer revolution has not bypassed the Rangers' current stadium.
Casey Rapp serves as Operations Manager for SportsService, the company that manages concession and merchandise sales for Globe Life Park in Arlington. He provided me some info on the variety of barley/hops available there.
"Section 18 has the biggest selection on draft and it's called Major League Brewhouse," he wrote me. "We rotate the draft, but there are local beers like Franconia, Real Ale, Deep Ellum, Revolver, Karbach, St Arnold's, and other craft beers like Alaskan, 90 Shilling, and the list goes on and on."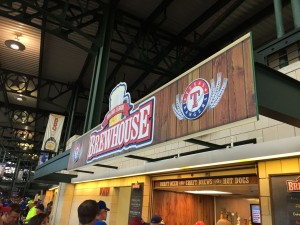 You'll find Major League Brewhouse on the ground-level concourse near Southwest Airlines Third Base Gate, and the nearby 3rd Base Alehouse also serves a variety of drafts, bottles, and cans. If you've entered via Southwest Airlines First Base Gate, turn left and you'll quickly happen upon the Beers of the World stand, near the entrance to mid-30s numbered seating sections, offering a number of beery options.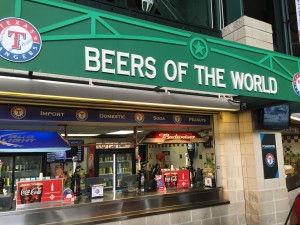 Incidentally, if you have some members of your party who prefer vino, you'll find a wine stand across the concourse from Beers of the World. Such is Anheuser Busch's dominance that they even sell Shock Top and Bud Light at the wine stand.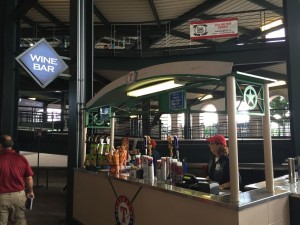 If you enter from Mazda Home Plate Gate and want something out of the ordinary, turn right and go just past the Pro Shop, across from the entrance to the good seats in the upper 20s sections. You'll find the LandShark Lager stand. In addition to its namesake, the kiosk can sell you a draught of Montejo, Stella Artois Cidre, and the obligatory Bud Light.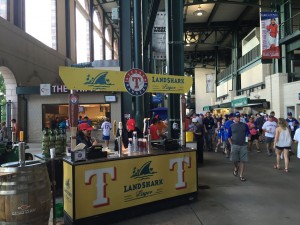 Hard by Greene's Hill (the grassy expanse in the batter's eye named after a former Arlington politician) in centerfield resides the Beers of Texas stand, headlined by ZiegenBock. The location also offers some Shiner, Lone Star, and Lakewood brews. Rapp informs me they have such stands near sections 25, 51, 210, and 328 as well.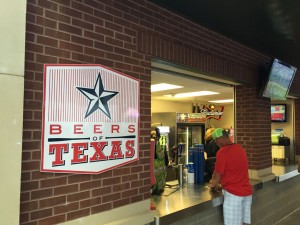 On the other side of the Hyundai Club from Beers of Texas, you'll find the Centerfield Alehouse, just across from the Centerfield Market. It features, among other offerings, Stella Artois on tap. Its cooler includes cans of Modelo Especial, Heineken, Corona, 312 Urban Wheat Ale, and more.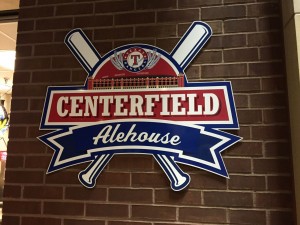 If you visit the Lexus Club Level, there are a handful of stands and barlets that serve suds. The small bars offer a chance to enjoy some air conditioning as you order your beverage. I took special note of the left field emplacement, as it replaced my previous favorite spot in the ballpark, the ersatz Irish pub known as the Dublin Up. The new incarnation is Shock Top branded and offers its namesake's varieties on draft as well as Bud Light.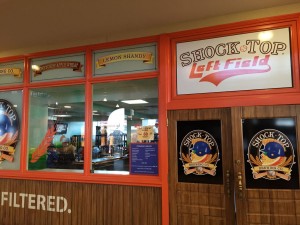 If you choose to remain in your seats, SportService will have 75 or so beer vendors at a typical game to bring beer-filled aluminum receptacles to your very row. Rapp tells us, "You can get Bud Light, Budweiser, ZiegenBock, Michelob Ultra, Shock Top, LandShark, and the Rita family." The Rita family means Bud Light with citrus favors. Be sure to tip the vendor something. Rita family members are heavy to carry around.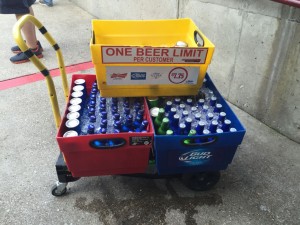 If you get up to go to one of the aforementioned necessaries, you may encounter a roaming beverage cart. Mr. Rapp tells us, "there are four on the lower level, one on the club level and three on the upper deck.  They roam each baseline, stopping to make sales on the concourse. You can get all the same things you can get from a vendor, plus wine."
Rapp also tells me I can find Firemans #4, Rahr's Blonde, Rahr Pride of Texas Pale Ale, and Deep Ellum Brewing Company's Dallas Blonde in cans on portable carts.
What if you spend some of your evening in one of the onsite clubs? Of course, in the likes of the Captain Morgan Club, the Jack Daniel's Club, and the Capital One Club, they serve beer. Casey Rapp describes it as a "wide array." He also notes they often have Shock Top seasonal on draft, including Lemon Shandy, Banana, and Pretzel depending the time of year.
We've established that sports fans like yourself really like malted beverages, and a lot of folks like you attend every game. How can you feel certain the Rangers won't run out of beer? Rapp assured me they keep a three-day supply at every game and can get same-day deliveries if needed. Whew.
Here's one final note, for the benefit of Michael Newquist and the Fort Worth Weekly sales staff:  if you're a beer brand, consider sponsoring this column. The people who read it like your product.