The Boiled Owl Tavern (909 W Magnolia Ave Suite 8, 817-920-9616) will never be mistaken for a full-fledged music venue. The Magnolia Avenue pub, known for it's fantastic jukebox and stiff drinks, doesn't host shows every weekend the way a normal venue would, choosing instead to sporadically offer up interesting lineups often hand-picked by local artists. Saturday night's double bill of Dallas' Dove Hunter and Arlington's Tame… Tame & Quiet was just such a show. (Denton's Gliterature originally filled out the night's lineup, but had to cancel at the last minute.)
As Hearsay pointed out earlier this month, after an agonizingly long hiatus, Tame… Tame & Quiet are back to playing shows as well as writing and recording new material. With a new rhythm section in tow, Aaron Bartz and Darren Miller are once again delivering their signature guitar driven indie rock –– a loud amalgam of Dinosaur Jr. by way of the mid-to-late '90s Chicago post-rock scene. Splitting their set between new songs and tracks from their critically acclaimed (on a local level at least) 2007 release Tin Can Commute, Bartz showcased his smarter-than-thou lyrics over guitar swells and rambling bass and drums throughout the quartet's 50-minute set. Further proving that the band didn't miss a beat after its long hiatus, between songs Bartz sprinkled in topical news references such as Pluto no longer being a planet and the 1986 Chernobyl disaster, tongue planted firmly in cheek just as it was eight years ago.
Much like TT&Q, the Dove Hunter lads are no strangers to long gaps between album releases. The quartet made up of vocalist/guitarist Jayson Wortham, drummer Quincy Holloway, bassist Chad DeAtley, and guitarist Will Kapinos have spent the better part of a decade cultivating their southern-psych sound, and released their long awaited second album Black Cloud Erupt Us in April. The nine-track album picks up where the band left off on its 2009 release, The Southern Unknown. Much like those earlier recordings, when performed in front of an audience, the songs often take on a life of their own. Perhaps owing to its member's pedigree from such revered local acts as Sub Oslo, Mandarin, and Dim Locator, Dove Hunter are adept at turning a three or four minute song into a drawn-out opus. Their set closer began well before last call and ended just after the house lights were turned up and the door guy started suggesting the crowd finish their drinks and head towards the exit.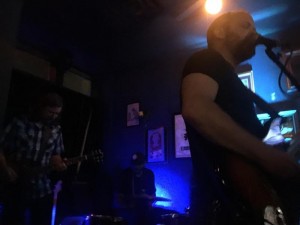 Dove Hunter's next Fort Worth show is September 26 at Shipping and Receiving (201 S Calhoun St, 817-887-9313), as part of the EXHIBITIONISTS art show, featuring more than 40 visual artists, musical performances (including Pinkish Black, Wire Nest and Bummer Vacation to name a few more), a pop up shop, and many other artsy impedimenta.
Tame… Tame & Quiet are in the process of recording tracks for their new album, and while they have no upcoming shows booked as of now, you can be sure that any live shows that pop up will get a mention around here.