From time-to-time an artist and a venue come together for a perfect concert experience. Thursday night, Fort Worth was treated to one of those moments as singer-songwriter Bill Callahan and The Live Oak (1311 Lipscomb St, 817-926-0968) came together for a truly special night. Drawing from a career that has spanned 25 years, 19 albums, and two monikers (his first 14 albums were released under name Smog), the 49-year-old Callahan's dry baritone and three-piece backing band matched up perfectly with The Live Oak's signature warm sound and cozy ambiance.
"Just me and the skeleton crew, we're going to ride out in a country kind of silence," Callahan sang on "One Fine Morning," from 2011's Apocalypse.
Callahan's poker-faced delivery in both song and banter was on display throughout his two-hour set.  "I've never been here before" Callahan deadpanned between songs, leading to a back-and-forth with the audience questioning if their cheers were for his overdue arrival in Fort Worth or the luck they've had by avoiding him in this city over the past quarter century. The crowd, who was in on every joke, was full of Callahan's faithful fans, who sang along to every word their leader delivered.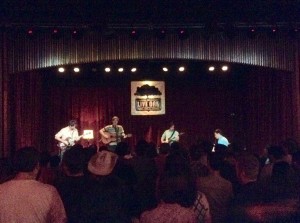 Indeed, Callahan's droll stage presence is something his fans have become very familiar with over the years. "Dress sexy at my funeral," he crooned "for the first time in your life." His congregation battling with him for delivery of the end of each line.
The evening was capped off by Callahan serenading the locals with a tale of his quest for food and shade on Magnolia Avenue earlier in the day. "I had to lay down," he sang "I had to lay down for some rest. It was a long walk to King Tut (the Egyptian restaurant a few blocks down the street), and I needed some rest."
And with that, a seemingly perfect evening reached it's conclusion. Yes, this was the first time Callahan played Fort Worth, here's to it not being the last.