Precocious and powerful, with hints of strawberry. Consider a possible pairing with salmon.
Did I just describe Gallo, the wine, or Gallo, the baseball player?
Modern technology and sabermetrics have combined to empower an ever-growing crop of analysts to rate the odds that young baseball players will prosper in the big leagues. As the prospect prognosticators have sought ways to express their opinions, they've popularized certain terminology. One evening while watching the exploits of a ballplayer who shares a last name with a winemaker, it occurred to me that the way talent evaluators use words like "toolsy," "raw," and "pitchability" have much in common with the way wine enthusiasts use words like "buttery," "crisp," and "drinkability." I may or may not have been nursing a glass of Tempranillo when the parallel occurred to me.
So can we find linguistic common ground between wines and wins, and how might we relate such to the Rangers' viticulturally named prospect Joey Gallo? To explore the possibilities, I consulted with Jon Bonnell, owner and executive chef of Bonnell's Fine Texas Cuisine in Fort Worth. He has taught an extended education class called Wine 101 at TCU, and he knows tannins and blends the way a scouting director knows contact rates and Ultimate Zone Ratings.
Baseball uses five basic evaluation tools : run, field, throw, hit, and hit for power. "Typically," Bonnell said via email. "We start to describe wine by style, weight, personal characteristics and specific perceptible food flavors."
Certainly baseball evaluators look at weight, and also personal characteristics like good citizenship. They rate tools on a scale with numbers from 20 to 80. Wine raters use a 100-point scale, and, like baseball, the higher the score the better. Noted critic Robert Parker, Jr. created the system (should it be called parkermetrics?), which considers clarity, bouquet, taste, length, and quality.
"You get a base of 50 points just for being able to make wine in the first place," Bonnell said. "The scores reflect exactly how we were graded in school. 70 points, obviously some flaws, not great, barely passing. Over 90 points, you've really got something there. Nobody wants to get the dreaded 89-point wine score. It's like a batter hitting .299 on the season. It just sounds wrong."
We've certainly established a baseline for comparison here between, if we so chose, vino and Votto. It's a different Joey we had in mind for this column, though, so I asked Joey Gallo to talk about himself a bit. The former minor league 40-home run man knows what scouts have noticed about him.
"Obviously, most people think power," said Gallo. "It's what comes to mind for me."
So, does the word "power" get used in describing wine?
Jon Bonnell says, " 'Power' is used a tremendous amount in wines. When a wine is very expressive, or seems highly concentrated, it's referred to as a powerful wine. Pinot noirs tend to be on the light side, with plenty of finesse and lighter fruit, tart acidity. Cabernet Sauvignon or Petite Sirah tends to show much more power with intensity and concentrated darker fruit flavors, heavy on the palate, with long finishes."
Gallo has hit more than 120 home runs in his first four minor league seasons and that specific talent has made him one of the most buzz-worthy prospects in baseball. It's a skill in high demand in today's game and it's also sexy. Chicks still dig the longball, and so do general managers. Power plays well at the plate or on the palate, it seems.
Gallo believes he can do more than just hit the ball a long way and, as he acknowledges, strike out a lot.
"Because of my body type, people want to assume that I'm just a big power hitter and not really doing anything else on the field but just trying to hit home runs," he said. "That's not really true."
Gallo cited baserunning and defense as areas in which he feels underrated. Did you see him speed safely into third on a wild pitch last Friday and look rather athletic doing it? The Rangers have felt good enough about his defensive abilities to let the third baseman play more than 100 innings in the big league outfield this season.
"For me, being so big and stuff, it gives you a lot of room to run around and you know you can have longer throws," he said. "You can throw balls a lot harder. At third base, you only have a certain amount of distance to throw a ball and you have to be perfect on the target. Here (in the outfield), you can kind of let balls go and I've had a lot of fun in the outfield so far."
In wine, too, "big" can be considered good or bad. When referring to taste, it indicates a wine of intense flavor. When it comes to serving size, however, we tend to think of products bottled in containers larger than 750ml as the immobile corner infielders of the wine world (John Kruk comes to mind). Like Joey Gallo, though, the reality is more nuanced.
"When someone gets wine in anything other than a nice wine bottle (box, jug, etc) it tends to be the cheap stuff," Bonnell explained. "Very nice wines, however, are often available in large format sizes (magnums, 3-liter, 6-liter). These large format bottles fetch much more money for their collectable nature and limited availability. Just like a baseball card doesn't always reflect how good the player was, only how rare the card might be, a large format, say 6-liter bottle from one particular vintage might be way more valuable than the same wine if you bought eight regular bottles. Larger bottles also age at a slightly slower rate, so they have big collector potential for those wanting to hang on to them a while."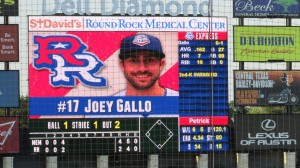 In both wines and baseball, we see and hear comparisons. People see some historical slugger embodied in Joey Gallo every time he homers, walks, strikes out, or fiddles with his stance. It's the equivalent, said Jon Bonnell, of looking at "flavor profiles, fruit characteristics, oak aging attributes, price, region, and vintage." I named some Gallo-related players and asked for Bonnell's opinion on equivalent wines.
On the Grantland website, Ben Lindbergh suggested that Gallo's best comp according to the PECOTA system was, encouragingly to Rangers fans, Giancarlo Stanton.
Stanton is Californian, goes well with fish (he just signed a long-term deal with the Marlins), and is super premium rich (thanks that previously-mentioned record-breakingly expensive deal with the Marlins).
Bonnell suggests: A big time Napa chardonnay like Kistler or Staglin, rich in every way, aged in only the finest French oak barrels, perfectly balanced and a great pairing with fish.A comparison that occurred to me was Adam Dunn, a guy who walked a lot, struck out a lot, and hit 462 career home runs. For him, I thought about something red (He played several seasons with the Reds), big, and that goes well with steak (Dunn played football for the University of Texas Longhorns).
Bonnell suggests: Dunn Reserve is a highly collected Napa cult wine, but always needs at least 10 years to become drinkable. Not one to ever go near when its young.
Darryl Strawberry was another power hitter who drew his share of walks (Gallo tends to be a selective hitter). I wondered, is there a wine that goes well with strawberries?
Bonnell suggests: Champagne comes to mind, a perfect pairing with strawberries, a little nutty, but always worth celebrating over.
A Fangraphs article by Chris Mitchell offered a number of comps for Gallo. Tim Salmon stuck out for me, perhaps because his inclusion reflected the young Ranger's high upside (a good scouting word) or perhaps because of how he used to rake against Texas.
Bonnell suggests: Salmon begs for a pinot noir. It's on the lighter side of red, great acidity, tart cherry and cranberry notes, just enough fruit to pair perfectly with a rich, grilled filet of salmon.
I also asked Gallo about hitters he considered influential in his career.
Derek Jeter – iconic, good over a long period of time.
Gallo says: My parents are from New York. I grew up a huge Yankee fan, of Derek Jeter. I wasn't the type of player he was. He was more of a contact hitter, righty, shortstop.
Bonnell suggests: Opus One. It stands up to the test of time and is reliable and outstanding year in and year out. Also, on the pricey side, just like Jeter. And it's easy to spot a mile away, very distinct label.
Chris Davis – a robust Texan.
Gallo says: Ever since I got drafted, I kind of got compared to Chris Davis with the Orioles. He plays first base now (Davis came up as a third baseman), but that kind of player: hitting, going to strike out a lot, hit for some power, average won't always be too high, but will produce a little bit and so I've always looked at a guy like that.
Bonnell suggests: Becker Iconoclast, as big and intense as any Texas cab yet.
Jason Giambi (who worked with Gallo in Las Vegas) – a big personality that needed to mature.
Gallo says: For him, it was more like a mental side that he'd talk to me about – not always on-the-field stuff, kind of off-the-field stuff that you'll have to deal with.
Bonnell suggests: Berringer Private Reserve. It's got a hefty price tag and everybody wants in on it from the ground floor, but if you don't let it age enough, it's too rough to handle. Once it mellows and matures, it's smooth and complex, well worth the wait.
One comparison we can't really make is to Ernest or Julio. Joey isn't related to the famous winemaking Gallos.
"I don't know if I'd be playing baseball if I was related to that guy," he acknowledged. "I'd probably be making wine somewhere."
The Rangers do serve a variety of Gallo-brand wines at Globe Life Park in Arlington, though that has more to do with corporate relationships than with any desire to create a liquid equivalent of the Beltre Buster.
Joey Gallo hasn't matured into a rare vintage of a ballplayer yet, the kind that gets a 24-ounce hamburger named after him. He's struggled to master the top two levels of pro baseball this year. He just became eligible to drink fermented beverages (if he so chooses) last November, though, and few players of his age excel against that level of competition. He popped a home run off Clayton Kershaw during his first big league stint and the Rangers recalled him from Round Rock for the September pennant drive, so one expects he's still got a great chance to become a superb big leaguer. His journey from minor leaguer to Major League standout could end up looking a lot like that of a startup winery.
"When you plant a vineyard, you cannot get your first crop of grapes for three years. Even then, maybe it's not such good stuff. As the vines mature, the fruit usually improves," said Bonnell. "There are some vineyards still harvesting incredible wines from 100 year old vines. Termanthia in Spain has received a perfect 100-point score for 100+ year old grapevines. Most cabernet in Napa tends to be in the sweet spot somewhere from 5-25 years of age."
Gallo finds himself in that sweet spot, hoping to eventually earn his place in a big league cellar/clubhouse. Like an enthusiastic vintner, he plans to savor the process.
"One of the things (Jason Giambi) taught me is just kind of have fun with it," he said. "Don't take it for granted."
In baseball, as in wine, the important thing is not how you describe it. It's how you enjoy it.