A local team in a pennant race plus a lovely ballpark should equal big attendance numbers, right?
It's not quite that simple, actually. Recent articles from the Star-Telegram, the Dallas Morning News, D Magazine, and Texas Monthly have noted the Texas Rangers inability to draw huge crowds this season despite better-than-expected team performance and an exciting chase for the postseason. Suggested remedies have included adding a roof to Globe Life Park in Arlington, moving the team to Dallas, and having a witch doctor and faith healer do a joint séance to exorcise the ghost of Billy Martin.
The Rangers averaged 30,763 fans as they played 81 regular season home games en route to winning the American League West Division title in 2015. The figure ranked 16th in baseball and is lower than last season's mark of 33,565, when the team finished 31 games behind the division-winning Angels.
This wins versus attendance ratio perplexes people, because it seems counter-intuitive. If you win you should draw more fans than when you don't, the reasoning goes, since fans enjoy the sensation of aligning themselves with a winner and also like seeing top-level talent perform. To a certain extent, that logic works. Indeed, it seems likely the Rangers have drawn more fans this season than they would have had they ended up in last place again. Why, though, have they not drawn more fans than 2014, when injuries doomed them to a finish in the cellar?
A lot of the answer lies in ticket sales cycles. In baseball, the previous season's results often determine the next year's numbers. That's because a huge share of a season's total tickets gets sold in the offseason when account executives can move a lot at one time. A team's season and group ticket representatives sell based on the results of the previous year. A good season means season ticket and mini-plan holders enthusiastic to buy, renew, and upgrade. They do so in blocks of 20, 40, 80, and 162 tickets or more at a time. Group ticket buyers, planning months in advance, choose a ballgame for their church or fight club instead of some other entertainment option. They buy in blocks of at least 25 tickets each.
The 2014 sales group had recent postseason appearances from which to sell, and that's a handy thing to have. Playoff-less 1997's attendance totals exceeded those of the playoff campaigns from the years before and after it. The year 2000's figures were better than 1999's. Occasionally a team can overcome a sub-par campaign with a special offseason, as when Nolan Ryan led a slew of roster moves in 1989, or when the new ballpark opened in 1994. Whatever the reason, success in the October-March sales window will usually be the most important indicator of the next season's attendance numbers, because the largest blocks of tickets get sold to people who plan ahead before the season.
Of course, individual game sales do go on once the season has begun and winning can influence those totals. It's hard, though, for single-game sales to overcome a mediocre offseason.
We can flag 1974, 1996, and 2004 as notable outliers. Those seasons all involved surprising young Rangers teams coming off extended periods without success. This year's team has some good young players, but they don't match the cachet the Jim Sundbergs, Pudge Rodruguezes, and Michael Youngs from those previous teams had. This will also be the fifth season in the last six the Rangers have played past game 162, so the 2015 crew doesn't have the buzz of, say, a 2004 team coming off four straight last-place finishes or a 1996 squad making the franchise's first postseason.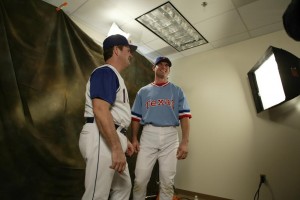 Besides any issues with the on-field product, a couple of factors conspire against the Rangers ticket sales group as a season goes on: football and school.
When Cowboys training camp begins in late July, it siphons press attention from the Rangers. The team enjoys a brief period of media primacy once the NBA playoffs end, but that advantage disappears when helmets start hitting shoulder pads. The reduced media exposure doesn't help ticket sales. The onset of high school football hurts, too. The three worst-attended Friday games of 2015 all came in the period after school began.
In late August, weekday attendance also tends to plummet and it has nothing to do with the heat. Families make up a huge part of baseball game attendees and parents simply don't want to keep kids out late on a school night, for fear their offspring will fail to excel at school and get forced into menial professions like blog-writing. Now, we're not saying that people should prioritize their children's education over supporting the ball team, just that the evidence indicates it's what they do.
Fort Worth schools started class on August 24. After that date, the Rangers had 11 Monday-Thursday home games. During the same period in 2013 and 2014, they had 8. In their record attendance year of 2012, they had 9. If you want to win a pennant, you might want to host a lot of those September games since teams tend to play better at home (though Texas actually won more games on the road this season). If you want to draw fans, you want as few of them as possible. The 2015 Rangers have actually done pretty well on those nights, all things considered. They've only had one such game with attendance below 20,000. A September 16 Dollar Hot Dog Night with Dallas Keuchel pitching for the Astros drew 34,483, and they drew over 30K the next night, too. By and large, though, the attendance ceiling is very low on weekday night games once school has started.
In 2011, with the Rangers franchise coming off its first World Series appearance and playing its way to another one, the Boston Red Sox came to town in late August for a Monday-Thursday series. Teams love to see Boston and the Yankees visit on weekdays, because opposition fans boost otherwise lackluster crowds. Those Sox had star power, too, with John Lackey and Josh Beckett starting two games of the series and the likes of David Ortiz, Adrian Gonzalez, and Carl Crawford in the lineup. It didn't matter, because even those guys couldn't defeat the first-week-of-school curse. Attendance for the four games averaged just over 30,000, some six thousand fans a game below that season's average. Some in the team's front office found the dip difficult to comprehend, and talk of new ad campaigns and ticket specials and starting David Clyde proliferated. Such remedies wouldn't have worked, though. Baseball veterans know such declines are just part of the game.
The Rangers don't really have a lot to worry about now, either. Their TV ratings have done well, which indicates there is still a lot of interest in the club. Mom and Dad just watch on TV instead of going to the game, because Junior needs to get to bed on time so he won't flunk another math test. The team likely will focus on selling postseason tickets, which are special enough to avoid the weeknight blues, and creating a plan to convert this season's achievements into next year's season and group ticket buyers.
The Rangers ballpark lease expires in 2024. Some speculate they might leave behind all the facility improvements they've made over the past few years in favor of relocation to some yet-to-be-built retractable roof stadium in downtown Dallas. Would such a move improve attendance? Perhaps it would, although if I were them, I'd want to see a Prince Fielder-sized pile of research confirming it before I hoofed it east. But even if the move happened, we can safely guess that sometime around, say, 2029, we'd read another series of articles (or perhaps have them implanted directly into our brains by that time) wondering why the attendance was worse than the previous year's even though the team was better. The answer will be the same as it was in 2015, or 2000, or 1997, or 1979.