My name is Keegan McInroe, and I am a singer-songwriter from Lubbock who's been living in Fort Worth off and on since 2001 when I began my four years of study at Texas Christian University. Over the course of my ten-plus years writing, performing and recording original music, I've played hundreds of shows and traveled thousands of miles throughout the United States and Europe. My latest tour is a four-month trek and ramble north, east, south, and west around the Old World. Whether you're a fellow musician, a fellow traveler, or simply a reader who loves a good tale from the road, Texas Troubadour Abroad –– my bi-weekly travelogue published here on the Weekly's website –– will have something for you.
"When love is not madness it is not love." ― Pedro Calderón de la Barca
It's a lazy, somewhat melancholy Monday morning in Bilbao. At this exact time, one week from today, I'll be boarding a plane in Madrid that will bring me back across the Atlantic.
Back to Texas.
Back to my dog and my niece. Back to my mom and my brother. Back to Mexican food and American football.
Far away, once again, from Europe.
Roughly 85 shows over these last five months, zigzagged and jumped via planes, trains, buses, automobiles, and my own two feet, across thousands of kilometers through 15 different countries — all coming to a head in seven short days.
During this time I've been called a bastard, a yank, a redneck, a rooster, a chicken, an Americano, a Texano, an Irishman, a Scotsman, a Viking, a sex junkie, a drunk, a stoner, a pervert, lucky, blessed, cursed, haunted, smelly, sensitive, sweet, fat, sexy, brave, bad, good, romantic, sick, strong, young, and old.
Like a cartoon character in my one gray, plaid, long-sleeved cotton shirt, two pairs of blue jeans, small variety of t-shirts, and black shoes busting apart at the seams, I've roamed and stomped and bellowed around the Old World in my costume, making countless new friends, reconnecting with countless old friends, starting six or seven new songs, finishing one song, sucking down hundreds of liters of booze, inhaling and exhaling barrels and barrels of strong smoke, surviving — to this point — the wilds and uncertainties of a life flung out upon the road with little resembling a safety net in any direction.
And now here I sit. Melancholy. A bit sad. A bit excited. Entirely lazy, kicked back in a bed, listening to Mahler, contemplating what's passed, curious as to what's next.
Immediately what's next is a day off, two more shows in Bilbao tomorrow and Wednesday, a couple more days off, a bus down to Madrid, hopefully a rendezvous and some quality time, an afternoon finale next Sunday at a venue called The Phantom Club, a long flight to the States, and a court date back in Texas.
And after that required unpleasantry, I might sleep until Hallow's Eve.
But what post-hibernation will look like is quite unclear.
Slightly less unclear, however, are these last two weeks.
Without further adieu — one more time, for the good times — here's the telling of the tales from distant Castelfranco Veneto two weeks ago to today's quiet afternoon in the Basque Country.
~
I got that drink it was time for. And that drink got plenty of strong company in quick succession.
James Castelfranco, myself, and a number of other friends tied on a pretty good Monday evening in downtown Castelfranco, which included myself barking out signals from the shotgun formation and throwing a deep ball-less touchdown pass to an Italian receiver who managed to break free from his defender and into the open street. A thing of drunken beauty.
The following day I decided to take an impromptu trip to Trieste to do a little busking with some musician friends I'd made at Busker's Chur in Switzerland back in June. We made a little money, made a little music, had some wine, and I got up early the next morning and made my way back to Castelfranco.
That night I had a gig at the gastropub Dai Bastardi in San Marco di Resana. I declined the horse steak, played solo a while, then invited my friends from HD Holden to join me. We ended our set — which was also the end of our run of shows together — with what-felt a powerful take on the classic old Lead Belly tune "Goodnight Irene."
After the gig, I was standing out on the patio talking with a particularly fetching woman with an infectious laugh and magnetic presence when a young man came up and propositioned me.
Grinning. "OK, I'm heading home. Let's go."
He had curiously informed me earlier of how close he lived to the venue.
"Uh, thanks man, but I'm gonna stay here. Have a good night."
Still grinning. "When are we going to sleep together?"
Laughing. "Never. That's never going to happen."
A discouraged look and off he went, though he didn't leave immediately.
If I had been standing alone, looking bored, maybe one would better understand the request. But I was completely, happily engaged and taken with my alluring conversational partner — obviously so — and I had been for quite some time.
I appreciated the young man's bold and forward approach, sure enough, but I can't imagine he thought it would work.
Shortly after, he engaged me again as I was helping break down equipment — something about his girlfriend being on her period — which seemed to perhaps be an offered justification for why we should bang it out back at his place. I nodded my confused sympathies hurriedly, grabbed my guitar, and stepped back outside to resume my getting-on with the consuming beauty.
The following evening I played in the big, front window of a little bar called Comarò in downtown Castelfranco. I played most of the set solo before being joined for the last several songs on saxophone by Signore Alessandro Brunetta, which was a treat.
Early during the show, the unmistakable laughter of the lovely from the previous night came billowing in from outside well before I saw her. I would spend the majority of this night and after-party entranced, laughing, talking, appreciating denim.
Bongo, a local artist friend of mine, brought some posters and shirts he'd made with my likeness and name scrawled across them to the gig. It was a limited edition, but I believe he sold out. I signed several posters at the night's end, despite it being a little unsettling to see my face and name so large emblazoned upon the merchandise.
The following day and evening I found myself in such a scenario as to make other concerns and planned possibilities vanish from consideration or importance. I soaked in it, breathed it in deep as I could. Of the near 20 Friday nights of this tour, this quiet evening in Castelfranco was very probably my favorite.
The next day I prepared and shared breakfast tacos as well I could, given the Castelfranco supermarket's available ingredients. In particular, the lack of jalapeños was disappointing. But, they turned out fair enough, despite becoming more enormous, fragile breakfast burritos due to the jumbo, brittle flour tortillas I had to work with.
Afterwards, The Intoxicant and I made for Verona where I performed a fun and packed show at my old haunt Malacarne with my good buddy and known song-thief Michele Bombatomica. As is typical post-show there, we stayed locked in well after close, drinking and laughing and carrying on, but never have I seen the bar's countertop so well adorned as it was for the better part of this evening's after imbibements. It was hard to give attention elsewhere.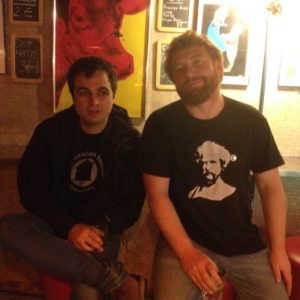 We made it back to Michele's after some hours and as I nearly drifted off to sleep, I was awakened and stirred to action by a fantasy.
I made some changes to plans and lingered a while before hopping a plane to Barcelona a few days later for an unplugged show at the cozy, nautical themed bar L'Astrolabi. Despite it being quite well attended, it was quiet enough in the bar for me to fingerpick acoustic and sing soft and still be heard.
And there was no smoke choking me. And there were no open windows being closed. And there was rum instead of whiskey.
Two days later I was on the move again via bus to the Basque Country city of Victoria-Gasteiz, home to my favorite Basko rascals, Goiatz Dutto and Joel Bruña of Moonshine Wagon. We spent that evening partying into the early morning hours, slept in until our heads stopped hurting, and made for Éibar the following evening for our show at Ez Dok, where I have previously relayed my infamous reputation for whiskey drinking.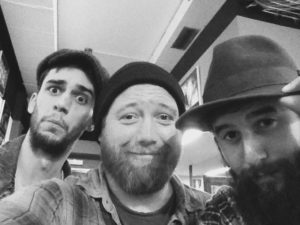 I was enjoying a Punk IPA before the gig when a woman I'd never met before stopped me as I passed by.
"You look like you are from Texas."
"Hey! Yeah, that's right. Good guess."
"Yeah. You really look like you're from Texas. I'd say Fort Worth."
"Holy shit! That's right!"
I tried to get her to confess she'd seen it online or something. She was adamant she had not. She told me she had a gift. The three friends she was with solemnly confirmed this.
She then guessed my two Basko buddies were also from the States, which I got a kick out of, and naturally gave her a hard time about. She looked a little deflated. I began feeling guilty. One out of three ain't bad. Especially when the one is right one the money.
And, in her defense, she hadn't met them. She'd only passed them out on the street as they played fiddle and banjo. When they walked into the bar and joined me, she exclaimed, "Yes, they're definitely from here. You can tell."
Indeed.
The show was a long and good one with plenty of smoke and drink, me doing some songs solo, some together with Moonshine, and sitting some of the gig out for Moonshine to do their own thing, which is a much faster-paced jump and kick than I'm used to keeping up with.
Goiatz and I travelled the following day to just near Santander, a coastal town called Laredo, for a gig at — well, it's a little curious, to be honest. The bar appears to have three names: "Chilli Out Coppas", "Fredy's Bar," and the sign that is on the bar itself outside reads "Compass Pub."
There was not much in the way of attendance, and there was no mic stand, so I stacked a couple of barstools on top of each other and taped the microphone directly onto the top barstool seat — a creative and humorous solution I was quite proud of. We plowed through the set and had some laughs and drinks and eventually slept in a small boxcar, which had been converted into a sort of bunk-bed bungalow, complete with stained mattresses, no sheets, dirty pillows, and three suspicious blankets.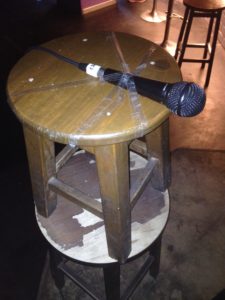 Yesterday we made the drive to Bilbao for a double-header: early in the afternoon at the small pub Residence and later in the early evening at the Italian restaurant that's become a second home to me, Coppola.
This configuration of Sunday gigs is the same as I arranged my first visit to Bilbao back in February of 2014. The two venues are on the same street, same block as each other. Quite convenient. And the people both places are great.
Señor Bruña rejoined Goiatz and I for both gigs, as did Moonshine Wagon's third member Mr. Mànu Prieto, and Miss Lorelei Green provided opening duties and backing vocals at Coppola, as has been our tradition these last several trips to Bilbao.
I've made many good friends in this town, and many of them came out to party with us. My heart always gets filled to the brim here.
It feels nice being able to travel to such a wide array of far flung places and feel so at home, to have so many good people happy to see you return, and come out to hear you perform.
I suppose when I head to the airport in one week's time, I'll be ready. Today, I don't feel so ready.
I find fulfillment and stimulation in the constant movement of life on the road, and one would be hard-pressed to find a more inspiring backdrop than Europe to move through.
But, it's often a little bittersweet leaving one place and heading to another. The goodbyes. The hellos.
I recently had a particularly difficult goodbye. Though I am hoping for a hello before I head back Stateside, it would be followed by yet another hard goodbye.
But such things are the fertile fodder for art and song, no? Opening oneself as wide as possible, to experience as much as possible, to observe, to live, to feel, to love, to hurt, to bleed, to soak it all up, chew on it, possibly spit something back up which will resonate, move, inspire, heal, help.
I will certainly be returning to the States pregnant with songs and stories and ideas and plans and hopes and dreams from these last five months' ramblings and rovings.
What the hatchlings from this pregnancy will look like is not certain, but I look forward to sharing them with you, the good, the bad, and the ugly, in some shape, form, or fashion.
Thanks for coming along for some of the ride with me. And thanks to everyone here in Europe for another unforgettable journey.
It's been a hoot.
Big Love to you all from Bilbao.
See y'all back in Texas.
Keegan McInroe
October 5, 2015
Bilbao, Spain