"Folks around here deserve the chance to see Windsor, and the film society can make that happen." — A line from this recent Static article in Fort Worth Weekly, encouraging the Lone Star Film Festival to include in its lineup Windsor, which is Fort Worth writer, director, and producer Porter Farrell's first movie.
Don't know if Static's plea had anything to do with it, but Lone Star Film Society director Chad Mathews made it happen — Windsor is on the  list of features to be shown during the ninth annual festival.
Farrell is thrilled to have his first movie screened at the local festival. And he's hoping to get it into mainstream theaters across America soon.
"We know we have something, but until we get it out there in distribution we don't know what the world at large thinks of it," he said.
The film has earned awards at other film festivals, including Best Narrative Feature at the Garden State Film Festival in Atlantic City, NJ.
The Weekly wrote about the movie while it was being filmed last year in Gainesville. Set in a small fictional town, a group of high school friends prepare to graduate and head out into the world. They're uncertain about what life holds for them but anxious to get on with it. Corbin portrays a wise old coot who likes to drink beer with them. Later, when he discovers he has cancer, Corbin's character gets talked into smoking marijuana for pain relief, and gets carried away to comedic effect.
Farrell wrote the screenplay with actor Barry Corbin specifically in mind as the coot. Corbin nailed the part as usual.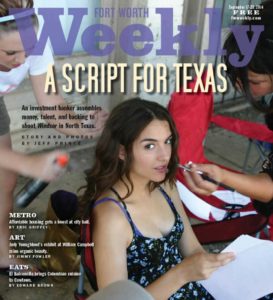 Windsor features some of young Hollywood's  rising stars, including Nick Krause, Madelyn Deutch, Adam Hicks, Peyton Clark, and — mark my words, she's going to be a superstar — Quinn Shephard.
Texas-based actors Joe Stephens and  Sonny Carl Davis played roles as well.
Another movie I'm fired up about is Sir Doug and the Genuine Texas Cosmic Groove.
Sahm was a San Antonio-based but inevitably Austin bound singer from the early days of Texas Music, a real cutting edge pioneer of the scene. Fort Worth's own Joe Nick Patoski documented the late singers life, and this ought be a good flick.
That's only two in a long list of  movies scheduled for this year's festival.
Go here for the full schedule.
The Lone Star Film Festival is Nov. 5-8 at Sundance Square.