Fort Worth Weekly Homebrew Throwdown Update
Tickets for our first annual homebrew competition are now on sale here and include an early bird special pricing that ends on Oct 30. The daylong craft beer event at Panther Island Pavilion will be like none other. Arrive at noon to catch the Cowboy's game. At 2pm, we'll open the judging portion with brewers from Rahr, Martin House, Panther Island, CBP, and more. Afterwards, we are opening up a Q&A panel between local professional brewers and the public. Live music will feature the beergrass hillbilly group Shotgun Friday. In addition to nine beer samples, brews will be sold by The Bearded Lady. Plus, there will be tons of food. We crown the homebrew winners at 6pm and then are heading to The Bearded Lady for an after party, where your first pint of local beer is free with your Homebrew Throwdown wristband or commemorative pint glass. Follow our Facebook event page for updates. The fee includes nine samples from local breweries.
The Bearded Lady: Crafting a Community
One thing that I've learned about the craft beer movement is that it's not just about the beer. Breweries like Martin House and Revolver Brewing go beyond churning out thousands of bottles and cans of craft suds. Those breweries, and brewpubs like Chimera Brewing, are community centers that offer tours and weekly events, often collaborating with other small, local businesses. And they're quick to offer donations for charitable events when they can.
When The Bearded Lady opened two years ago, I noticed they shared that same spirit. The employees looked truly happy to be working there and often hung around the gastropub when their shifts were over. There was an unwritten code at work determining that everyone involved in craft beer production had equal standing. The oft-cited American mantra of getting ahead at any cost (so pervasive on Wall Street) was no longer going to cut it. It was refreshing.
So how did Bearded Lady co-owners Eric Clayton and Shannon Osbakken define the work culture and goals for their craft beer haven? They were on un-treaded territory when the craft beer pub opened.
At a recent sit-down in the Near Southside gastropub, the duo admitted that much of theme parties, relationships with beer reps, and approach to work environment weren't mapped out in some grand plan. Clayton and Osbakken both have backgrounds in the service industry, previously working as bartenders and waitstaff. That experience taught them the importance of treating their employees well, and they turned that philosophy up several notches.
Bearded Lady waitstaff aren't required to wear uniforms. Individuality is encouraged, along with a passion for craft beer. Last summer, Clayton and Osbakken took a handful of staff to Colorado for the Great American Beer Fest. That experience, Clayton said, was meant to be a reward for the managers as well as an educational experience. Bearded Lady employees are regularly invited to private employee events and road trips to regional breweries.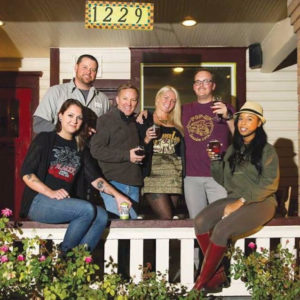 "If an employee truly enjoys working somewhere those good feelings are going to transfer to the customer," Clayton said. "You always bond with your employees, but this is the closest-knit family I've ever had."
Having a location in a refurbished 1920s home doesn't hurt either, Osbakken added.
"I think it's just more inviting to bring people to your house than some corner of a shopping center," she said.
It naturally followed that the folks wheeling in heavy kegs of suds or reps from breweries should also be treated like friends. Reps from Deep Ellum, Revolver, and elsewhere make weekly trips to speak to the owners. Osbakken makes it a point to greet them, offer a bite to eat, and listen to what's new with their breweries. For their part, reps keep Bearded Lady in mind for special release and theme events that bring celebrity brewers or rare beer releases. It creates a synergy of good will and good times that keeps Bearded Lady regulars coming back.
"We're here everyday," Clayton said. "There aren't many places that you can walk into and see the owners most of the time."
And then there's the beer. Osbakken said she works to keep a balance between "new, exciting, or seasonal beers" and regular favorites like Real Ale's Han Pils or Peticolas' Velvet Hammer. All the beers on tap are from American breweries, but local beers have to earn a place on the wall just like everyone else.
"I choose beers that I genuinely enjoy drinking," she said. "I'm not going to carry your beer just because you're local. The quality is very important.
"We're learning as we go," she added. "This is our first restaurant and craft beer endeavor. But we think we've found a system that's working for us."
Bearded Lady has a full lineup for North Texas Beer Week.
11/8 Founders KBS Brunch
11/9 903 Brewers Balcones barrel-aged Sasquatch tapping
11/10 Victory meet the brewer event
11/11 Rew Belgium rare sour tapping
11/12 Martin House River Horse Launch/Sat
11/14 Revolver Brewing Shindig
11/15 Collective Brewing Project Beer Brunch catered Bearded Lady
On Tap This Week:
Fort Worth Weekly events
Fort Worth Weekly's First Annual Homebrew Throwdown will take place Sunday, November 15 starting at noon. Homebrew Throwdown is a chance for local home brewers to compete against each other with a panel of celebrity judges awarding who has the best suds in town. Come out and support home brewers and local breweries. Along with the judging we will have 6 local breweries offering samples and your tasting ticket allows you a 12 sample tasting card. These breweries include Collective Brewing Project, Martin House, Panther Island Brewing, Rahr, Revolver and Shannon Brewing. Once your card is spent you will also be able to purchase beer of a select menu of these breweries. To start the day we will be showing the Cowboy game on the projection screen, there will be a Q&A session with a group of local panelists, food trucks and we will finish the night with live music from Shotgun Friday. This festival is strictly 21+. Also everyone must purchase a ticket to get in.
What a great way to finish out North Texas Beer Week!
Advance tasting tickets are $20, and $25 at the door.
Rahr & Sons 11th Anniversary Party
Oh, how time flies. This weekend Rahr & Sons will be celebrating 11 years in grand style with three days of rare beer tastings and the release of a new beer, Rahr & Sons' 11th Anniversary Beer, a Russian Imperial Stout with Toasted Coconut, will be released the week of Oct. 26. You can find the dark porter using this map.
Friday, Oct. 23, Rahr & Sons will host a VIP beer tasting from 7-10 p.m. with more than 40 different brews. Oct. 24, Rahr spokespersons said the brewery "will host an extended tasting from 11:00 a.m. to 4:00 p.m. Attendees will receive a commemorative glass to sample a selection of beers, including an oak barrel of 2011 Bourbon Barrel Aged Winter Warmer and a firkin of Angry Goat aged on chocolate covered banana chips. They also will enjoy live music and food trucks." VIP tickets are $25, and allow early access from 11 a.m.-1 p.m. Regular admission is $10. Tickets are available here.
Martin House Boo-ery Tour
From the event page: "The inaugural Halloween Boo-ery Tour is Saturday October 26 here at Martin House Brewing Company with live music, a costume contest, and a scary amount of beer. We will be having extended tour hours from noon to 5pm.  We've got five up-and-coming breweries bringing their brews for proper adult Trick-or-Treating session.  Martin House will also be serving up a small-batch Halloween special beer of our own. Regular tour prices and rules apply (except for the extended hours). $10 for entrance, pint glass, and 3 Martin House Samples.  Guest brewery sampling is free with paid entry and you get those samples in addition to your Martin House pints."