Fort Worth Weekly Homebrew Throwdown Update 
Tickets to our first annual homebrew competition are now on sale here. The daylong craft beer event at Panther Island Pavilion Shack will be like none other. Arrive at noon to catch the Cowboy's game. Starting at 3pm, we are opening up a Q&A panel between local professional brewers and the public. At 3:30pm, we'll start the judging portion with brewers from Rahr, Panther Island, CBP, and more. Live music will feature the beergrass hillbilly group Shotgun Friday starting at 4:30pm. In addition to 12 beer samples, brews will be sold by The Bearded Lady. Plus, there will be tons of food for sale by Salsa Limon. We crown the homebrew winners at 6pm and then are heading to The Bearded Lady for an after-party, where your first pint of local beer is free with your Homebrew Throwdown wristband or commemorative pint glass. Follow our Facebook event page for updates. The fee includes nine samples from local breweries.
Rabbit Hole Brewing
Episode One — It's all in the can.
After spending two hours at Rabbit Hole Brewing's headquarters, I realized one article isn't enough to really capture what they're doing. For this week, I'm focusing on a novel approach Rabbit Hole staff is taking to reach thousands of craft beer fans. Next week, I'll dig into Rabbit Hole's history and current beer lineup.
Former homebrewer and Rabbit Hole Brewing co-owner Matt Morriss said North Texas' beer palate has matured rapidly in the past few years. When the Justin-based brewery first opened nearly two years ago, he noticed the questions he got at area beer festivals were, um,  less-than-stellar.
The two most common queries: 'What do you have that taste like Coors Light? What has the highest alcohol?'
The facepalm moments were a surprise to Morriss, who was used to deeper, more thoughtful questions when visiting Austin-based beer events. But those moments turned out to be perfect opportunities to convert one more person to the craft beer movement.
"Well, we don't make anything that taste like Coors Light," he'd explain. "But why don't you try this."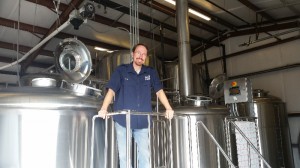 And with that, he gave the novice beer drinker a splash of Rabbit Hole's Rapture Fusion Brown Ale, a bold, roasty brew that fuses English brown ale tradition with American panache.
The gesture usually worked because a beer that tastes "almost like Coors Light isn't going to capture someone's attention," he said.
The sweet, grainy smell of yeast gorging on sugar was omnipresent in Rabbit Hole's large brewing space. As we admired the polished silver equipment, Morris told me about his brewery's recent venture.
"Most beer is consumed off-premise (at home)" he said. "Think about your typical Sunday football watching party. Those folks are probably drinking beer. But to start canning and distributing our beer we were looking at an up-front cost of $100,000 or more. And that equipment takes up a lot of space."
At some point, every brewery reaches a limit when selling through kegs only. A friend told Morris about an Austin-based mobile canning company, Armadillo Mobile Canning. It was a perfect fit. Every week or two, the canning company pulls up to Rabbit Hole's brewery and unloads an assembly line. The Armadillo staff run the machines while Rabbit Hole employees manually feed the cans and handle much of the legwork.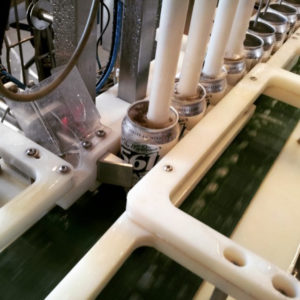 The new outlet has meant ramped up brewing demands.
"We made more than twice as much beer in October than we did in any other month," Morriss said. "We're doing everything we were doing in kegs and that much and more in cans, and we've had to go from brewing once every couple of weeks to once or twice a week to keep up with demand."
These days, the quality of questions Morriss fields at North Texas beer festivals has risen considerably, Morriss said. But he still gets a few curveballs now and then. The brewmaster takes it all in stride. The words "craft beer" are still a new addition to DFW parlance. And even a silly questions means people are curious.
Rabbit Hole Brewing, 608 Topeka Ave, Justin, TX 76247
Tours & Tastings are 12-4pm every Saturday.
Fort Worth Weekly events
Fort Worth Weekly's First Annual Homebrew Throwdown will take place at noon on Sunday, November 15. Homebrew Throwdown is a chance for local home brewers to compete against each other with a panel of celebrity judges awarding who has the best suds in town. Come out and support home brewers and local breweries. Along with the judging we will have 6 local breweries offering samples and your tasting ticket allows you a 12 sample tasting card. These breweries include Collective Brewing Project, Martin House, Panther Island Brewing, Rahr, Revolver and Shannon Brewing. Once your card is spent you will also be able to purchase beer of a select menu of these breweries. To start the day we will be showing the Cowboy game on the projection screen, there will be a Q&A session with a group of local panelists, food trucks and we will finish the night with live music from Shotgun Friday. This festival is strictly 21+. Also everyone must purchase a ticket to get in.
What a great way to finish out North Texas Beer Week!
Advance tasting tickets are $20, and $25 at the door.
North Texas Beer Week
We're in the midst of North Texas Beer Week. All your favorite breweries, brewpubs, and gastropubs will be doing special events. For event listings, click here.
On tap for next week is the second part of the Rabbit Hole Brewing story.