Kumar Sangakkara: "If something is not done right, you don't say 'It's not football' or 'It's not tennis.' You always say 'It's not cricket.'"
The Sri Lankan batsman knows you've probably heard that catchphrase about his sport. He visited Texas last week as part of a group of cricketing legends to help you learn why he feels his game does things right.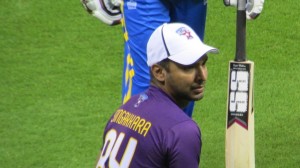 "It's given us a lot, and I think everyone here is trying to give back to the game while enjoying themselves and putting up the best spectacle that we can," he said.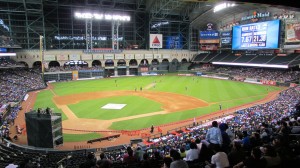 Sangakkara did his part to provide a compelling cricket experience last Wednesday in Houston's Minute Maid Park, as he produced 70 runs to lead his team to a 262-205 win. The victory came in game 2 of the three-game Cricket All-Stars Series. The matches featured two teams of retired world-class cricketers playing in Major League baseball stadiums. The games did not have television coverage in the U.S., though ESPN3 streamed them online.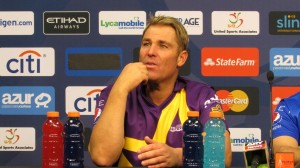 Warne's Warriors, captained by Australian spin bowler Shane Warne, swept the series against Sachin's Blasters, helmed by perhaps the most famous cricketer in world history, Sachin Tendulkar.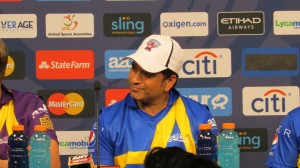 If you hadn't heard of Mr. Tendulkar or any of his fellow All-Stars until now, don't feel badly about it. While cricket enjoys a large following in a number of mostly current or former Commonwealth nations, the United States is not among the former English colonies where the game garners a lot of attention. The Cricket All-Stars tour aims to start elevating cricket's status in this country.
"It's all about creating interest," said South African all-rounder Shaun Pollock. "This is a way of using ourselves as a vehicle to expose the USA to cricket."
Tendulkar and Warne identified the tour as a potential catalyst for driving the game's worldwide growth.
"We're here to globalize cricket," said Warne. "We'd love everyone to play it."
Raj Ramakrishnan of Australia-based United Sports Associates helped organize the tour. He sees establishing cricket's foothold in the United States through the tour as an attainable goal.
"The U.S. is a sport-loving country and definitely it will take a big step in moving forward," he said.
The games drew announced crowds of more than 20,000 in each of three cities: New York, Houston, and Los Angeles. The bulk of the attendees seemed to consist of fans who already knew the game and wanted to see its stars. The cheering in Minute Maid Park, ostensibly led by some University of Houston cheerleaders, was fairly raucous, even in the normally staid press box.
The most well-known of the competitors drew huge roars when he took the field and batted. Signs bearing his likeness proliferated in the stands, including one that read "Houston, God has landed." While Sachin Tendulkar knew that many had come to see long-admired familiar faces, he felt that even a small percentage of strangers at the game represented a meaningful total.
"Somebody has to start," he said. "In these spectators, (if) even there are two percent Americans, then two percent is better than nothing."
Ramakrishnan believes the tour is vital to the success of U.S. cricket.
"There are already a lot of cricket clubs and a lot of kids that do play cricket in the U.S.," he noted. "We need games like this that help them to watch some of the big legends of this game."
The All-Stars hope this tour won't be the last one, either.
"We'd love to come back every year, all of us," said Warne.
"We want to come here every year and to play in different cities to spread this game that we all love," Ramakrishnan said.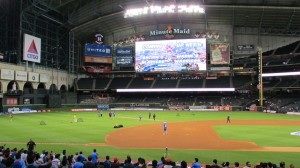 In each city they visited, the players looked to engage the future of the U.S. game through grassroots clinics.
"We've done a lot of coaching for kids" said Warne. "We've done a lot of promotion for the game of cricket in New York, here in Houston, (and) all the kids have been happy. We've signed lots of autographs. We've had expert coaching from all sorts of players – all-rounders, spinners, batsmen, bowlers. I think we're doing our part at promoting the game of cricket. "
"The whole idea is to motivate as many youngsters as possible to pick up a cricket bat," said Tendulkar.
"If we see an American holding a cricket bat along with a baseball bat, that's what we want to see down the track. We want to have everyone enjoy this game," said Ramakrishnan.
"Maybe one of these kids or some of these guys that we've coached in New York or Houston or maybe in L.A., we might see them in one of the World Cups," said Warne. "That would be fantastic."
"Hopefully we can sow a few seeds that we can see come to fruition in years to come," added Pollock.
Cricket has some qualities U.S. sports fans might appreciate, most notably offense. In baseball, an announcer might suggest that an overeager hitter on a team trailing by half a dozen runs tried to "hit a six-run homer." In cricket, batters do hit six-run homers (aka "boundaries"). While it's not easy to hit one per se, they happen often enough that chicks who dig the longball will have a lot to cheer. In Houston, six-run shots induced the Astros to set off the home run scoreboard graphics and start the stadium's train in motion the same way they would have had Chris Carter or Evan Gattis gone yard. The 'Stros finished second in the American League with 230 home runs, but one of these teams might eclipse that total in a single long homestand.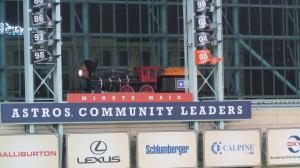 Because the rules mandate using the same ball for long periods of the match, you do have to throw it back on a six, even if your team hit it. The scoreboard needed to occasionally show the American audience a graphic reading: "Can we have our ball back?"
You'll also see athletic fielding plays and amazing ball control from bowlers. A match doesn't have to take forever, either. The Twenty20 format played on this tour takes threeish hours to play, a far cry from the days-long test matches many Americans may associate with cricket.
The most important reasons these men feel the world should embrace the sport, however, might be ones that extend past the playing field.
"Cricket is a unique sport because it goes just beyond hitting a ball with a bat. It teaches you a lot of good values that stand you in good stead in life," said Sangakkara. "Cricket has something great to offer for any young kid playing the sport, be it in the U.S. or be it anywhere else in the world. Us playing here is to ensure that kids are inspired to take up this wonderful sport."
MMA, poker, soccer, e-sports, rugby union, lacrosse, and other pastimes have started to make inroads into the world's most important commercial market in recent years. There's no set formula for taking a sport from small-time to big-time in the U.S.
The All-Stars hope their tour concept will be a catalyst toward Americans considering their game to be, well, cricket.
Tendulkar believes that process has begun.
"It will take time for Americans to pick up a cricket bat, and to understand what cricket is all about, but it has started, for sure. That much I can guarantee."