The buzzing whine of a power saw and acrid smell of sawdust fill the back part of the century-old building on the Near Southside. A carpenter cuts pieces of reclaimed 4-inch oak wood into short pieces and lays them down in a herringbone pattern. A small stairway nearby is designed to look like the one at Abbey Road Studios, where The Beatles recorded many of their hits.
This 1,700-square-foot space is going to be a new Fort Worth recording studio. Named after a small city once located in the Stockyards, Niles City Sound is instead located in the same building as Shipping & Receiving Bar, just south of I-30 near Main Street. The studio will be finished in a few weeks, although British-born, Dallas-based architect Bob Suffolk will be hanging around for months, listening to recording projects and tweaking the room for sound.
"I love Texas because there is so much talent and a limited amount of high quality studios here," he says.
He's not kidding, especially about the "limited" part. In addition to hundreds of home recording setups, Fort Worth has had only a handful of bona fide studios seemingly forever. There's Spaceway Studios, where producer/owner Will Hunt produced the debut solo album by Evanescence's Amy Lee and recorded such local heavyweights as Burning Hotels and Holy Moly. Meanwhile, Dreamy Soundz, a large part of the Dream Soundz Records mini-empire that has become the heartbeat of North Texas' underground, is pumping out gems by Fungi Girls, The Cush, and The Longshots. Eagle Audio Recording, a 30-year-old institution designed by acoustic architect Russ Berger, recorded Robert Ealey and T Bone Burnett back in the day and, more recently, Guthrie Kennard and Jody Nix.
In Dallas, January Sound Studio has worked with Kirk Franklin and Drowning Pool, and just outside of Denton is The Echo Lab. Co-owned by Centro-matic drummer Matt Pence, the studio is responsible for albums by Sarah Jaffe and Midlake and earned a Grammy for Brave Combo's 25th anniversary album.
What's different about Niles City is, oh, about a zillion potential dollars.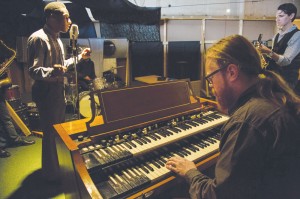 The Niles City owners set Fort Worth soul crooner Leon Bridges on the road to fame earlier this year by recording his debut album, Coming Home. Studio co-owner Austin Jenkins caught Bridges performing at Magnolia Motor Lounge one night and was blown away. He and co-owner Josh Block –– both play in North Texas indie-rockers White Denim –– recorded Bridges in the cavernous 14,000-square-foot warehouse adjacent to Shipping & Receiving.
Jenkins, Block, and Dallas musician/tour manager Chris Vivion are pouring their combined savings into their real studio to make more hit records.
Capitol Records sold so many Nat King Cole albums in the 1950s that the Los Angeles-based building was dubbed the House that Nat Built. People might one day call Niles City Sound the House that Leon Built, although the studio was planned several years before the owners met Bridges. And there's no guarantee Bridges will record his second album here, although people will be surprised if he doesn't. These guys are a close-knit bunch. Bridges knows how much his rapid rise in the music business is owed to them. He was washing dishes and playing $50 solo gigs at the time he made his record. Now he's rubbing elbows with Jennifer Lopez, Ryan Gosling, and Willie Nelson.
"Because of [Bridges'] hit album, people are definitely stoked about Niles City Sound recording studio," Suffolk says. "The guys there are hit-makers. They've already proved themselves with [Coming Home], and people are interested in working with the boys."
The influence of a hit record is as plain as the dollar sign on a ledger sheet. When bands chart a song or album, other musicians look to see where it was recorded. Dave Grohl's excellent documentary Sound City shows how Neil Young chose the titular Los Angeles facility to record After the Gold Rush in 1970. That album's sound attracted others, including Elton John, Fleetwood Mac, and The Grateful Dead. Nirvana chose Sound City to record Nevermind in 1991 because they saw the studio listed in the liner notes on an album the band members liked, and that spurred many other bands to follow. The phenomenon still exists, even in this era of computer home-based recording software.
Suffolk has spent nine months consulting, designing, and overseeing construction. He says Niles City Sound will be unique in North Texas, relying on vintage tube equipment and tape reels rather than computer software and digital gear. The studio is expected to attract a range of local and out-of-town talent looking for a certain sound and feeling, the warmth of tape, and old-school atmosphere.
"If you have a wow factor and a great sound in a studio, it's going to pull in people who want a little of that fairy dust," Suffolk says.
******