Watkins strides into the Humane Society after our visit to the homeless camp, and, as is her pattern, cuts to the chase with little warm-up or social chitchat.
"I'm here to get some vouchers for homeless people so they can get all their dogs spayed and neutered so they can quit creating all of these dogs," she says.
The clerk behind the counter says they'll need internet access and a valid e-mail address.
"They don't have either of those, but they've got a lot of dogs that are breeding," Watkins replies.
Lori Sanderson, manager of clinical services, comes out of her office, and she and Watkins quickly come to an arrangement.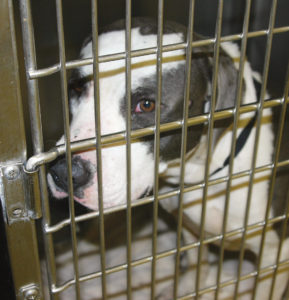 "Are they close by?" Sanderson says to Watkins. "If they'll just pop their heads in here, I'll be glad to take their information. I know they don't have an address, but I need their name and contact information. I've done it for a lot of homeless. That's not a problem. A lot of them don't want the puppies and know they can barely afford the food, but homeless people love their animals, too."
"That's wonderful," Watkins says.
But the clinic is booked for several weeks. Watkins realizes if she wants to get this pack of pit bulls sterilized she's probably going to have to go get the men's info and apply for the vouchers herself and then go fetch the men and the dogs on the day of the appointment. Will the men still be there by then? Who knows? But Watkins is willing to give it a try.
The camp is another example of how Fort Worth police and animal control staff perpetuate the problem of stray animals, she says. During our conversation with the homeless men, Watkins criticized one of them for having a dog chained to a post. "That's cruel and against the law," she said.
"The police told us to chain him," the man said.
City spokesperson Diane Covey said the animal shelter's field officers enforce the intact pet permit ordinance by advising pet owners of the "need to either obtain the intact pet permit or spay/neuter their animals."
Watkins has tried to work with police and shelter staff in the past, but she burns bridges quickly. Her bluntness can rub people the wrong way, earning her a reputation as a rabble-rouser and making it easier for people to discredit her and blow her off. A police officer who investigated a dog complaint made by Watkins later called her back to say that he'd talked to the pet owners but hadn't written them a citation. He wrote on his report that Watkins yelled and hung up on him.
"My delivery is not good," Watkins said. "I'm not a highly sensitive person. People can shoot straight with me, and I don't get offended, so it's hard for me to understand why everyone's not like that."
Regardless, she said, if police would enforce the laws, the stray critter population would be eased within two years. The police officer who criticized her in the report didn't mention that she'd made numerous prior complaints about the pet owner.
And if police enforced the laws, that would require citing massive amounts of residents with hefty fines, which can come back to bite elected officials and lead to accusations of harassing the poor. Or it would mean removing countless pets from their owners and putting all those animals in the care of an overcrowded shelter funded by taxpayers.
Watkins is pissed off at the entire system.
Animal control is just "going through the motions," Watkins says. "They don't care. They're ineffective and inefficient. I'm sick of it. I can handle it myself better than they can sometimes."
She pinpoints Bennett and Morton as the weak links.
"They're running the shelter," she said. "They're the problem. You have to stop the massive intake of animals. Until you address that, we will be doing this for decades and centuries."