Jim Austin and wife Gloria are often seen at public and private events around town dressed in Western attire, promoting their annual Cowboys of Color Rodeo, their museum (National Multicultural Western Heritage Museum), and various other business endeavors while spreading the word about how Old West cowboys came in all colors.
Mention Jim Austin to Genma Holmes, however, and the only color she sees is red –– red as in anger, red as in debt.
"He's gone to a lot of trouble to keep me quiet," Holmes said. "He underestimated a Marine mother."
The Cowboys of Color Rodeo, highlighting the diversity of the American cowboy, is set for 2 p.m. on Monday (MLK Day) at the Fort Worth Stock Show & Rodeo.
Holmes, owner of a promotional business, in addition to a pest control company with her husband, Roger Holmes, in Nashville, has done promotional work for events honoring and benefiting military veterans. In 2014, the Austins hired Holmes to promote their museum in the Meadowbrook neighborhood. Holmes suggested creating a cross-promotional glossy magazine promoting cowboys of color and World War II soldiers of color.
"I made sure the Austins brought it up before the [museum] board," Holmes said. "It was pitched as a fundraiser, a marketing tool for the museum and the city of Fort Worth and a way to draw in the military."
Holmes said Jim Austin gave her the go-ahead in August 2014 to produce the magazine. A verbal agreement was struck for Holmes to oversee the writing, editing, designing, and printing from Nashville. She would also facilitate grant applications for the museum, promote the museum, oversee social media, and prepare for a military-flavored event to be held in July 2015 to support the museum. Holmes figured that including veterans of color with the museum would open it up to another group of potential visitors.
In exchange, she said, Austin promised to provide $4,166 a month for a year, for a total of $50,000.
"I didn't have a contract," she said.  "When people use our pest control service, we do the work, give them an invoice, and we get paid. We're used to working like that."
She had faith that Austin would reimburse her.
Holmes relied on various vendors from military families to help write and edit the copy, take photographs, design, and print the magazine. Volunteers also helped out, asking only for basic expenses to be covered. Holmes kept working on the magazine even after Austin began missing the monthly payments. She said her debt soon grew to $17,000. Printing was going to cost about $9,000, and she needed the money up front.
"I called [Austin] and said we need to be paid and that we got this big printing bill coming up," she said. "He texted us his American Express card number to pay for the printing."
Austin asked her to mail the magazines to Fort Worth, but Holmes wanted to be reimbursed for all of her expenses first, she said. Instead, she said, Austin reversed the charge on his credit card for the printing expenses.
"That's when I went ballistic," she said. "American Express started coming after me for fraudulent credit card use."
Before long, she was in hock for $30,000 and climbing.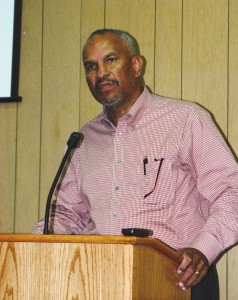 Austin strongly denies doing anything wrong and said Holmes is the one who wasn't holding up her end of their arrangement. He provided few details and referred the Weekly to his attorney, Frank Hill, who did not wish to comment on the case.
Austin is a longtime realtor focusing much of his attention on the city's Southeast Side, usually juggling half a dozen small businesses at once. He and Gloria are familiar faces in the Fort Worth social scene. They seemingly rarely miss a chance to get dressed up in expensive Western wear and go hobnobbing with the city's movers and shakers (and potential museum donors). The couple can be polarizing. People tend to either like them, hate them, or mock them.
The Austins pride themselves as beacons of light illuminating the overlooked role that minorities played in the Old West. Jim Austin describes their multicultural Western museum as one of the best and the "only museum in the world that's talking about the forgotten cowboy."
He said he could be a millionaire if he focused on his real estate business rather than spending much of his time tending to museum affairs. But he said he is driven to share the museum's message with children needing role models.
Holmes called her military contacts to tell them how Austin refused to pay what he owed and began a phone campaign to discover all she could about the Austins and their business practices. She called board members, local business people, museum sponsors, politicians, chamber of commerce members, news media outlets, and most everyone on the magazine's mailing list.
"My integrity with the military is on the line," Holmes said. "That's the main reason why I pursued him to make it right. I do a number of things with military families, and I didn't want anyone to think I had pulled them into something that wasn't on the up-and-up. We'd put in all that time, and military people were asking for the magazine. We couldn't move forward."
Some people stood by the Austins and stopped taking her calls. Others gave her an earful. It wasn't difficult for Holmes to find people critical of Jim Austin. The museum isn't much to look at despite the Austins soliciting money on its behalf for 15 years.
Fort Worth Weekly looked into Jim Austin's business affairs when the Austins were trying to buy a historic church in Handley to turn it into an event center serving booze ["House (of Worship) Party," July 22, 2015]. That plan quickly fizzled.
In March, Holmes learned the Austins had sued her, her promotion company, her husband, and their pest control business, for failure to deliver the magazine. Austin is seeking $75,000 in damages. The lawsuit also contained a warning.
"Defendants have engaged in harassment and slanderous behavior against plaintiffs," Austin's lawsuit said. "If defendants do not cease this behavior against the plaintiffs, plaintiffs will amend this petition and sue for defamation."
When the Weekly asked about the lawsuit last summer, Austin said his attorney had advised him not to discuss the litigation. But then Austin added: "There's no reason what's going down in Nashville should be going down. We did agree to pay. When they would not accept payment, that's when we went to the next level."
Holmes said she refused payment because Austin was offering far less money than she was owed.
"He sued us knowing we would have to fight him from out of state," she said. "It has not been a cheap venture. All of this has been about intimidation. Most people would have given up by now. But I never back down."
Some of her military connections turned out to be saviors, raising money to help her pay legal fees.
"The people who have sustained us through this entire ordeal are military families, who said, 'You got involved in this because you wanted to help us,' and they've stuck by me," she said.
Austin's lawyer asked for an injunction to keep Holmes from talking to the media after the Weekly story about the Austins first appeared.
"They have filed several motions on me," she said. "None of this case has been heard in court."
Holmes found herself spending thousands of additional dollars on attorney fees in addition to the money she had already spent paying writers and editors, printing 2,000 magazines, and mailing several hundred of them to sponsors at $2.69 apiece in shipping fees.
The case has dragged on for 10 months with Holmes accusing the Austins of using the court system to bleed her dry via attorney fees. Holmes has sent hundreds of papers to Austin's attorney upon request. She spent more than $1,000 traveling to Fort Worth for a deposition. When she arrived in town, she discovered that Austin's attorney had cancelled the deposition with little notice.
"It was horrible," she said. "We're going through all this crap, and this dude knows he didn't pay for those magazines. This could go on and on. He's playing games with the court and with veterans."
Austin blamed Holmes for canceling the deposition. However, Austin's attorney, Hill, said his firm takes responsibility for the canceled deposition and has offered to pay for Holmes' airplane fare.
Holmes' attorney, Lee Thomas, cast no aspersions about the canceled deposition.
"I'm not accusing anyone of any wrongdoing," he said. "Mr. Hill has offered to reimburse her in the event she needs to come back down to do a deposition."
And Thomas would rather Holmes save her comments for the judge.
"I don't want to try this lawsuit in the paper," he said. "I believe my client has a good case, a good position, and we'll have to see how it plays out in the courthouse."