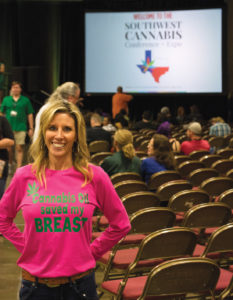 The first panel was kind of a bust. For what felt like hours, Frank Snyder, a Texas A&M law professor, and two of his students talked about the laws around legalization in the state. After too much lawyers talking law, I went out for a smoke break.
Unlike at the Cannabis Cup, the conference's designated smoking area was outside the front entrance. Now you might say, "Well, if you were outside smoking, you weren't inside enjoying the conference." To which I would say, "You meet the most interesting people on smoke breaks."
Case in point: A young journalism student from Houston who got off work late the night before but drove the five hours straight to be able to make the convention in time. A summary of our convo: We hoped the speakers would get better.
The next panel was a little better, but after that law one, the only place to go was up. In the talk Growing Hemp in Texas, Advanced Nutrients' Michael Strumietis explained that once Texas legalizes hemp and marijuana, the Lone Star State will be the largest spot for growing perhaps on the planet. He called Texas' Compassionate Use Act, a 2015 law in which CBD/non-THC cannabis oils were legalized to treat seizure patients, a "sleeping giant."
Texas, he said, is "a very large state, six times the size of Colorado. A giant has to walk slower than smaller states, but it can take bigger steps."
He also explained that by the way the act is written, it offers Texans a "less restrictive" method of applying for business licenses. "Texas law says that if you can grow it, and you have the facility to grow, then we will give you a license," Straumietis said. "Right now, Texas is super-restrictive on who gets a license, but once you are approved, it is smooth sailing. Texas has the most limited medical marijuana program in the country but also has the most liberal."
He also pointed out a unique aspect of the act. Unlike in Colorado, a local government in Texas cannot opt out or refuse to let dispensaries open in its town for any reason. I am hoping for the day when someone opens a dispensary in Dalworthington Gardens, just so I can watch the mayor's head explode.
"This year," Straumeitis said, "the Texas Compassionate Care Act will help 150,000 patients receive marijuana for epilepsy treatment."
Though informative, this panel found me dozing off a little toward the end. Food was what I needed, so headed over to the concession stand. This is one of the few negative critiques I have of the entire event. For a group of stoners, the food needs to be way better. I was hoping for a couple of food trucks, Holy Frijole maybe or maybe even Crazy Burger, but instead I had to fall back on a crummy brisket sandwich with a small scoop of pinto beans and coleslaw for $8. It did the trick, but some good food trucks could have made a killing here.
Over the next hour or so, as my food continued trying to settle, I watched maybe the best presentation of the day.
The panel started with a video of autistic children before and after cannabis treatments. In the documentary, the filmmakers explained that the pharmaceutical drugs given to the kids turned out to be not only ineffective but dangerous. The children were shown having fits or seizures while on prescription pills. After marijuana, though, the kids began to thrive.
"Over three million people in the United States are affected by autism," said Amy Lou Fawell, a member of MAMMA, Mothers Advocating Medical Marijuana for Autism. "What we have found works best is high [THC] in several small doses."
Exiled to Colorado because of her need for cannabis as an epilepsy medication, 11-year-old Alexis Bortell also spoke. And she was amazing. We audience members laughed, cheered, were left speechless, and some of us cried.
Like most inspirational people, Alexis had that right mix of bravery and the ability to turn all negatives into positives.
"I had to wear a funny hat with wires coming out of it to school a couple of times," she said, "but it came with a cool backpack, so I didn't mind too much."
Alexis referred to her epileptic episodes as her "seizure monster," and she explained that on pharmaceutical pills she was having seizures every three days. Since she switched to THC cannabis oil, she said, she has gone almost a full year without a single "seizure monster" attack.
"I have been meeting with the senators and legislators of Texas for the last few years now and it is my life's mission to legalize medical marijuana in Texas," she said. "Even if I have to become governor one day, I will see it legal in Texas."
Featured as a medical cannabis refugee on the CNN special Weed 2: Cannabis Madness by Dr. Sanja Gupta, Alexis even called for saying no to an all-CDB bill that we have now. It was the THC that helped her, she said, not the CBD by itself.
After her talk, I went outside for another smoke. I met another journalist, this one offering me some work. See? Interesting people.
I felt I needed to give my ears (and mouth) a break, so I hit Vendor City again. My first stop was DFW Norml's booth. Though it was well organized, nothing was being given away, only sold. I moseyed on down the line. But not until after posing next to the Norml police car.
One of the most memorable smaller booths was the one for Casey J. Cole, the Fort Worth attorney promising to tackle 420 North Texas possession cases pro bono this year. "I believe that the laws in Texas need to be changed, but until that happens, I am going to do my part to assist those arrested in Tarrant County for marijuana possession," Cole told the Weekly a couple of weeks ago ("420 Law," Feb. 10).
 ******
With the PTSD panel coming up, I had some time to kill, so I popped into Garyn Angel's speech about medical cannabis research and CBD youth treatment. Angel was joined via a prerecorded Skype session with Dr. Raphael Mechoulam, the scientist who discovered THC and many other substances found in marijuana. His lecture was informative but hard to follow. Plus, I could have watched it on YouTube at home.
But another one of Angel's guests was Joel Stanley of Charlotte's Web, the first group to breed high CBD strains of marijuana specifically to treat childhood epilepsy. Talking about bio-viability (the adaptability of the plant and how it can be used in industrial products) and variable therapeutic effects, the speakers tended to get lost in scientific jargon. In their defense, my mind had already started to wander toward the PTSD panel.
It turned out being the most disappointing part of my day. Sisley was not even there. She was Skyped in from Hawaii, where she said she had just finished a sunrise walk on the beach. Bah. Already pissed, now I was jealous. And then the sound system kept falling out throughout her talk, and she could not hear any of our questions.
Luckily, she was followed by a discussion among veterans using marijuana to treat their PTSD. Two of them were remarkably brave for standing up and speaking out against marijuana prohibition.
"I use marijuana to treat myself," said Kenneth, one of the testifying veterans, "and it works better than the pills that the Veterans Administration was forcing down my throat in large doses that were doing more harm than good."
Well spoken and dressed in a black three-piece suit, he continued, "I was addicted to pills the VA gave me, and I couldn't quit cold turkey. I had to slowly come off, but the cannabis helped my symptoms and improved my relationships with my wife and more importantly my children."
Moderator Roger Martin cited "the claim that more than 22 veterans commit suicide a day is inaccurate. The actual number of veteran suicides in the U.S. is more than 50 veterans per day."
While Martin kept the Q-and-A session lively and crisp, he was no Sisley. I felt like the entire presentation fell short of its goal to provide new information on the battle for PTSD to be considered a medical condition worthy of legal marijuana treatment.
******